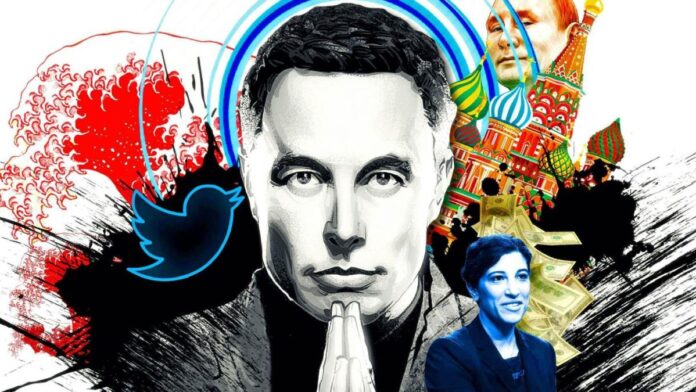 It is not yet clear whether Elon Musk's increasingly precarious play for Twitter will result in the restoration of free speech in the "global public square." Successful or not, Elon's brave move has clarified beyond any doubt the Regime's fundamental hostility to free speech and dissent. Judging from the critical reactions from journalists, NGOs and Democrat politicians, you'd think the man were attempting to invade Poland rather than remove censorship on a social media platform.
Of all the regime scribblers and scribes flooding the internet with glorified blog posts on the awfulness of Elon Musk's Twitter bid, a piece by Renée DiResta published in the Atlantic stands out from the rest — not because of its force of argument, but because of the largely forgotten scandal behind its author.
Like the now disgraced and jobless Nina Jankowicz, DiResta is a career-girl of the Disinformation Industry — a constellation of NATO and US State Department-funded NGOs and civil society groups that censor inconvenient truths, facts and narratives under the guise of protecting the public from so-called "disinformation." And like Nina Jankowicz, it turns out that DiResta's name is closely associated with one of the most explosive and aggressively covered-up influence operations of the century.
With that teaser in place, let's start at the beginning with DiResta's piece on Musk and Twitter. We invite the impatient reader to scroll down to DiResta's scandal — but it's worth the wait for those with more patience.
Like most well-trained operatives of the disinformation industry, Renée is smart enough to couch her defense of Twitter's censorship in layers of obfuscatory verbiage and heavily qualified lip service to the importance of free-expression. We should remember that even the Department of Homeland Security assured us in a hilarious "fact sheet" that its ill-fated Disinformation Governance Board is set up to defend free speech.
But anything more than a cursory look at Diresta's "concerned" reaction to Musk and his cadre of "free-speech absolutists" completely betrays her true agenda. Here she is scribbling away in the Atlantic (emphasis ours):
The idea of Twitter as the "global town square" was articulated by then-CEO Dick Costolo in 2013. He likened it to something from ancient Athens:

Thousands of years ago in the Greek Agora, that's where you went to find out what was going on and talk about it, right? You came and talked about what was going on in your part of the village, and I came and talked about what was going on in mine, and the politician was there, and we listened to the issues of the day, and a musician was there and a preacher was there, et cetera, and it was multidirectional and it was unfiltered, and it was inside out, meaning the news was coming from the people it was happening to, not some observer.

The unintended consequences of the platform that Jack Dorsey and his co-founders built, however, came into rather stark relief as it grew; a variety of unfortunate things that happen when humans engage with humans happened. On Twitter, however, these problems reached unprecedented heights via unfettered virality and velocity. The Islamic State made a home on the platform; harassment mobs proliferated; state actors and conspiracy theorists alike recognized that Twitter was a remarkable venue for propagandizing, unmediated, to millions. Public opinion began to shift against the hands-off approach. Government regulators began to pay attention.

How could the company maximize freedom of expression while minimizing the unique harms that the new communication infrastructure had enabled? A content-moderation regime emerged. Over the next seven years, its rules and practices would evolve in response to new and novel challenges: taking down terrorist propaganda, minimizing bad information during a pandemic, handling a litany of rumors and lies about election theft.
Read Full Article on Revolver.News