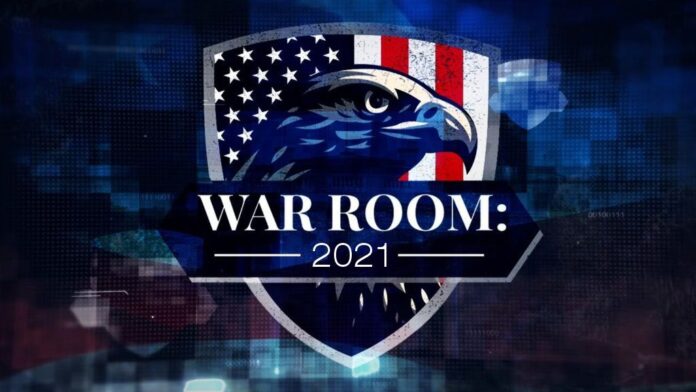 WAROOM: PANDEMIC Week 126 covers the Chinese Communist Party and the CCP coronavirus, designated 2019-nCoV, which was first identified in Wuhan, China. Also discussed are the Biden Administration, the Biden Crime Family scandals, the 2020 U.S. elections, the border crises and the MAGA movement lead by former President Donald Trump. This is more than just a radio show and a podcast, it's a one-stop shop for everything news related. Stay ahead of the censors – Join us warroom.org/join.
BANNON'S WAR ROOM Breaking News & Aggregation
WAR ROOM PANDEMIC Past Articles
Episode 984: Something Is Rotten in Paradise Valley … Doug Ducey's Petty Dictator Move and Another Smoking Gun on Dr. Fauci
"So it's really no surprise that he bashed Trump and Trump supporters," he said. "Donald Trump and Trumpism is the future." Our guests are: Cpt. Maureen Bannon, Dr. Peter Navarro, Mark Finchem, Sharri Markson, and Jack Francis.
Aired On: 05/28/2021
Episode 983: Lock Step of Tyrants … Dr. Naomi Wolf on Vaccine Passports and Nigel Farage Exposes Military-Style Invasion at the Border
"A nation must control its borders and decide who comes in or it's not a functioning nation state," Farage said. Our guests are Cpt. Maureen Bannon, Naomi Wolf, Chief Jarome Bell, and Nigel Farage.
Aired On: 05/28/2021
Episode 982: Leave the Dead to Bury the Dead … Paul Ryan's Dead GOP and Facebook Whistleblower Exposes the Vaccine Algorithm
"You saw people at a Yankees game unfurling a banner that said 'Trump won,'" Fredericks said. "Finally the fake news media is starting to catch up because they can't hide it, they can't bury it, they can't pretend it's not there." Our guests are: Cpt. Maureen Bannon, Raheem Kassam, John Fredericks, and Morgan Kahmann.
Aired On: 05/28/2021
Episode 981: Never Trump's No Personality Cult … Marjorie Taylor Greene and Matt Gaetz Say Populism is GOP's Future in Dalton, GA
"They're making a cult of personality out of Ronald Reagan when they complain that we do the same about Donald Trump," Sharma points out. Our guests are Marjorie Taylor Greene, Matt Gaetz, Raheem Kassam, and Saurabh Sharma.
Aired On: 05/27/2021
Episode 980: The Border Tipping Point … Peter Navarro on the Stolen Election and Desperation in Del Rio
"To save this republic we have to bleed him out now," Bannon said of the illegitimate Biden. "If they pass this, even the concept of this is so radical. The spending itself is so incomprehensible." Our guests are Rudy Giuliani, Dr. Peter Navarro, and Ben Bergquam.
Aired On: 05/27/2021
Episode 979: The HQ of the Runaway Train … Rachel Maddow's Anna Karenina Moment as the Freight Train of Audits Rolls On
"Rachel maddow is lost, you can see in her eyes she is completely despondent," Epshteyn said. "This is a little bit of an Anna Karenina moment to go with the train track metaphor, OK? It is bad." Our guests are Sean Parnell, Boris Epshteyn, and Rudy Giuliani.
Aired On: 05/27/2021
Episode 978: We've Got Them on the Run … Fauci Knew in Nov 2019 and Audit Train is Coming to PA
"The Democrats have been stealing elections since Thomas Jefferson," points out Michael Walsh. "This is not a legitimate party, this is an evil group." Our guests are Michael Walsh, Ben Bergquam, Dr. Peter Navarro, and Darren Beattie.
Aired On: 05/26/2021
Episode 977: The Uncontrolled Opposition … Marjorie Taylor Greene on Why the Establishment Fears Her and Mike Lindell Exposes Kemp and Ducey.
"If they're that afraid to talk to me, you think they can talk to a Democrat?" he said. "How can they have any kind of courage? They're cowards, both of them are cowards. Either that or they're hiding something that's so beyond anything we can imagine." Our guests are Mike Lindell, Mary Ann Mendoza, C.L. Bryant, and Marjorie Taylor Greene.
Aired On: 05/26/2021
Episode 976: Willie Sutton's Anti-Bank Robbery Commission … GOP Puts Foxes Kemp and Ducey in Charge of Election Integrity Hen House
"We investigate crimes that lead to people, we don't just investigate people," Giuliani added. "That happens in a dictatorship, and don't tell me we're not headed in that direction. We're headed in the direction of a socialist dictatorship." Our guests are Rudy Giuliani, Nigel Farage, and Mark Lamb.
Aired On: 05/26/2021
BANNON'S WAR ROOM Breaking News & Aggregation
WAR ROOM PANDEMIC Past Articles