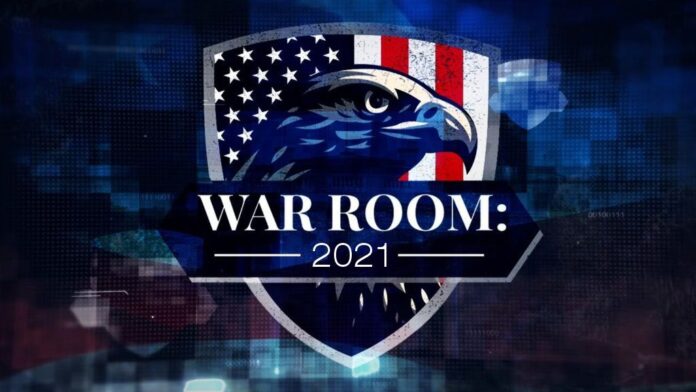 WAROOM: PANDEMIC Week 128 covers the Chinese Communist Party and the CCP coronavirus, designated 2019-nCoV, which was first identified in Wuhan, China. Also discussed are the Biden Administration, the Biden Crime Family scandals, the 2020 U.S. elections, the border crises and the MAGA movement lead by former President Donald Trump. This is more than just a radio show and a podcast, it's a one-stop shop for everything news related. Stay ahead of the censors – Join us warroom.org/join.
BANNON'S WAR ROOM Breaking News & Aggregation
WAR ROOM PANDEMIC Past Articles
Episode 1,000: Just Like the Aztecs … Election Audits and the NIH's Experiments in Child Sacrifice
Our guest is Ken Paxton, Phillip Patrick, Boris Epshteyn, and Joe Allen.
Aired On: 06/04/2021
Episode 999: Berlin Had Good Scientists in 1939, Too … NIH Director Shills for CCP and America and China's Deplorables Unite in NYC
"They're positioning this…to try edge their way out," said Stephen K. Bannon, after Collins did a softball interview with Hugh Hewitt. "Morning Joe is grasping how they throw Fauci under the bus, but also how they get out of their own culpability there." Our guest is Raheem Kassam.
Aired On: 06/04/2021
Episode 998: Deplorables Descend on Jekyll Island … MAGA Movement Grows in GA, and Time for Fauci to Lawyer Up
"This is a time for the people to stand up and get involved," she said. "We're seeing everyday people get into politics, they're running for school board. Our guests are: Raheem Kassam, John Fredericks, Kari Lake.
Aired On: 06/04/2021
Episode 997: A $10 Trillion Opening Bid … Holding the CCP to Account and Mike Lindell Goes to Court
"They're attempting to get ahead of the results," he said. "If you Google the arizona audit right now all the top articles are "Arizona audit is a fraud.' Our guests are Natalie Winters, Jack Posobiec, Drew Hernandez, and Mike Lindell.
Aired On: 06/03/2021
Episode 996: Fauci's Boss … Don't Forget Francis Collins' Role in CCP Virus and How to Save America From One Party Rule
"They thought they were hitting the center of our economy, of our government, by hitting the Congress that failed, and the hitting of the center of our Defense, the Pentagon," Giuliani said, of the terrorists. "They didn't realize the resiliency that we have." Our guests are Natalie Winters, and Rudy Giuliani.
Aired On: 06/03/2021
Episode 995: War Room Live From Freedom Tower … Taking Down America's Elites By Taking Down the CCP
"[The Deplorables are] going to take the country back," he said. "It has to start at the grassroots level." Our guests are Natalie Winters, John Fredericks, Rabbi Spero, Boris Epshteyn, and Jack Posobiec.
Aired On: 06/03/2021
Episode 994: Mike Lindell's New Lawsuit, Doug Mastriano and Audit, and Navarro Unleashes on Fauci
Dr. Peter Navarro reveals the "smoking Howitzer" on Dr. Fauci, an email from Kristian Andersen on Jan. 31, 2020, where Andersen said the virus was "potentially engineered." Our guests are Dr. Peter Navarro, Mike Lindell, and Doug Mastriano
Aired On: 06/02/2021
Episode 993: The Clever Lies of Covid-19…Dr. Michael Yeadon Exposes Why Governments Lied About Covid
Our guests are Dr. Michael Yeadon, and Larry Hetu
Aired On: 06/02/2021
Episode 992: The Walls Closed In … Dr. Fauci Indicted By His Own Emails
Our guests are: Rudy Giuliani, James Calkins, Boris Epshteyn, and Dr. Lawrence Sellin
Aired On: 06/02/2021
BANNON'S WAR ROOM Breaking News & Aggregation
WAR ROOM PANDEMIC Past Articles