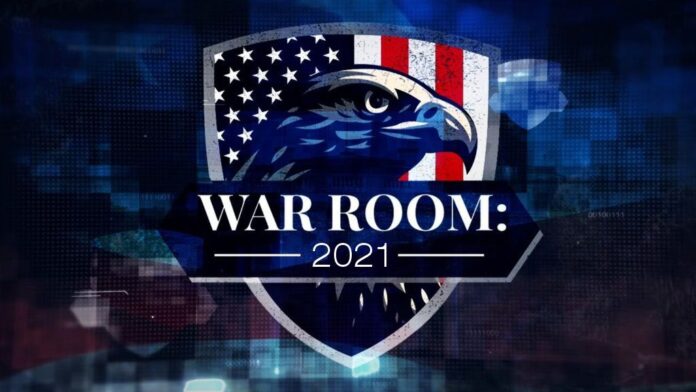 WAROOM: PANDEMIC Week 129 covers the Chinese Communist Party and the CCP coronavirus, designated 2019-nCoV, which was first identified in Wuhan, China. Also discussed are the Biden Administration, the Biden Crime Family scandals, the 2020 U.S. elections, the border crises and the MAGA movement lead by former President Donald Trump. This is more than just a radio show and a podcast, it's a one-stop shop for everything news related. Stay ahead of the censors – Join us warroom.org/join.
BANNON'S WAR ROOM Breaking News & Aggregation
WAR ROOM PANDEMIC Past Articles
Episode 1,008: Dukakis in a Helmet Bad … Fauci and Daszak's Collusion With the CCP and Kamala Harris Laughs Off Border Crisis, Again
"I think he's going to dig in," Bannon said. "I think it's going to get worse for the administration. I don't think Fauci is going to leave easily." Our guests are Natalie Winters, and Boris Epshteyn.
Aired On: 06/08/2021
Episode 1,007: The Ten Year Plandemic… How Globalists Used Wuhan as a Springboard for World Control
Our guests are Dr. Naomi Wolf, Dr. Reiner Fuellmich, Drew Hernandez, Phillip Rizzo, and Hirsh Singh
Aired On: 06/08/2021
Episode 1,006: The One Party State … MTG on the National Socialist Democrats
Our guests are Marjorie Taylor Greene, Mo Brooks, and Naomi Wolf.
Aired On: 06/08/2021
Episode 1,005: Foot-Washing for the Establishment … The Wuhan Cover Up and Victory in McAllen
"Just like any rational human being knew that the virus came out of the Wuhan lab last spring, every rational human being knows this election was stolen by the Democrat machine," he said.
Our guests are: Boris Epshteyn, Javier Villalobos, Sharri Markson, Darren Beattie
Aired On: 06/07/2021
Episode 1,004: War-Time Footing … How MAGA Candidates and the America First Agenda Will Save the USA
"The people of Georgia feel betrayed by Gov. Kemp," he said. "He and the Secretary of State [Brad Raffensperger] allowed that certification of the vote to go forward knowing — they knew, they had to know — that that was an inaccurate count. It was a fraudulent count." Our guests are: Bernie Kerik, John Fredericks, Joe Kent, Hirsh Singh, and Dr. Maria Ryan.
Aired On: 06/07/2021
Episode 1,003: Run Toward Trouble … MAGA's Roaring Comeback with DC Draino and in McAllen, Texas
"The great awakening with the great realignment is here," said Stephen K. Bannon. Our guests are Rogan O'Handley, Jack Francis, and Bianca Gracia.
Aired On: 06/07/2021
Episode 1,002: The Mostly Peaceful Protester of the Flying Saucer World … The Agenda Behind the Pentagon's UFO Report and Deplorables Gather in GA and NC
"Donald Trump is not in the White House today because of Brian Kemp," Kerik said. "And governors and legislatures like him…that certified results that were fraudulent." Our guests are Natalie Winters, Bernie Kerik, John Fredericks, and Joe Allen.
Aired On: 06/05/2021
Episode 1,001: We the Establishment … How the Scientific Elite Helped the CCP Create the Pandemic
"They are culpable," he said. "They have been covering up the origins of the virus from the very beginning. Our guests are Natalie Winters, Col. Lawrence Sellin, Dr. Peter Navarro, Bernie Kerik, and John Fredericks.
Aired On: 06/05/2021
BANNON'S WAR ROOM Breaking News & Aggregation
WAR ROOM PANDEMIC Past Articles