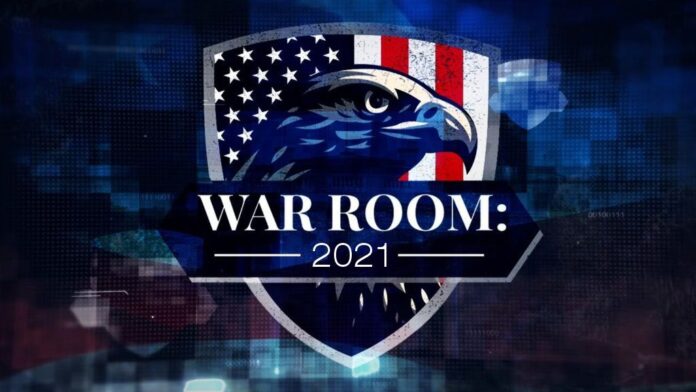 WAROOM: PANDEMIC Week 130 covers the Chinese Communist Party and the CCP coronavirus, designated 2019-nCoV, which was first identified in Wuhan, China. Also discussed are the Biden Administration, the Biden Crime Family scandals, the 2020 U.S. elections, the border crises and the MAGA movement lead by former President Donald Trump. This is more than just a radio show and a podcast, it's a one-stop shop for everything news related. Stay ahead of the censors – Join us warroom.org/join.
BANNON'S WAR ROOM Breaking News & Aggregation
WAR ROOM PANDEMIC Past Articles
Episode 1,017: Dr. Navarro Hosts Tomorrow's News Today … Scofflaw Hunter Biden and Why Trump Won
"I think the worst part about it for me was Air Force One was used as part of the crime family syndicate activity," he said. Our guests are John Solomon and Boris Epshteyn
Aired On: 06/11/2021
Episode 1,016: Going Down Swinging … Heavyweight Champ David Rodriguez and How to Fight Mao's Cultural Revolution Come to America
"What the left did instead of actually having a clear forum, free speech where we could evaluate all of that evidence … instead we had people like Max Boot because of their hatred of President Trump, want to deny certain theories," he said. Our guests are Alexandra Preate, David Rodriguez, and Cindy Chaufin.
Aired On: 06/11/2021
Episode 1,015: The Poison in the Schools … Critical Race Theory Indoctrination
Our guests are Eric Greitens, Boris Epshteyn, and John Spiropoulos
Aired On: 06/11/2021
Episode 1014: Election Audits at the O.K. Corral … Vernon Jones Challenges Brian Kemp, Matt Gaetz Grills Chris Wray, and NH Patriots Rally Against Sham Audit
"I am deeply concerned that the FBI had actionable intelligence that could have saved American lives," Gaetz said. "And they ignored that intelligence." Our guests are Natalie Winters, Vernon Jones, Matt Gaetz, Ken Paxton, Joe Reick, and Marylyn Todd.
Aired On: 06/10/2021
Episode 1013: Tax the Aristocrats … Bannon Rants, Chris Wray's Corrupt FBI
Our guest is Matt DePerno
Aired On: 06/10/2021
Episode 1012 – Victims or Victors … Border Invasion and Americans Can't Stand Kevin McCarthy
Our guests are Richard Baris, and Chris Chmielenski
Aired On: 06/10/2021
Episode 1011: The Fauci Squeak … Dr. Fauci's Pathological MSNBC Interview and Vernon Jones Visits the Arizona Audit
Dr. Navarro and Bannon blast MSNBC for a full 30 minutes with Fauci and not a single mention of "gain of function." Our guests are Dr. Peter Navarro, Natalie Winters, and Vernon Jones.
Aired On: 06/09/2021
Episode 1010: The Trojan Horse Pandemic
Our guests are Dr. Michael Yeadon and Dr. Reiner Fuellmich
Aired On: 06/09/2021
Episode 1009: Biden's Impossible Four Perfect Games … How the Case for Biden's Victory is Statistically Impossible
"It's the masks first, then it's the critical race theory," said Bannon. "They're putting my children through a struggle session," and the "common sense mothers" aren't standing for it. Our guest is Steve Cortes.
Aired On: 06/09/2021
BANNON'S WAR ROOM Breaking News & Aggregation
WAR ROOM PANDEMIC Past Articles