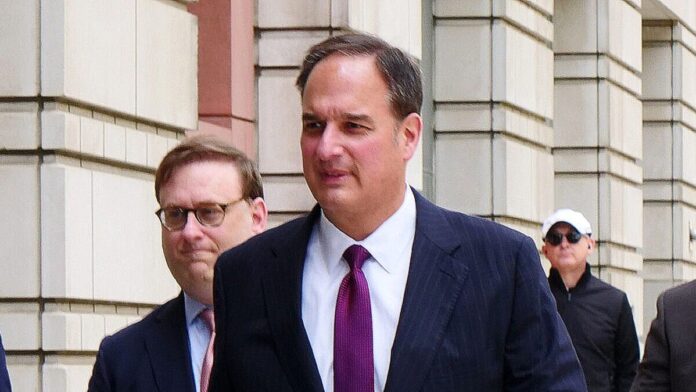 While former Hillary Clinton campaign lawyer Michael Sussmann was acquitted of lying to the FBI, a number of new details came to light during his trial. Some haven't been made known or been widely reported.
1. FBI Lawyer Sussmann Met With Sought Perkins Coie Job
Sussmann passed along claims about Clinton presidential rival Donald Trump to FBI lawyer James Baker on Sept. 19, 2016, as well as data that supposedly supported the claims.
Baker gave the information to others in the bureau, triggering an investigation. The FBI and CIA both determined the claims were unsupported.
Baker, while testifying during the trial, described Sussmann as a friend whom he met when both worked for the Department of Justice (DOJ), the FBI's parent agency. Baker, who left the bureau in May 2018, revealed that he was seeking to work for Perkins Coie, the firm that employed Sussmann, soon after.
"To the best of my recollection, I think it was Michael's idea," Baker said. "I mean, Michael knew that I had left the bureau, and I was looking around for a job—I had a job at the time, so I was working—I was working at the time, but I was looking around at other jobs, including [at] law firms. And so somehow he became aware of that and inquired about whether I would be interested in working at Perkins Coie."
In one of many text messages the men exchanged before and after the meeting, Sussmann told Baker on Sept. 29, 2018, that it was "great seeing you this week." That was a reference to a meeting that involved discussing a job at Perkins Coie, according to Baker.
While Sussmann arranged interviews for Baker, Perkins Coie never made a job offer.
Baker described "a miscommunication" in which a headhunter he was working with told him that the firm had essentially rejected him. But when Baker conveyed the message to Sussmann, Sussmann "went and got it sorted out," Baker said, adding that the firm was actually considering offering him a job. Baker, however, ended up taking jobs at the think tank R Street Institute and CNN. He left those positions to work at Twitter, where he's currently employed.
Read Full Article on TheEpochTimes.com