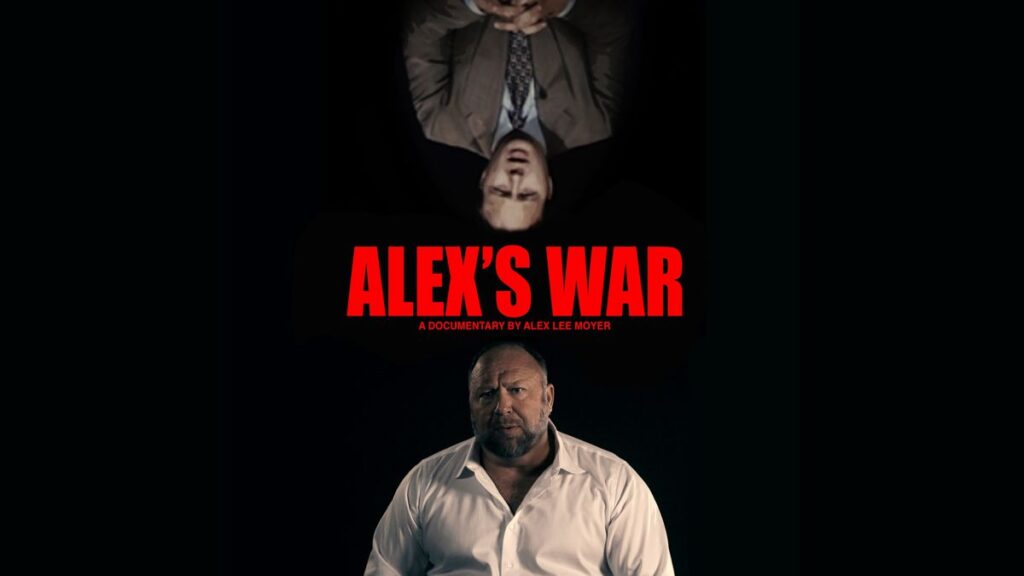 A new documentary by Alex Lee Moyer, director of TFW NO GF.
Who is Alex Jones? Is he a dangerous lunatic or a patriotic hero? Does he even believe the things he says? From beloved Austin local radio host, to outspoken critic of presidents Bush, Clinton, and Obama, to a national figure espousing incendiary conspiracy theories about 9/11, Sandy Hook, and the New World Order through his media platform, Infowars, to his instrumental role in the protests leading up to and including January 6th, Alex's War is an unprecedented close examination of this guarded, mythic figure, and the story of the fracturing of the great American narrative—through the eyes of this man who helped break it.
Building around Jones's first ever independent long-form interviews, behind-the-scenes footage from his studio and rallies, and full access to the Infowars archives, acclaimed director Alex Lee Moyer traces the twenty-five year rollercoaster of a career that brings him to the winter of 2020 and a monstrously manic election—a moment Jones sees not just as the culmination of his lifelong mission, but the decisive point in the fate of humanity.
ALEX'S WAR – In Select Theaters and VOD July 29, 2022! #AlexsWar

RELEASE DATE: July 29, 2022
DIRECTOR: Alex Lee Moyer
CAST: Alex Jones, Ali Alexander, Owen Shroyer, Mike Hanson, Rob Dew