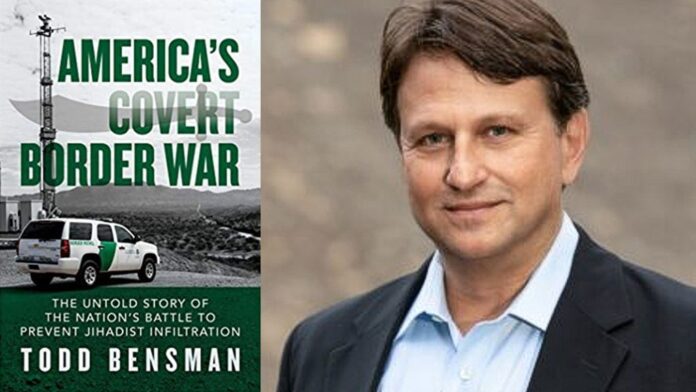 The untold story of the last unrevealed American counterterrorism project built from the debris of 9/11. Its surprising ongoing purpose: to prevent terrorist infiltration over the US southwest border.
This thirteen-year work of journalism finally settles one of the nation's most controversial and politically powerful ideas about the American southern border: that Islamic jihadists might infiltrate it and commit terrorist acts. Perhaps no other idea about the border has sown more conflict, claims, counterclaims, rebuttals, and false narratives on all sides.
America's Covert Border War provides a first comprehensive neutral baseline of truth about the threat, goring oxen on both sides of the partisan divide. It documents an ambitious and intrigue-laden covert American war on terror effort that stretches from the Mexican border to the tip of South America. Its existence to protect the homeland from terrorist infiltration was often regarded as entirely imagined—until migrating jihadists recently started killing and wounding hundreds in Europe.
Americans concerned by unchecked global migration, porous borders, and national security also may feel surprised to learn that thousands of long-haul migrants from the Islamic world similarly breach the US-Mexican border each year—among them hardened jihadists—despite media insistence that none of this traffic exists.
It does. The secret American campaign has prevented land border infiltration attack on US soil, safeguarding an unknowing nation—so far—from Europe's bloody ongoing experience. But this geographically sprawling effort is suffering from denialism and neglect at America's peril…just as Europe was before its calamity. How much longer can these programs keep America safe without the public recognition that they exist and the needed care and attention that acknowledgment would bring? This book is much more than revelation and complaint; it provides solutions to better protect the homeland from this chronically misunderstood border threat.
Editorial Reviews
Review
"Trump's critics and "fact-checkers" liked to call him a lying liar who lies when he claimed that there were terrorists and terrorist sympathizers among the waves of illegal immigrants streaming across our Southern border over the past decade. So journalist and former counterterrorism intelligence official Todd Bensman decided to examine the records and find out if Trump was right. As is often the case, turns out he was right and his critics were wrong." –Mike Huckabee, mikehuckabee.com
"Amidst multiple international crises, most of the media has lost sight of the jihadi threat to America. Todd Bensman is a welcome exception. His investigative reporting on continuing terrorist attempts to infiltrate the United States deserves wide attention from specialists and the general public alike." –Clifford D. May, Founder and President, The Foundation for Defense of Democracies
"Drawing upon his unique experiences, both as a counterterrorism professional within the Texas Department of Public Safety, as well as his many years as an investigative journalist, Bensman utilizes a vast range of primary sources to provide an unmatched, richly detailed account of the vulnerabilities to terrorist infiltration that exist at the United States' southern border. Timely and engaging, this book cuts through the otherwise deeply politicized debate that surrounds this topic to give a clear-eyed, factually based account of the treat as we know it, the counterterrorism machinery that was put in place after 9/11 to defeat it, and the worrisome holes in the system that persist to this day. Simply put, it is a must-read for anyone wishing to get to grips with this issue." –Sam Mullins, professor at Daniel K. Inouye Asia Pacific Center for Security Studies and author of "Jihadist Infiltration of Migrant Flows to Europe: Perpetrators, Modus Operandi and Policy Implications"
"Journalist and former counterterrorism intelligence manager Todd Bensman shines a spotlight into a complex issue that few truly understand. Trust me when I say this: Bensman has been in the trenches and behind the scenes to safeguard Texas. He deserves our thanks." –Fred Burton, former Diplomatic Security Special Agent and New York Times bestselling author of "Beirut Rules," "Chasing Shadows," and "Ghost"
"Progressives on the cultural and political left harbor a lot of dangerous and seditious ideas about illegal immigration. Chief among them is that lax border enforcement and massive waves of third-world migrants are not an invitation to terrorist infiltration. But Todd Bensman's new book, America's Covert Border War, is even more dangerous and seditious because it speaks plain, powerful truth about the very real problem of jihadi infiltration, backed up by the kind of deep reporting that will challenge the assumptions of even the most willfully ignorant, glib, or smug. The book is a well-grounded warning from a longtime veteran of the War on Terror, as well as a bold rebuke to the media's unfortunate culture of denial, avoidance, and resistance." –William McGowan, author, "Coloring The News" and "Gray Lady Down"
"Todd Bensman provides a deeply disturbing national security perspective to failed immigration controls from Panama through Mexico to the southern borders of Mexico to which we were blind. Bensman now examines the threat of lone jihadists and organized groups moving through those countries to the United States. He knows this world from his reporting on the ground in Central America and Mexico and as a government intelligence worker. With this book, we are far less blind." –Dr. Michael Lauderdale, University of Texas at Austin, Clara Pope Willoughby Centennial Professor
"Bensman draws on his many years studying the U.S.-Mexican border to establish the presence of a major, but secret, national counterterrorism project; then to show the serious neglect that hobbles it; and finally, to recommend solutions. He needs urgently to be heeded, lest disaster come via the Rio Grande." –Daniel Pipes, founder of The Middle East Forum, thought leader of U.S. foreign policy in the region, and author of sixteen books on Islam and the Middle East
"Todd Bensman is one of the last remaining authentic counterterrorism experts and investigators on jihadist terrorism, whose new book will mesmerize, shock, inform, and totally enlighten you on the covert war against Islamist militants fought by the government inside the U.S., as well as around the world. Bensman is also an amazingly gifted writer whose book unfolds as though one were reading a great crime novel—with a plot line made for a Netflix series. Even though I have specialized in terrorism for more than twenty-five years, I have learned more from reading the work of Todd Bensman than any other counter terrorist official or 'expert' in the world, bar none. I guarantee you that once you open the first page, you won't put it down till the last." –Steven Emerson, Executive Director of the Investigative Project on Terrorism, author of 7 books on terrorism and national security, and the executive producer of two award winning documentaries on jihadist terrorism
About the Author
Todd Bensman currently serves as the Texas-based Senior National Security Fellow for the Center for Immigration Studies(CIS), a Washington, D.C. policy institute for which he writes, speaks, and grants media interviews about the nexus between immigration and national security. He has testified before Congress as an expert witness and regularly appears on radio and television outlets. Separately, he writes about homeland security fora variety of online publications, and teaches terrorism and intelligence analysis as a university adjunct lecturer. For nine years, through August 2018, Bensman led counterterrorism intelligence for the Texas Department of Public Safety's Intelligence and Counterterrorism Division in its multi-agency fusion center. Before his homeland security service, Bensman was a journalist for twenty-three years, covering national security after 9/11 as a staff writer for major newspapers and reporting in twenty-five countries. His reporting on migration from Islamic countries and cross-border gun smuggling to cartels earned two National Press Club awards (2008 and 2009), an Inter-American Press Association award, and two Texas Institute of Letters awards. His reporting on corruption spurred numerous federal investigations, indictments, and convictions.
Bensman holds an M.A. in Security Studies from the Naval Postgraduate School, Center for Homeland Defense and Security (2015, Outstanding Thesis designee). He also holds an M.A. in Journalism from the University of Missouri School of Journalism (2009). He holds an undergraduate degree in Journalism from Northern Arizona University. In 2017, he completed a 350-hour State of Texas Command College leadership program sponsored by the Texas Department of Public Safety.