DailyMail.com's in-depth analysis reveals the impact of 4.9 MILLION illegal border crossings since Biden took office — as the U.S.'s WORST sanctuary cities are named and shamed
Some 4.9 million people have entered the U.S. illegally since January 2021, including 900,000 who slipped in undetected, says immigration watchdog
New York, Los Angeles, Chicago, Philadelphia, and San Francisco are ranked the top five most dangerous sanctuary cities by the Immigration Reform Law Institute (IRLI)
Guards on South West border seized one ton of fentanyl in July — enough for 469 million lethal doses
Immigrants drawn by potential ten-fold wage bumps and 9.8 million private sector job openings, says think tank
Newcomers arriving in Manhattan told DailyMail.com they came to work, but New Yorkers say the city is already struggling with rising crime and homelessness
Arizona cattle rancher sues Biden administration for turning a blind eye as cartel thugs maraud across his land
Immigration watchdogs say nearly 4.9 million unauthorized immigrants have entered the U.S. since President Joe Biden took office last year, and have branded New York and Los Angeles as the country's most dangerous sanctuary cities.
The Federation for American Immigration Reform (FAIR) says the record flow of people into the U.S. since Biden's inauguration includes 3.4 million crossings at the southwest border and 900,000 others who slipped in there undetected.
The startling number adds to growing unease that the Biden administration is asleep at the wheel as record numbers cross the southern border, along with drugs and terror suspects, nudging a majority of Americans to conclude that this amounts to an 'invasion'.
FAIR's president Dan Stein said the nearly-5 million human inflow amounted to the 'entire population of Ireland' entering the U.S. illegally since 20 January, 2021. He accused the administration of the 'sabotage of our nation's immigration laws'.
Meanwhile, the Immigration Reform Law Institute (IRLI), a hawkish watchdog, has ranked New York, L.A. and Chicago as among the 'worst' U.S. cities for offering criminal unauthorized immigrants sanctuary from deportation and prosecution.
IRLI says New York has 'doubled down' on its sanctuary policies to go from second in the rankings in 2019 to top spot. Los Angeles, Chicago, Philadelphia, and San Francisco rounded out the top five.
IRLI director Dale Wilcox accused the cities of 'poor leadership' by repeatedly refusing to hand over suspects to Immigration and Customs Enforcement (ICE), making urban residents endure 'more crime, fear and death'.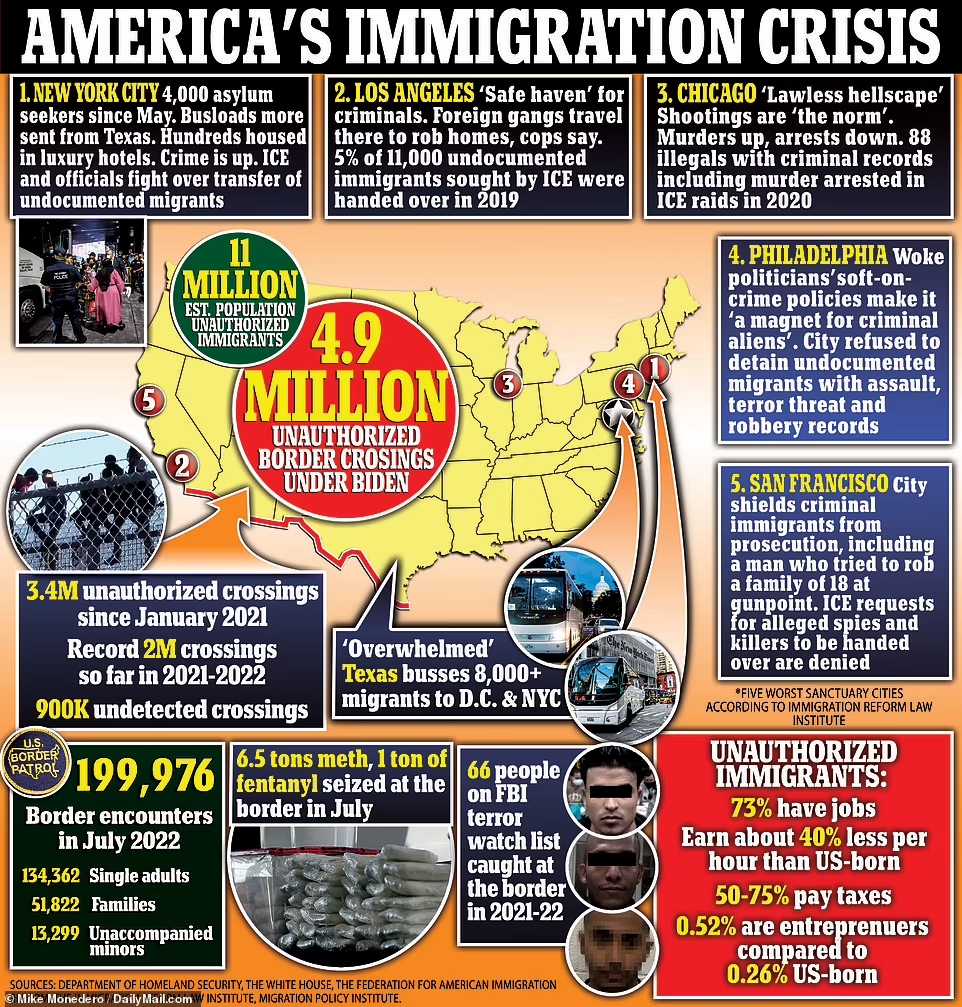 Drone camera footage of migrants, mostly from Mexico and Central America, has put Democrats on the back foot, downplaying Biden's policies as contributing to the record-breaking migration numbers.
Customs and Border Protection's migrant encounter tracker for the fiscal year has crossed the 2 million mark for the first time in U.S. history. An Ipsos survey found 53 percent of people said human flows at the border amounted to an 'invasion'.
By James Reinl
Read Full Article on DailyMail.com