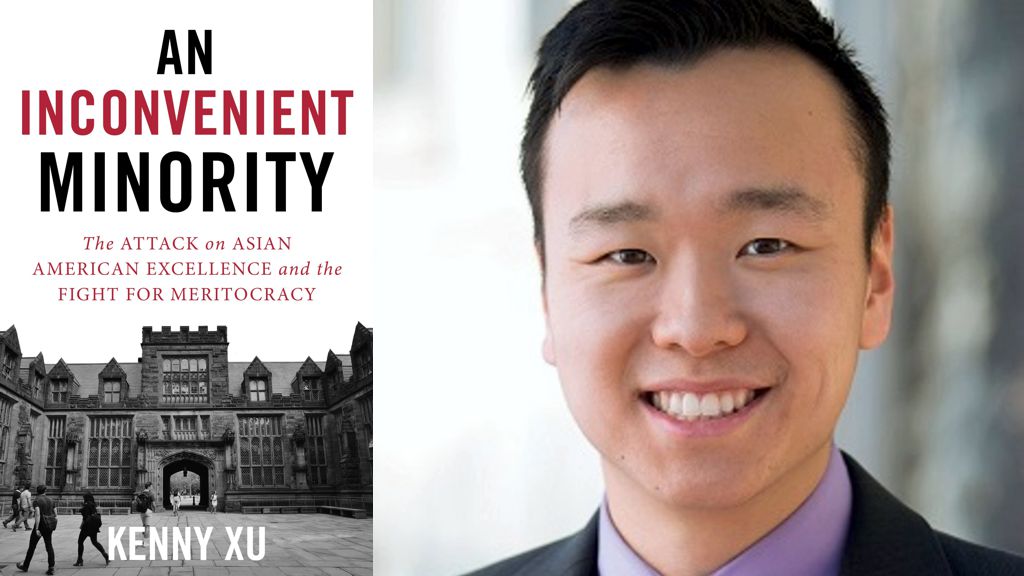 From a journalist on the frontlines of the Students for Fair Admission (SFFA) v. Harvard case comes a probing examination of affirmative action, the false narrative of American meritocracy, and the attack on Asian American excellence with its far-reaching implications―from seedy test-prep centers to gleaming gifted-and-talented magnet schools, to top colleges and elite business, media, and political positions across America
Even in the midst of a nationwide surge of bias and incidents against them, Asians from coast to coast have quietly assumed mastery of the nation's technical and intellectual machinery and become essential American workers. Yet, they've been forced to do so in the face of policy proposals―written in the name of diversity―excluding them from the upper ranks of the elite.
In An Inconvenient Minority, journalist Kenny Xu traces elite America's longstanding unease about a minority potentially upending them. Leftist agendas, such as eliminating standardized testing, doling out racial advantages to "preferred" minorities, and lumping Asians into "privileged" categories despite their deprived historical experiences have spurred Asian Americans to act.
Going beyond the Students for Fair Admission (SFFA) v. Harvard case, Xu unearths the skewed logic rippling countrywide, from Mayor Bill de Blasio's attempted makeover of New York City's Specialized School programs to the battle over "diversity" quotas in Google's and Facebook's progressive epicenters, to the rise of Asian American activism in response to unfair perceptions and admission practices.
Asian Americans' time is now, as they increase their direct action and amplify their voices in the face of mounting anti-Asian attacks. An Inconvenient Minority chronicles the political and economic repression and renaissance of a long ignored racial identity group―and how they are central to reversing America's cultural decline and preserving the dynamism of the free world.

Editorial Reviews
Review
Praise for An Inconvenient Minority
"Asian American success shows that hard work, self-discipline, and strong families still pay large dividends in the U.S. Yet Asians now find themselves subject to quotas that limit their access to jobs and admission to selective schools, in part because high levels of Asian achievement undercut the progressive narrative that white supremacy holds back America's minorities. Now, however, as Kenny Xu compellingly documents in An Inconvenient Minority , a revolt is fomenting against these artificial barriers. If Asian Americans lead the U.S. toward a true color-blind meritocracy, An Inconvenient Minority will be remembered as a turning point in that battle."
―Heather Mac Donald, Manhattan Institute Fellow and New York Times bestselling author of The Diversity Delusion
"Among the many inane inventions of race-hustling radicals, the assignment of 'white privilege' to Asians ranks among the most absurd. As Kenny Xu explains with politically incorrect clarity, Asians constitute an 'inconvenient minority' for leftist social engineers who exploit white guilt to foist a racial caste system upon America. This poisonous ideology reigns in corporate boardrooms and, notably, the halls of the Ivy League. We cannot fix the problem without first understanding it, and Xu offers an indispensable tool to begin that process."
―Michael Knowles, host of the Daily Wire's "The Michael Knowles Show" and author of Speechless
"Something is profoundly wrong in our equity-obsessed America. Just as we seem to be enveloped in darkness about our future, a light can be seen on the horizon: Kenny Xu, beckoning us to follow our historically well-trodden path of merit. He provides a compelling documentary of merit from the driver's seat, helmed by members of our American family who have demonstrated the efficacy of this principle: Americans of Asian descent. An excellent read!"
―Ward Connerly, founder and President of the American Civil Rights Institute and former chairman of the California Civil Rights Initiative campaign
"Journalist Xu, who writes for the Federalist, Washington Examiner, and other publications, offers a strident critique . . . Writing as a warning 'about what happens when elite discrimination is legitimized and abetted by the world's most powerful institutions,' Xu contributes to the ongoing debate about inequality, injustice, and racism that informs recent books such as Daniel Markovits' The Meritocracy Trap and Michael Sandel's The Tyranny of Merit."
―Kirkus Reviews
"Contending that the social advancement of 'the Asian American community' in spite of historic discrimination 'directly challenge[s] the Leftist narrative of minority victimhood,' Xu claims that Asian Americans have been left out of conversations about 'diversity, equity, and inclusion' because they suffer from persistent stereotypes and lack the kind of 'cultural capital' necessary to make their struggles visible to the mainstream. . . . Xu raises intriguing questions about the place of Asian Americans in U.S. society."
―Publishers Weekly
"Groundbreaking. . . .It couldn't arrive at a more critical time in our history, and it is the answer to Critical Race Theory. . . .While Kenny Xu addresses the issue through the lens of the Asian-American experience, he importantly points out that…'Meritocracy is not a party issue or a race issue. It is an American issue.' He's right, and if we don't address this, America's culture of excellence will die, and America shortly thereafter."
―American Thinker
About the Author
Kenny Xu is the president of the nonprofit organization Color Us United, and the lead insider on the Harvard Students for Fair Admissions vs. Harvard case and a commentary writer for The Federalist, The Washington Examiner, The Daily Signal, and Quillette. Xu has spoken on the consequences of the Harvard case and its identity politics ideology in front of groups as diverse as the nationally renowned Pacific Legal Foundation to the Boston Rally for Education Rights to the all-Black Connecticut Parents Union. His commentary has propelled him to interviews with NPR and features in the New York Times Magazine. He lives in Washington, DC.