Donald Trump rape accuser E. Jean Carroll has a bizarre Facebook post history that sheds light on some of her more personal thoughts and questions. Much of her commentary appears obsessed with sex, violence, and pornography, with one post from 2012 discussing sex with Donald Trump in a jovial fashion.
Carroll, 79, first alleged that she was raped by Trump in a book released in 2019. Her story is extremely similar to the sub plot of a Law and Order episode which aired in late 2012, a few months after she posted a sex question about Trump to her Facebook followers. Carroll has admitted to being both a Law and Order and an Apprentice fan, the latter hosted by Trump for almost two decades.
"Would you have sex with Donald Trump for $17,000?" she asked her followers, before going on to suggest that in her fantasy scenario, Trump may not be able to speak.

Trump's defense lawyer Joseph Tacopina is believed to have shown the jury the unearthed Facebook post from August 2012. Carroll alleges she was raped by Trump in the dressing room of the Bergdorf Goodman department store in New York in the mid-1990s.
It's not the first time Carroll's bizarre comments or behavior have raised question marks over her claims, with her now infamous moment of calling rape "sexy" live on CNN a leading example.
Other Facebook posts uncovered by The National Pulse shed further light on the mind of Trump's accuser. Carroll, who penned an advice column for Elle magazine, posed questions for her audience including: "Big Dick Energy: Obama's got it. Putin's got it. Maxine Waters's got it. Who's on YOUR Big Dick Energy List? And "Let's play Boff/Marry/Strangle. I'll start: Ryan Seacrest, Dick Cheney, Steve Jobs. (And yes I KNOW the game is really called F/M/K)".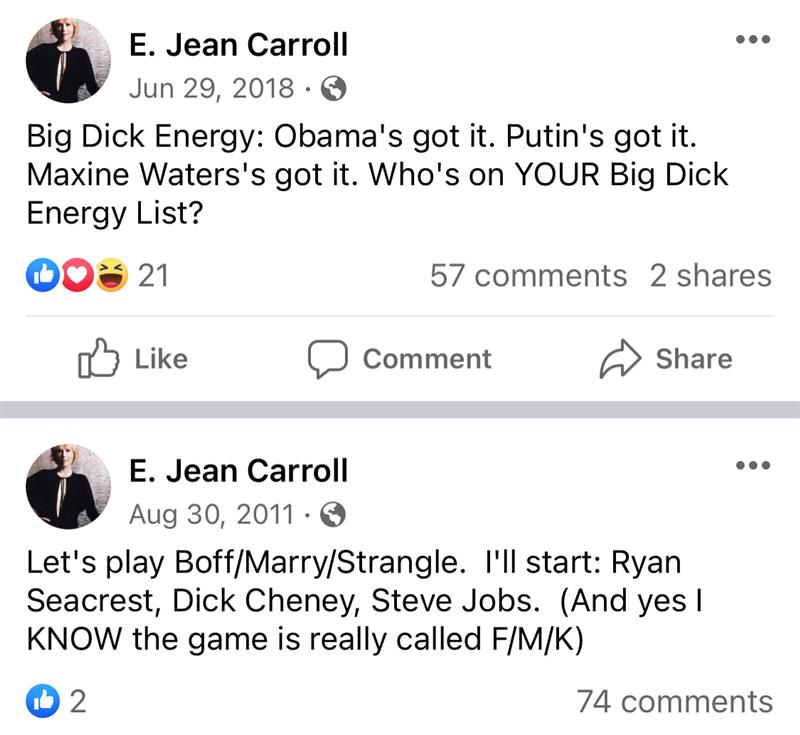 By Jake Welch
Read Full Article on TheNationalPulse.com