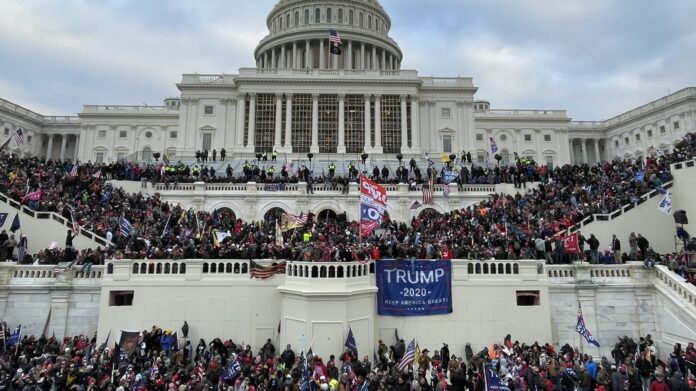 The U.S. Capitol Police on Monday morning conducted what it called a "routine" training exercise on the grounds of the Capitol. The stagecraft, almost five months to the day from the January 6 protest, involved emergency vehicles and helicopters. The agency warned area residents not to be "alarmed," which of course was the exact reaction USCP wanted.
Call it insurrection theater. The USCP has acted as the Democratic Party's stormtroopers since January 6, attacking peaceful Americans during the protest, lying about the death of officer Brian Sicknick, and now making officers available for embarrassing cable news hits where they share their hurt feelings and the permanent trauma they've suffered since enduring the supposedly harrowing ordeal. The distressed officers, however, seem just fine with the fact that a still-unidentified colleague shot and killed an unarmed woman, Air Force veteran Ashli Babbitt.
Capitol-employed apparatchiks have played a key role in shaping the narrative about what happened on January 6, all in service to their Democratic paymasters.
The seat of American democracy, we are told, was attacked by bloodthirsty Trump-supporting thugs; not only did lawmakers and Vice President Mike Pence barely escape with their lives, the building suddenly transformed—in the eyes of congressional Democrats—from a house built by slaves representing America's systemic racism to hallowed ground conceived by America's founding fathers that was severely damaged and forever stained by alleged "insurrectionists."
(Funny, it was only a short year ago in the aftermath of the George Floyd riots when Democratic lawmakers began removing statues in an effort to purge the building of its racist roots. "Their statues pay homage to hate, not heritage," House Speaker Nancy Pelosi said in July 2020.)
The four-hour disturbance, when a handful of people unquestionably acted badly and deserve to be punished accordingly, has been compared to the worst terror attacks in U.S. history, including 9/11 and Pearl Harbor. "The Capitol grounds, outside and inside, are essentially a crime scene," acting U.S. Attorney for D.C. Michael Sherwin said during a January 12 press briefing. At the same presser, a top FBI official repeatedly referred to the "destruction" that occurred on January 6.
Videos of smashed windows and stolen podiums bolster the idea that the Capitol sustained major damage. At least three dozen people arrested so far in the sprawling, ongoing Justice Department investigation have been charged with destroying government property.
by Julie Kelly
Read Full Article on GeorgiaStarNews.com
Julie Kelly is a political commentator and senior contributor to American Greatness. She is the author of Disloyal Opposition: How the NeverTrump Right Tried―And Failed―To Take Down the President. Her past work can be found at The Federalist and National Review. She also has been featured in the Wall Street Journal, The Hill, Chicago Tribune, Forbes, and Genetic Literacy Project. She is the co-host of 'Happy Hour podcast with Julie and Liz.' She is a graduate of Eastern Illinois University and lives in suburban Chicago with her husband and two daughters.