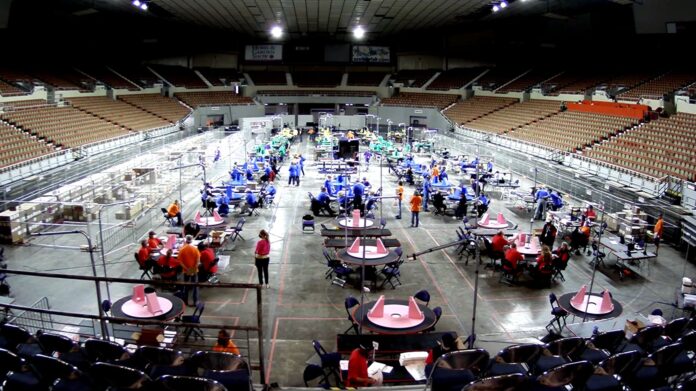 Arizona Attorney General Mark Brnovich told the Department of Justice (DOJ) that his office "will not tolerate" any efforts to thwart the 2020 election audit currently underway in Maricopa County, the state's largest county.
"My office is not amused by the DOJ's posturing and will not tolerate any effort to undermine or interfere with our State Senate's audit to reassure Arizonans of the accuracy of our elections," Brnovich told U.S. Attorney General Merrick Garland in a letter on June 14. "We stand ready to defend federalism and state sovereignty against any partisan attacks or federal overreach."
Garland had announced on June 11 that the DOJ "will double the division's enforcement staff for protecting the right to vote." The DOJ is also scrutinizing new laws that Garland said "seek to curb voter access" and "will apply the same scrutiny to post-election audits."
Brnovich, citing the 10th Amendment and the election provisions in Articles I and II under the U.S. Constitution, told Garland that his statements were "troubling" and "displayed an alarming disdain for state sovereignty."
The Republican attorney general also criticized the contents of a previous DOJ letter issued to Arizona Senate President Karen Fann. Pamela Karlan, principal deputy assistant attorney general with the DOJ's Civil Rights Division, had expressed concerns on May 5 over the security of the ballots and over the potential for voter intimidation related to the Maricopa audit.
Brnovich said that Karlan's letter appeared "more interested in supporting the hysterical outcries of leftist pundits on cable television, rather than the rule of law."
He continued to assert state sovereignty in his letter, reminding Garland that "the states created the federal government, not the other way around."
"There are no issues more important for states to prioritize than the integrity of our elections. This is the cornerstone of our republic, binding together the people's trust in the whole of government," he wrote. "Today, we see mistrust in our elections from Americans on all sides of the political spectrum. This should not be a partisan issue. States can and should take every opportunity to reassure all citizens that their vote counts.
Read Full Article on TheEpochTimes.com