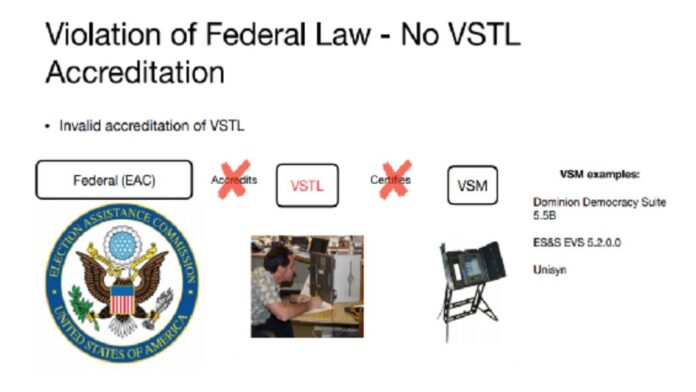 A group of 20 Arizona citizens filed a suit to the state Supreme Court on May 6 seeking a writ of Quo Warranto against a number of Arizona state officials, alleging that state elections from 2018 through 2020 were not in compliance with state election laws.
The Arizona Supreme Court is being asked to order the state officials named in the complaint to be removed from the allegedly unlawfully held seats, and order a pro-tempore ("for the time being") seat to the citizens who filed the suit, "until such time as free, fair, and secure elections can be held."
"As average citizens of Arizona, from all walks of life, we have discovered that our past elections in 2018 thru 2020 are out of compliance per the U.S. Election Assistance Commission [EAC]," the group of citizens said in a release (below and here) obtained by The Epoch Times.
The group asserts that the contractor labs that conduct checks to certify voting machine equipment in elections were not accredited to do so by the EAC in elections 2018 through 2020. Such accreditation is mandated by federal and state law.
In its press release, the citizens group said that the state of Arizona "went out of compliance in February of 2017 (or possibly sooner) and was only recently purported to be re-certified in January 2021." As such, any machine certification conducted by the allegedly non-accredited contractor labs in elections 2018 through 2020 would be invalidated, according to the group.
Read Full Article on TheEpochTimes.com
Quo Warranto Official Presser PDF
QW-Official-Presser