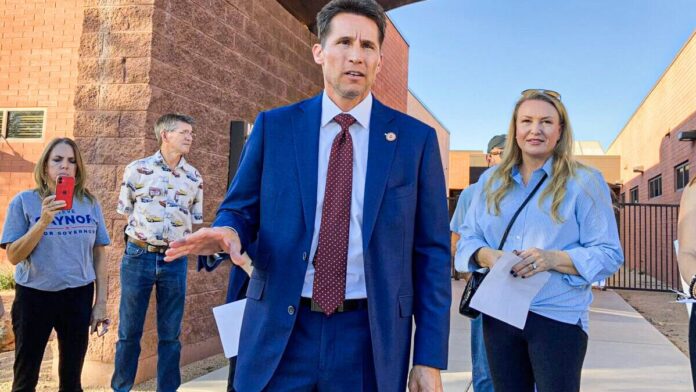 Scottsdale, Arizona's governing school board has voted to replace Jann-Michael Greenburg as president over an online "dossier" that he and his father allegedly had kept on parents critical of school board policies.
During a Nov. 15 emergency session, the Scottsdale Unified District No. 48 Governing Board voted 4–1 to appoint Patty Beckman to serve as president for the remainder of 2021.
Greenburg cast the dissenting vote.
It's been an "incredibly difficult week," said board member Zack Lindsay after the vote. "I find some of the allegations [against the Greenburgs] very troubling."
The so-called Greenburg dossier was allegedly kept by Mark Greenburg and later shared by Jann-Michael, reportedly by accident.
The dossier now is the focus of an investigation by the Scottsdale Police Department.
Jann-Michael Greenburg said he will remain on the board until "we have all the facts" at the conclusion of the investigation.
He opened the Nov. 15 emergency meeting by saying: "I am reassured the Scottsdale Police Department is investigating this matter. There appears to be bad actors involved and I am confident our law enforcement will quickly resolve these issues."
More than 100 concerned parents gathered outside of school district offices on Nov. 15 and demanded Greenburg's resignation.
"Resign, Resign, Resign," one parent's sign read.
Arizona state Rep. Joseph Chaplik held a press conference before the meeting. He called for an independent investigation of anyone involved in the alleged dossier, which targeted parents "simply for opposing critical race theory and mask mandates."
"I've seen the Greenburg file and it doesn't look good for Mr. Greenburg," Chaplik said.
The dossier allegedly contained parents' identifying information, including Social Security numbers, mortgage documents, divorce papers, personal background checks, family contact information, as well as photographs of their children.
Scottsdale parent Amanda Wray said she came forward after the dossier with her family's private information went public. Like many other parents at the Nov. 15 gathering, Wray said she didn't expect Greenburg, a Scottsdale attorney, to resign willingly.
By Allan Stein
Read Full Article on TheEpochTimes.com