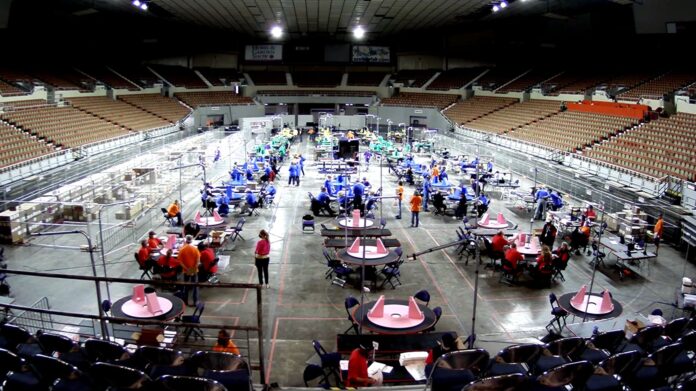 Senate GOP leader says county's announcement yet another 'attack on the audit'
Authorities in Maricopa County, Arizona, announced they will replace all voting machines following a Senate-ordered audit of the county's 2020 election results.
The Maricopa County Board of Supervisors, which oversees elections in the county, issued a response to a letter sent by Arizona Secretary of State Katie Hobbs, saying the county "shares [her] concerns" that the integrity and security of the Dominion Voting Systems machines and ballots might have been compromised during the audit.
"Accordingly, I write to notify you that Maricopa County will not use the subpoenaed election equipment in any future election," said the letter, dated Monday. And in a news release, the county pledged to "never use equipment that could pose a risk to free and fair elections," suggesting that the auditors may have compromised the machines.
Hobbs, a Democrat, had written to the county in May that she has "grave concerns regarding the security and integrity of these machines, given that the chain of custody, a critical security tenet, has been compromised and election officials do not know what was done to the machines while under Cyber Ninjas' control." Cyber Ninjas is the Florida-based technology firm that helped with the audit, which was authorized earlier this year by the Republican-controlled state Senate.
Senate Majority Leader Karen Fann, a Republican, described Maricopa County's letter as yet another "attack on the audit," saying that the machines weren't tampered with during the weekslong process.
"If their experts can't prove the machines have not been tampered with," she asked, "then how does the [Secretary of State's office] or County Elections certify the machines before every audit to make sure the machines haven't been tampered with?"
"We asked numerous times for this audit to be performed jointly with Maricopa County, at their facility, selecting a mutual auditor, and did not want the ballots or machines moved from their facilities," Fann contended, referring to the legal tug-of-war between the state Senate and Maricopa's executives.
And several Republicans praised the move to do away with the machines—but not for the reasons offered by Hobbs or the county officials.
"No more machines," wrote Republican state Sen. Wendy Rogers on Twitter, alleging in another tweet that the machines are easily compromised. "Go back to the old way," she also wrote in concurring with a tweet issued by GOP state Sen. Kelly Townsend.
Read Full Article on TheEpochTimes.com