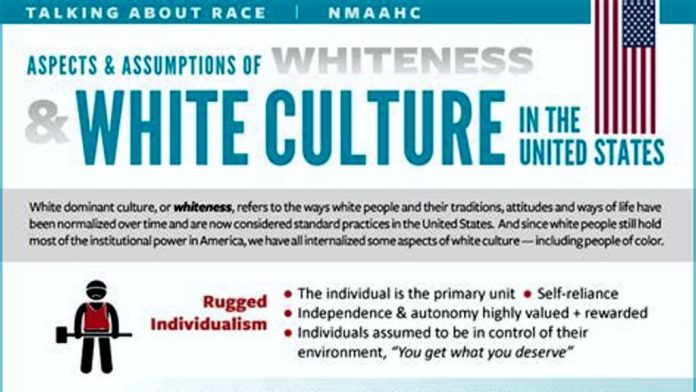 THE National Museum of African American History and Culture, part of the Smithsonian Institute has been accused of 'racism' after releasing a whiteness chart that links hard work and a nuclear family unit to WHITE CULTURE.
The graphic, titled Aspects & Assumptions of WHITENESS & WHITE CULTURE in the United States, also mentions a focus on the scientific method and self-reliance are intrinsic to the "dominant" white culture.
The chart is part of a larger "Talking About Race" section of the museum's website, which aims to explain white privilege and how it is linked to the oppression of people of color.
"White dominant culture, or whiteness, refers to they way white people and their traditions, attitudes and ways of life have been normalized over time and are now considered standard practices in the United States," according to the chart.
"And since white people still hold most of the institutional power in America, we have all internalized some aspects of white culture–including people of color," it says.
The museum's "whiteness" chart was shared to Twitter by conservative commentator Bryon York, and immediately met with some backlash, particularly from users who claim that people of color also hold the outlined American values.
"Imagine thinking black folk [don't] also follow this format. Imagine thinking black families [don't] also follow the Mom Dad 2-3 Kids format, [don't] also work hard for themselves and [don't] value individuality. I'm sorry, whose the real racist here?" wrote one user who goes by the handle @WallyintheAlly.
New: 'Whiteness' and the National Museum of African American History & Culture. https://t.co/wxUzCHwJZ3 pic.twitter.com/BmgboZs2Os

— Byron York (@ByronYork) July 16, 2020
Byron York's Daily Memo: 'Whiteness' and the National Museum of African American History and Culture
Some of the "white" values named in the chart include rugged individualism, the nuclear family where the husband is the breadwinner, a heavy focus on the history of European immigrants, the "protestant work ethic" where work comes before play, Christianity, wealth equating to self-worth, a "bland is best" steak and potatoes approach to culture and a "Barbie" is beautiful approach to aesthetics.
Read Full Article on The U.S. Sun News