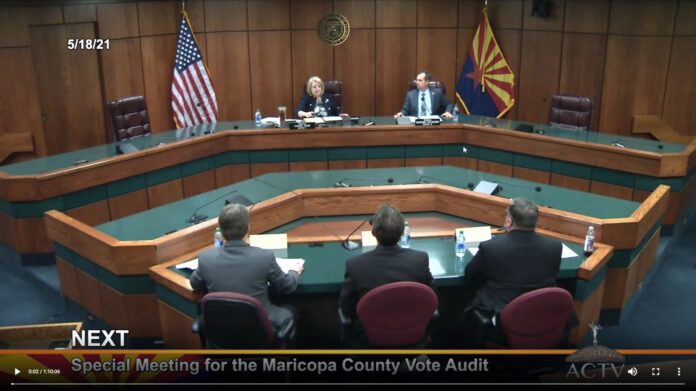 The information that was allegedly deleted from a Maricopa County election machine has been recovered, an auditor told state lawmakers on Tuesday.
Ben Cotton, founder of CyFIR, one of four firms working on the 2020 election audit, said at the Arizona State Capitol in Phoenix that he discovered a master file table "that clearly indicated that the database directory was deleted from that server."
"Subsequently, I've been able to recover all of those deleted files, and I have access to that data," he added. "I have the information I need from the recovery efforts of the data."
Maricopa County responded in a tweet on Tuesday: "Just want to underscore that AZ Senate's @ArizonaAudit account accused Maricopa County of deleting files- which would be a crime- then a day after our technical letter explained they were just looking in the wrong place- all of a sudden 'auditors' have recovered the files."
Auditors told Maricopa County officials through the Arizona Senate earlier this month that they discovered an entire database directory from an election machine had been deleted.
In addition, the main database for election management software was not found anywhere on the machine, despite it being referenced as the location for the database.
"This suggests that the main database for all election related data for the November 2020 General Election has been removed," Arizona Senate President Karen Fann, a Republican, wrote to Maricopa County's Board of Supervisors.
The board later said the allegation was false, accusing auditors of making a mistake while performing their analysis. The Maricopa County Elections Department, in a technical analysis, said officials and subject matter experts reviewed the allegation and found the database folder in question was not deleted.
Read Full Article on TheEpochTimes.com