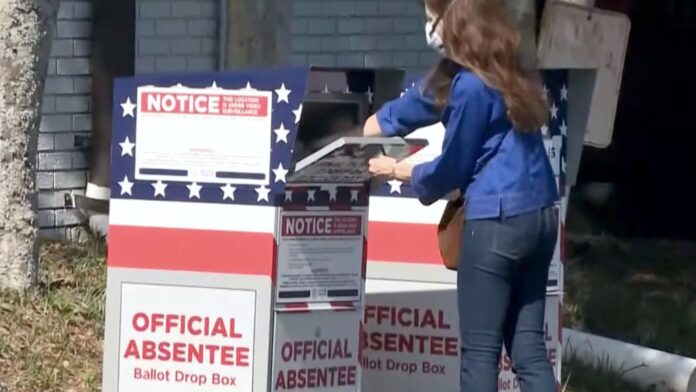 Ballot drop boxes are a controversial component of post-2020 election integrity efforts in state legislatures with Republicans in Georgia and Arizona proposing bills seeking to ban them altogether.
"Drop boxes were never meant to be a long-term way to vote. They were an emergency response and that emergency is not in effect anymore," Georgia Senate President Butch Miller (R) told The Epoch Times.
Miller, who is running for lieutenant governor, is sponsoring Senate Bill 325 which, among other provisions, prohibits drop boxes. Georgia is "an in-person voting state and always has been," he said, noting until the pandemic emerged in early 2020, "drop boxes were nowhere in Georgia law."
According to the National Conference of State Legislatures (NCSL), only eight states mentioned drop boxes in election statutes before 2020 but, during the pandemic, under emergency vote-by-mail measures often imposed unilaterally by governors' executive orders or administrative rule making, nearly 40 states allowed drop boxes for the first time.
During legislative sessions last year, lawmakers in four states restricted drop box locations and numbers. In the meantime, lawmakers in eight states adopted 14 bills that "affirmatively authorized or require local officials to provide mail ballot drop boxes," including seven in Indiana, according to NCSL.
Drop box laws, orders, and rules have drawn at least 35 lawsuits in the last 18 months, according to NCSL.
In Pennsylvania and Michigan, 2020 Trump campaign suits failed to ban drop boxes in primary and general elections.
The Texas Supreme Court upheld Gov. Greg Abbott's 2020 order limiting every county to a single ballot drop box.
In Wisconsin, an appeals court on Jan. 24 suspended a Jan. 13 ruling by Waukesha County Circuit Judge Michael Bohren prohibiting drop boxes statewide.
The appellate order did not address Bohren's decision in the suit, filed by the Wisconsin Institute for Law & Liberty, only that it came too close to the state's Feb. 15 municipal primary elections.
By John Haughey
Read Full Article on TheEpochTimes.com