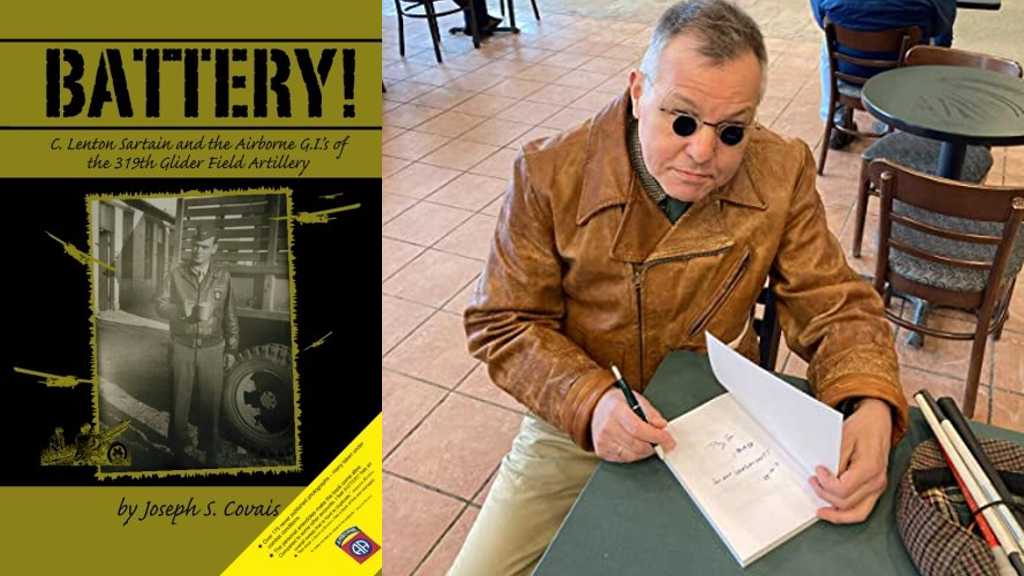 BATTERY! is the story of "A" Battery, 319th Glider Field Artillery Battalion, 82nd Airborne Division during World War Two. The book is based on in-depth interviews conducted by the author with twenty surviving members of this unit, and is centered on the experiences of their Battery Commander, Captain Charles Lenton Sartain of Baton Rouge, Louisiana.
Using his background in clinical psychology author Joseph Covais helped the veterans to talk about their experiences in a candid, direct manner, relating many aspects of their service previously left unspoken. One hundred seventy-five never before published photographs accent the book, depicting battle field scenes, camp life, and individuals. Maps enhance the narrative. 570 pages.

About the Author
A long time ago, Joseph Covais was known for his precise replica clothing for museums, historic sites, and the movie industry. In the 1990s, blindness led Covais to a new career as a psychotherapist. Since that time, he has established a practice and teaches psychology at regional colleges.
In 2011, Covais published his first book. Battery – is the story of the 319th Glider Field Artillery in WWII, based on in-depth interviews he conducted with surviving veterans.
Covais is also a novelist. Quiet Room, the first Book in his Psychotherapy with Ghosts series, was published by NewLink, an imprint of Mystic Publishers in 2021. You can listen to the first chapter and more here: Psychotherapy with Ghosts. Female Academy and Bound by Fate followed in 2022.
Though categorized as 'paranormal romance,' and 'psychological fiction,' the Psychotherapy with Ghosts series also examines timeless, universal themes, through alternating chapters which take place in both 1840 and 1970.
Today Joe lives in Winooski, Vermont. He works as a psychotherapist with blind and visually impaired persons throughout the state, teaches psychology classes at regional colleges, and continued to write. His current project, Love, Science, and the Albany Female Academy, focuses on phrenology, animal magnetism, and the daguerreotype, during the early 19th century. He welcomes correspondence from readers, through Facebook at "Novels by Joseph Covais" or through direct email at psychotherapywithghosts @ gmail.com.