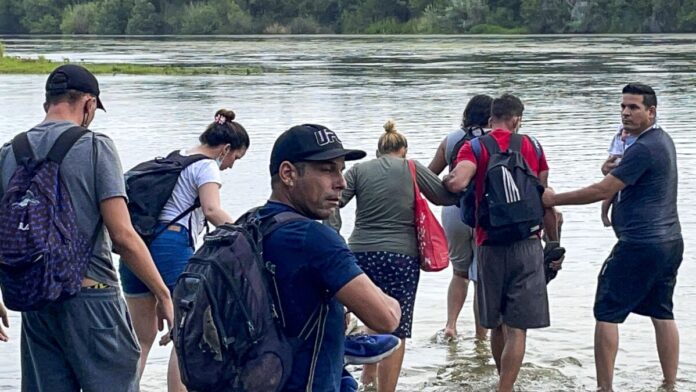 The Biden administration wants to let immigration officers grant full approval to illegal aliens claiming asylum, taking that decision from judges.
A backlog of asylum cases means the system requires repair, and allowing U.S. Citizenship and Immigration Services (USCIS) officers to decide on asylum applications is the start of replacing the system, the Department of Justice (DOJ) and Department of Homeland Security (DHS) said in a notice of the proposed changes.
The proposed process (pdf) would give the officers the power to unilaterally approve applications for asylum, withholding from deportation, or claims under the Convention Against Torture. If an officer denies an application, the applicant could request an administrative review by an immigration judge.
"Today marks a step forward in our effort to make the asylum process fairer and more expeditious. This rule will both reduce the caseload in our immigration courts and protect the rights of those fleeing persecution and violence," Attorney General Merrick Garland said in a statement.
"These proposed changes will significantly improve DHS's and DOJ's ability to more promptly and efficiently consider the asylum claims of individuals encountered at or near the border, while ensuring fundamental fairness," DHS Secretary Alejandro Mayorkas added. "Individuals who are eligible will receive relief more swiftly, while those who are not eligible will be expeditiously removed. We are building an immigration system that is designed to ensure due process, respect human dignity, and promote equity."
The new move is part of the Biden administration's blueprint for dramatically altering the U.S. immigration system.
Illegal immigrants are supposed to be removed from the United States unless they claim asylum, or "a fear of persecution."
The current system sees DHS immigration officers determine whether asylum claims have merit. If they decide they don't, then an immigration judge may review the decision. If they decide they do, then an immigration judge conducts an adversarial hearing to ensure that the claim is legitimate.
Most claims of asylum are rejected, including roughly 90 percent of claims from Central Americans.
Read Full Article on TheEpochTimes.com