President Joe Biden met with the families of 11 U.S. soldiers and went to Dover Air Force Base to receive their bodies on Aug. 29, days after the troops were killed during a suicide bombing attack near the Kabul airport.
Biden, First Lady Jill Biden, Defense Secretary Lloyd Austin, Secretary of State Antony Blinken, Army Gen. Mark Milley, and other top military officials attended.
Biden took part in the dignified transfer ritual and met with the fallen soldiers' families. Their remains were carried off a plane in flag-draped cases, according to photos of the event.
"The 13 service members that we lost were heroes who made the ultimate sacrifice in service of our highest American ideals and while saving the lives of others," Biden said in a statement. "Their bravery and selflessness has enabled more than 117,000 people at risk to reach safety thus far."
During the attack, 13 service members and nearly 200 Afghans were killed when a suicide bomber detonated himself at Hamid Karzai International Airport, where troops were checking on Afghans trying to evacuate the country. Suspected terrorists then fired shots at Afghans and troops.
The names of the 13 soldiers who were killed were released by the Department of Defense on Aug. 28.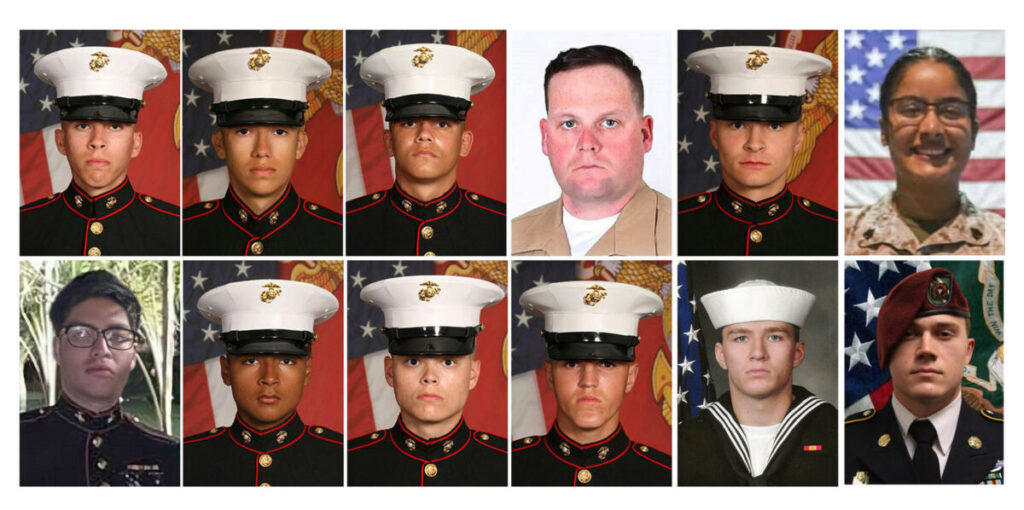 They are Marine Corps Staff Sgt. Darin T. Hoover, 31, of Salt Lake City, Utah; Marine Corps Sgt. Johanny Rosariopichardo, 25, of Lawrence, Massachusetts; Marine Corps Sgt. Nicole L. Gee, 23, of Sacramento, California; Marine Corps Cpl. Hunter Lopez, 22, of Indio, California; Marine Corps Cpl. Daegan W. Page, 23, of Omaha, Nebraska; Marine Corps Cpl. Humberto A. Sanchez, 22, of Logansport, Indiana; Marine Corps Lance Cpl. David L. Espinoza, 20, of Rio Bravo, Texas; Marine Corps Lance Cpl. Jared M. Schmitz, 20, of St. Charles, Missouri; Marine Corps Lance Cpl. Rylee J. McCollum, 20, of Jackson, Wyoming; Marine Corps Lance Cpl. Dylan R. Merola, 20, of Rancho Cucamonga, California; Marine Corps Lance Cpl. Kareem M. Nikoui, 20, of Norco, California;  Navy Hospitalman Maxton W. Soviak, 22, of Berlin Heights, Ohio; and Army Staff Sgt. Ryan C. Knauss, 23, of Corryton, Tennessee.
The United States carried out an airstrike on Aug. 29 against a suspected terrorist who was driving an explosives-packed vehicle, a spokesman for U.S. Central Command told news outlets.
Pentagon spokesman John Kirby had previously noted that possibly thousands of members of the ISIS terrorist group may have been released from prisons that were previously held by the Afghan governor when the Taliban took over the country.