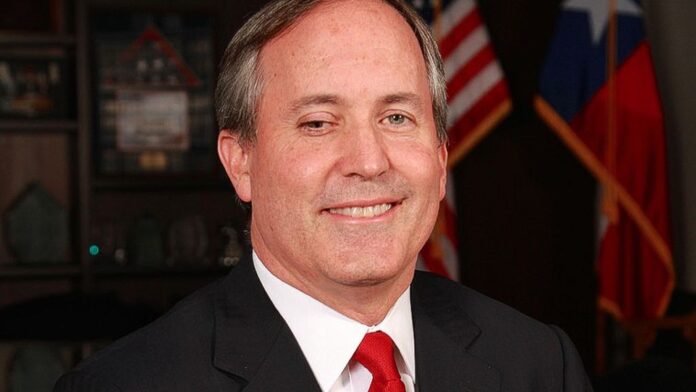 The state of Texas is looking to challenge President Joe Biden's recently announced COVID-19 vaccine mandate for private businesses by arguing that it is unconstitutional, Texas Attorney General Ken Paxton said on Friday.
Paxton's remarks come after Biden on Sept. 9 said businesses would have to impose COVID-19 vaccination requirements or face fines of up to $13,600 per violation.
White House officials have said the order will be implemented through an emergency temporary standard, or ETS, issued by the Labor Department's Occupational Safety and Health Administration (OSHA). The agency has said it is still developing the rule.
The rule "will require all employers with 100 or more employees to ensure their workforce is fully vaccinated or require any workers who remain unvaccinated to produce a negative test result on at least a weekly basis before coming to work," an OSHA spokesperson told The Epoch Times in an email.
In an interview with EpochTV's "Crossroads" program, Paxton, a Republican, said that he agrees with Texas Gov. Greg Abbott's description of the rule as a "power grab" and an "assault on private businesses." He said he believes that Biden is overstepping his authority with the new vaccination rule.
"The reality is, the president of the United States cannot just make up laws, that's outside of his purview, outside of his constitutional role. The executive branch implements laws … that's their job," said Paxton.
"That's not the way the constitution works, so we are pretty sure what he's doing will be unconstitutional, if it is what he said when he made the statement," he added. "So obviously, that would be for our first line of attack, just to say, look, you didn't have the authority to do this."
Many have raised concerns that OSHA's effectiveness is undermined by its shortage of inspectors and resources. While OSHA is empowered to fine employers up to $13,600 per violation of the new rule, it is spread too thin to catch some violators.
Currently, OSHA has an estimated 800 safety and compliance inspectors to cover the more than 100,000 private-sector companies affected by the new rule.
Read Full Article on TheEpochTimes.com