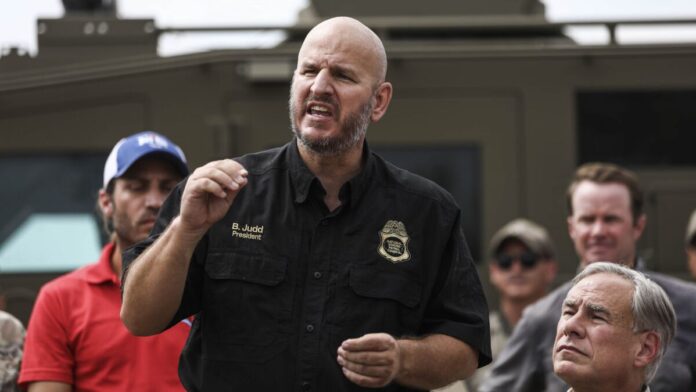 Border Patrol agents are so busy processing large groups of illegal aliens, that in one Arizona area only four agents are available to patrol a 150-mile section of the border.
"Now that 150 miles of border normally takes about 75 to 90 agents—we had four agents out there," said Brandon Judd, president of the National Border Patrol Council. Judd testified at an unofficial House hearing at FreedomWorks in Washington on Feb. 1.
"Cartels control the border right now," Judd said. "They dictate to us what our operations are going to be. That should never happen."
The amount of drugs being seized has correspondingly plummeted, according to Customs and Border Protection statistics.
"If we seize even 5 percent of what's coming across the border, we're lucky," Judd said, referring to a question about fentanyl pills. "And if there's nobody there to detect you and apprehend you, the cartels are going to push it through between the ports of entry when they know that there is absolutely no chance that we're going to apprehend that narcotic."
During the first three months of fiscal year 2022, agents have seized 316 pounds of deadly fentanyl coming across the border between ports of entry—more than triple that of the same period last fiscal year.
At the ports of entry, where most drugs are seized, agents have nabbed 2,390 pounds of fentanyl so far in fiscal 2022, compared to 10,183 pounds in the same period the previous year. Two milligrams of fentanyl can be a fatal dose.
Cocaine, heroin, and methamphetamine seizures are also significantly reduced this fiscal year compared to the same period in fiscal 2021.
More than 100,000 Americans, a record amount, died of drug overdoses in the 12-month period ending in April, according to CDC data. Fentanyl was involved in almost two-thirds of those deaths.
Fentanyl is a synthetic opioid that's 50 to 100 times more potent than morphine, highly addictive, and deadly. Buyers may be unaware that the drugs they buy are laced with illicit fentanyl.
Read Full Article on TheEpochTimes.com