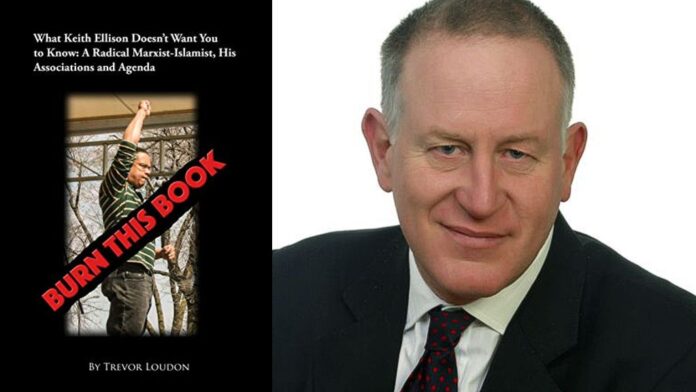 In Burn This Book: What Keith Ellison Doesn't Want You to Know About His Radical Marxist and Islamist Associations and Agenda, author, filmmaker, and national security expert Trevor Loudon has written a carefully documented account of the congressman and would-be Minnesota attorney general's long history of embracing both of America's greatest internal threats: Shariah-supremacism and neo-Marxism.
As Mr. Loudon demonstrates, even as Rep. Ellison portrays himself as a patriotic champion of "social justice," he continues myriad personal and political associations with individuals and groups openly hostile to the U.S. Constitution and Western civilization.
Burn This Book meticulously details Rep. Ellison's decades-long – and continuing – record of personal involvement with openly anti-American organizations, parties and people. It begins with the congressman's attraction during his college years to communism and leftist movements. Then, although Ellison was born and raised a Roman Catholic, as a 19-year-old student at Detroit's Wayne State University, he converted to Islam and became involved with the viciously anti-Semitic and racist Nation of Islam (NoI).
In due course, Keith Ellison putatively broke with Louis Farrakhan and his NoI organization in favor of extensive and ongoing relationships with many fronts of the jihadist U.S. Muslim Brotherhood. Indeed, Rep. Ellison continues to be a frequent keynote speaker at the fundraisers and conventions of Brotherhood groups like the Council on American-Islamic Relations (CAIR), the Islamic Circle of North America (ICNA), the Islamic Society of North America (ISNA) and the Muslim American Society (MAS). The fact that many of these Brotherhood front groups were named in 2008 by the Department of Justice as unindicted co-conspirators in the Holy Land Foundation/Hamas terrorism-financing trial appears to be of no concern for Ellison. Shortly after five Holy Land defendants were convicted, the congressman'shajjto Mecca in December 2008 was paid for by MAS, which describes itself as the overt arm of the Muslim Brotherhood in the United States.
Particularly worrisome is the fact that, as the Democratic National Committee's Vice Chairman, Keith Ellison has also forged close ties with the U.S. Council of Muslim Organizations (USCMO), the U.S. Muslim Brotherhood's political umbrella group. The USCMO is increasingly intimately affiliated with Turkey's Brotherhood-tied regime of President Recep Tayyip Erdogan and his Justice and Development Party (AKP). USCMO figures, including Ellison, meet regularly at the Lanham, Maryland Diyanet Center of America, the U.S. hub for Turkish operations in this country. The increasingly aggressive hostility of Erdogan's Turkey towards this country also appears not to trouble Rep. Ellison.
It is noteworthy that Keith Ellison's political fortunes have relied heavily on support from the generally Sharia-supremacist Somali immigrant and refugee community in Minneapolis. Ellison's past and present political campaigns rely on votes from places like "Little Mogadishu" in the Cedar-Riverside neighborhood of Minneapolis, whose residents openly declare their preference for Sharia, Islam's totalitarian political-military-legal doctrine, over the U.S. Constitution.
Trevor Loudon performs a public service by thoroughly documenting the funding and support that Keith Ellison has received from the likes of the Minnesota Communist Party, the Muslim Brotherhood, and the communist Democratic Socialists of America. With a deep understanding of how both the radical leftist and Islamist arms of the "Red-Green axis" have infiltrated U.S. society, Mr. Loudon leads the reader through a thicket of seeming contradictions in Ellison's life and politics.
About the Author
Trevor Loudon is an author, filmmaker and public speaker from Christchurch, New Zealand. For more than 30 years, he has researched radical left, Marxist and terrorist movements and their covert influence on mainstream politics.
Trevor Loudon's thesis is that what is commonly regarded as mainstream political policy is in fact driven and guided by hidden subversive elements. The Democratic party's consistent defunding of the US military, Obamacare, the Iran Nuclear Deal, normalization of relations with Cuba, Islamic refugee re-settlement, $15 minimum wage, fracking bans, pipeline shutdowns and the push for illegal alien amnesty are all consistent with far-left and Islamist agendas.
Trevor Loudon believes that these forces must be exposed and countered, as America's continued role as a bastion of freedom is pivotal for the future of western civilization.