Darren Beattie of Revolver.News talks to host Steve Bannon about Elon Musk's exposure of the corruption at the heart of Twitter, and then unveils his new story about the dark history of Biden's new czar of disinformation, Nina Jankowicz. Revolver has discovered that Jankowicz participated in a secret NATO-funded cabal to subvert Western democracies using disinformation as a cover. Read story below.
---
As Revolver and others have covered, Nina "Moaning Myrtle" Jankowicz is a joke. The Harry Potter superfan-turned-propagandrix is now the Biden Administration's chosen head for the "Disinformation Governance Board." Among many other embarrassing videos in circulation is the following clip of Nina Jankowicz bizarrely and emphatically dismissing the notion of the so-called "deep state."
For those who can't stand uptalk, here's what she said in the video:
Talking about the deep state and things like that which is a thread among conspiracy communities here in the United States, that there is this secret cabal here in Washington working to undermine the American people couldn't be further from the truth, as someone who works with and around these public servants every day.
Whatever one thinks of the precise term "deep state," Nina badly wants everyone to dismiss the very concept of secret groups operating within Washington. She works "with and around" them after all, and she says such a cabal or network of cabals does not exist.
In fact, Nina does know the truth, and it's the opposite of what she claims above. Nina's name appeared in one of the most explosive and aggressively censored national security leaks of the century. The leak in question exposed the "Integrity Initiative," a dark government-funded NGO that appears to have engaged in political meddling and covert influence operations in Western countries under the guise of fighting "disinformation."
Founded in mid-2015 under the auspices of the U.K. government-funded NGO "Institute for Statecraft," the Integrity Initiative boasted a precociously fashionable motto: "Defending Democracy Against Disinformation."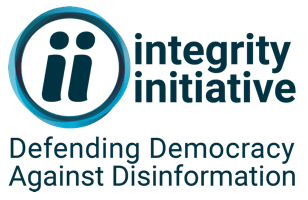 The Integrity Initiative "defended democracy" by recruiting secretive "clusters" of academics, national security bureaucrats, journalists, think tankers, and lobbyists in multiple European countries. These clusters would then be engaged in various ways to address nation-specific threats of so-called "Russian disinformation."
In its organization, funding, operation, structure, and rhetoric the Integrity Initiative is the single best template for understanding how the entire hornets' nest of NGOs, journalists, and "national security" bureaucrats work secretly and in concert to wage psychological warfare against citizens of the West. One cannot understand how the Disinformation Industry functions without understanding the little-known (and now defunct) Integrity Initiative.
Thankfully, before its demise, hackers leaked a huge swath of internal documents from the Integrity Initiative. More on that leak in a moment, but for now, here is an official description of the "clusters" from one of those leaked documents: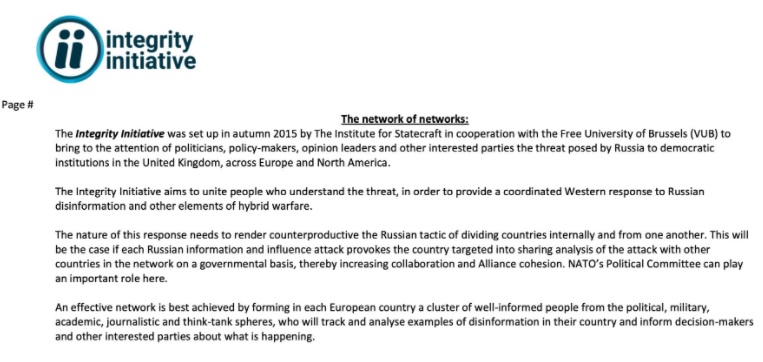 Full text transcribed here for readability (emphasis ours):
Read Full Article on Revolver.News