Join Assemblywoman Laurie Davies as she introduces 2022 legislation to enact a California Parents Bill of Rights to ensure parents have a say in how their children are raised.
These rights include important virtues such as:
Choosing what type of school to send their children
Utilizing our state's paid family leave
Making healthcare choices for our kids
We can no-longer accept the way "cancel-culture" has influenced the way our kids are taught and being influenced. It is time to restore power to the parents.
Date: January 11, 2022
Time: 2:00pm – 3:00pm
Where: California State Capitol, 1315 10th Street, Sacramento, CA 95814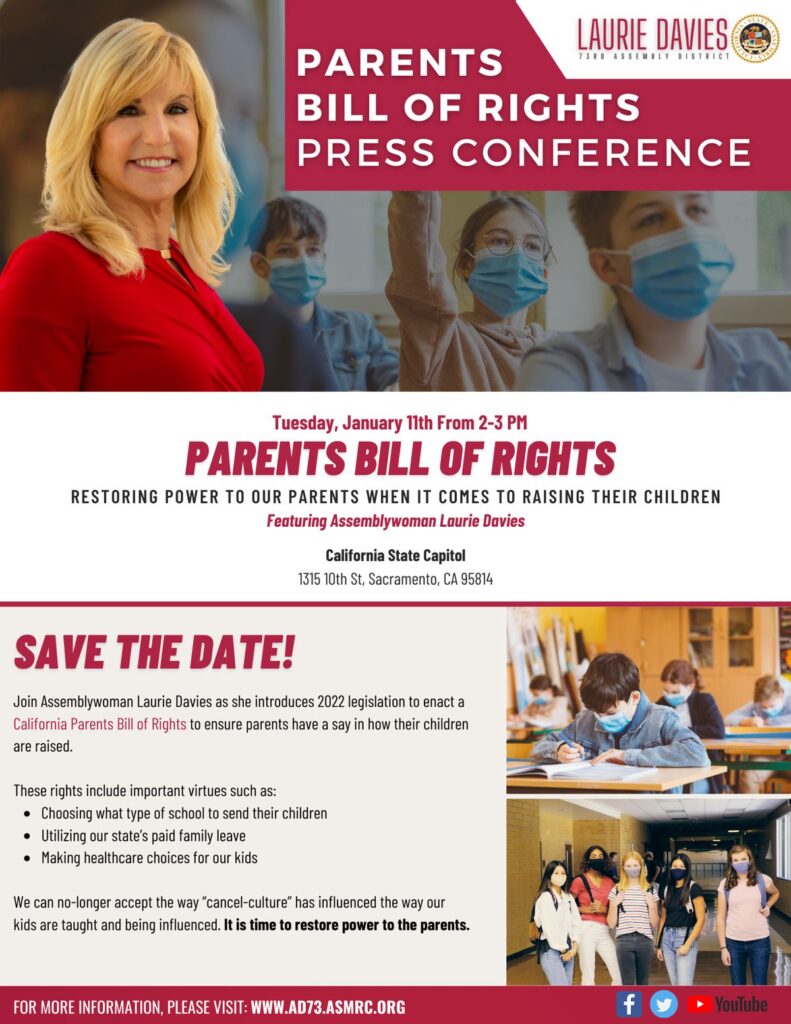 Legislative Background Sheet
February 2022
Assemblywoman Laurie Davies 73rd District
Background
California's education system has long been a beacon for the rest of our nation to follow. With world-class universities and over 1,000 different districts, millions of students and parents have historically had their choice of where to send and advance the education of their child.
Unfortunately, things have changed in recent years for our school system. In this new era of "cancel-culture ", our students have been taught what to think instead of how to think. Recently, the Burbank Unified School District banned classic pieces of literature, such as Harper Lee's award-winning novel To Kill A Mockingbird, because students became "uncomfortable" learning about the history of racism in our country. The banning of literary masterpieces might be contributing to why California is ranked 41′ in the nation for public school performance.
Education is a gateway to many incredible opportunities for students. However, parental involvement is paramount to successful education policy. We must equip parents with the tools to go into schools and districts and fight for the education that meets the need of their child. Involved parents in turn teach their children how to think, instead of what to think.
AB 1785 CA Parents Bill of Rights
Problem Being Addressed
It is time to create a Parents Bill of Rights so parents from all communities and backgrounds can go in and help achieve the success and results needed for their child. First, every parent should have the right to choose what kind of school their child should attend. Second, every parent should have the right to make healthcare decisions for their child, unless state law preempts it. Lastly, parents should have a right to all academic records related to their child. This includes the ability to review course materials taught to students. With these rights (many already legal under current law) expressly stated, this will empower communities to work together to get the best out of their students and classrooms.
Summary
AB 1785 would enumerate certain rights afforded to California parents under various laws and constitutional provisions. The measure would also increase rights of parents when it comes to information given to them about the education their child is receiving and information on how to become more involved.
Staff Contact
Taylor Melody: 916-319-2073
Taylor.Melody@asm.ca.gov
California Assembly Bill 1785 PDF
20210AB1785_99