Despite what the Biden administration has been saying about the economy, growing ominous storm clouds a growing. Meanwhile, Springfield, VA, had a recent visit from President Joe Biden.
The visit was announced a few days prior at a White House Press briefing for an undisclosed Springfield location. Press Secretary Karine Jean-Pierre shared that Biden chose our nearby suburb to deliver a major speech on the economy to steamfitter union workers who had benefited from his economic plan. Below is his address if you can manage to get through it.
However, the reality on the ground paints a different picture. The Fed has capitulated, and signs of reality are starting to sink in – learn more about dubious job numbers and how the Fed pivot to lower rates is nigh. But there are other ominous signs as well about the economy.
The US has transitioned from more than a decade of quantitative easing to more recent quantitative tightening. QT will remain until the Federal Reserve is finished squashing inflation. However, such a massive paradigm shift in markets might result in a period of deleveraging among highly levered firms that were able to flourish during the QE era.
New Bloomberg data shows large companies (at least $50 million of liabilities) filing for bankruptcy topped 20 this month, the highest in any other January dating back to 2010. Back then, 25 filings were seen as the economy was still reeling from the aftermath of the GFC. See this in the chart below and learn more here.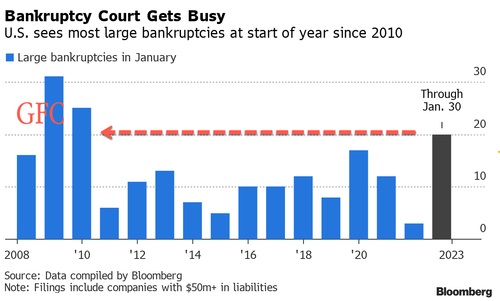 This year, some of the most notable bankruptcy filings have been festive retailer Party City Holdco Inc, mattress maker Serta Simmons Bedding LLC, and cryptocurrency lender Genesis Global Holdco. There could be turmoil in the lowest-rated – CCC-rated credit space and hidden risks if a bankruptcy wave takes off from here. As shown below, distress debt is piling up.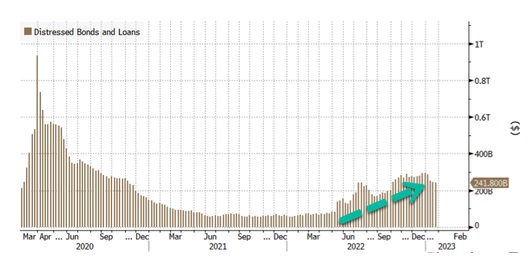 The reality is that business is struggling because the consumer is increasingly tapped out. In December 2022, the personal saving rate in the United States amounted to 3.4 percent, down from 7.5 percent in December 2021. The personal saving rate is calculated as the ratio of personal savings to disposable personal income. See this in the chart below and learn more here.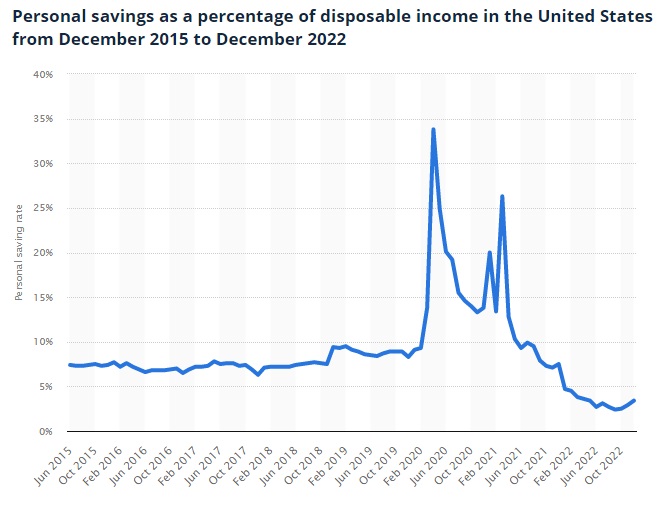 The consumer has not even recovered half of its trend line savings rate after the contortions of the Covid "pandemic." Even though some investors don't believe a hard landing is in the cards this year. The latest surge in large firm bankruptcies is an ominous sign of trouble ahead.
See more Chart of the Day posts.
By Tom Williams
Read Original Article on RightWireReport.com