Voters in two more of Oregon's eastern, conservative counties voted on Tuesday to join the red state of Idaho instead. Sixty percent of voters in Morrow County and 58 percent of those in Wheeler County voted yes on a "Greater Idaho" measure that aims to move Oregon's eastern border so about half of the state becomes part of Idaho. See this in the feature photo map and the local video report below.
Residents of these sparsely populated counties are more politically aligned with the Republicans in Idaho than the Democrats who dominate Oregon politics. The leader of Greater Idaho, Mike McCarter, expressed displeasure with the result.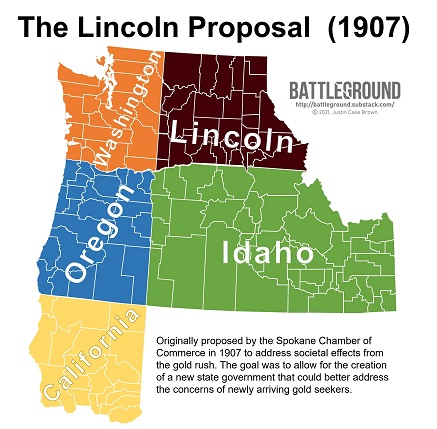 "We call on the Legislature to let each half of the state go their separate ways in peace. If western Oregon doesn't like the risk of being forced to accept the gubernatorial candidate it voted against, then it should simply stop holding our counties captive in this unhappy marriage," McCarter said.
Throughout history, there were many proposals like the Lincoln Plan (see insert chart) swirling around right at the time of the "birth" of the West, present-day Idaho was the closest anyone came to creating a true "Inland Northwest" state. Throughout the state's history, Idaho voters regularly voted for conservative candidates and regularly sent Republicans to represent them in Congress.
Meanwhile, citizens in Eastern Washington and Eastern Oregon voted similarly to Idaho residents but were routinely outnumbered by the more quickly growing coastal cities that typically voted for more liberal candidates. This divide continues to shape politics throughout the Northwest to this day, with Inland voters growing increasingly upset by state governments ignoring their interests in favor of liberal city dwellers closer to the coasts.
In recent years, many of these residents have moved to Idaho to receive better representation. However, several intrepid conservatives have spearheaded a new movement that serves as a spiritual successor to the Lincoln Plan with the goal of moving Idaho to where conservative voters already are.
Is this move even legal? Possibly, and state lines have been moved before. The last time the Oregon state line was moved was 1958, although that was a small adjustment. West Virginia was admitted to the Union in June 1863. Later, the Virginia/West Virginia border was moved in August 1863 to annex Berkeley County to West Virginia, and then again in November 1863 to annex Jefferson County. According to Greateridaho.org, the ambitious project will be done in two phases – see the maps below.
Phase 1.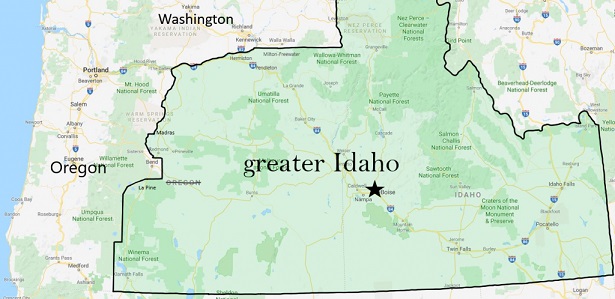 Phase 2.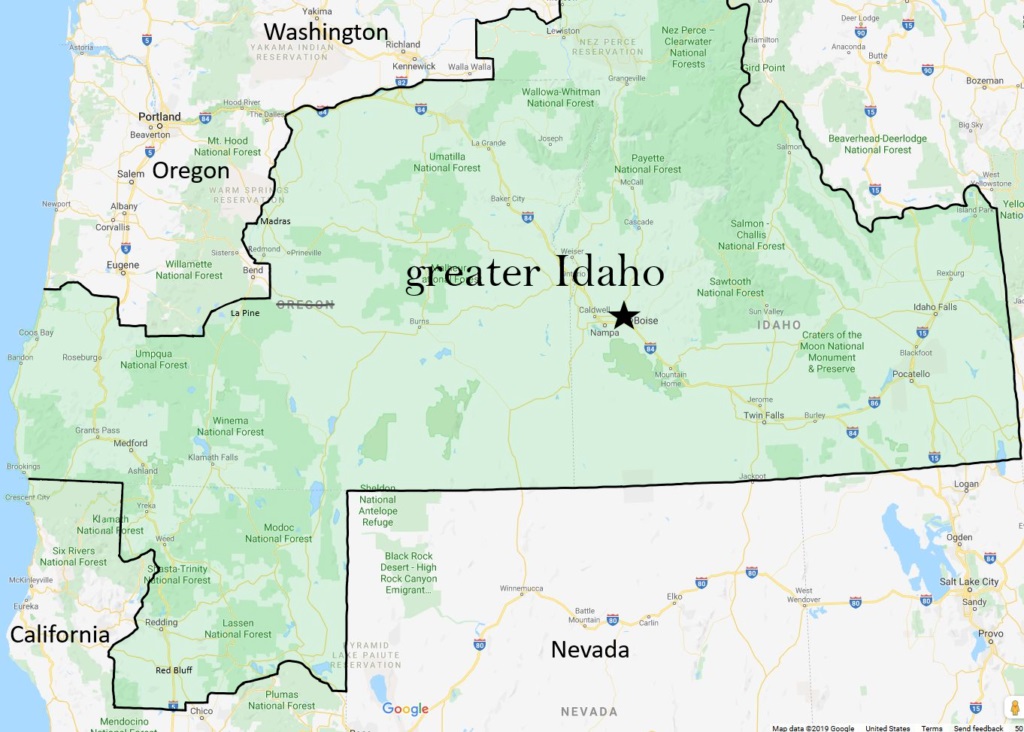 One has to wonder if there is a phase 3 – succession from the union?
Did anyone ask Idaho about this? Apparently, yes. Idahoans poll strongly in favor of this proposal. The Governor of Idaho went on Fox News to welcome the idea. For Greater Idaho, phase 2 with California may be a more difficult plan.
Give us your take in the comment section below. Does this have a chance, and would you want to live in Greater Idaho?
See more Chart of the Day posts.
By Tom Williams
Read Original Article on RightWireReport.com