An estimated 27.3 million people watched US President Joe Biden's Tuesday night (February 7th, 2023) State of the Union speech (SOTU), according to Nielsen rating data from 16 television networks. Biden's audience fell 29% from his State of the Union address last year, which brought in 38.2 million television viewers, Nielsen said. About 73% of the audience was age 55 and older. Here is a link for the SOTU speech in text form – here for the video.
If you don't want to watch or read the entire speech, here is a fairly good 25-paragraph synopsis of Biden's SOTU speech – inflation, inflation, inflation, and tax hikes.
Now we're coming back because we came together to pass the Bipartisan Infrastructure Law, the largest investment in infrastructure since President Eisenhower's Interstate Highway System. Already, we've funded over 20,000 projects, including at major airports from Boston to Atlanta to Portland. And we're just getting started. I sincerely thank my Republican friends who voted for the law.
I promised to be the president for all Americans. We'll fund your projects.
We're making sure that every community has access to affordable, high-speed internet.
Tonight, I'm also announcing new standards to require all construction materials used in federal infrastructure projects to be made in America. American-made lumber, glass, drywall, fiber optic cables.
For example, too many of you lay in bed at night staring at the ceiling, wondering what will happen if your spouse gets cancer, your child gets sick, or if something happens to you. Will you have the money to pay your medical bills? Will you have to sell the house? I get it.
A record 16 million people are enrolled under the Affordable Care Act. Thanks to the law I signed last year, millions are saving $800 a year on their premiums. But the way that law was written, that benefit expires after 2025. Let's finish the job, make those savings permanent, and expand coverage to those left off Medicaid.
We're building 500,000 electric vehicle charging stations installed across the country by tens of thousands of IBEW workers.
And helping families save more than $1,000 a year with tax credits for the purchase of electric vehicles and energy-efficient appliances.
The climate crisis doesn't care if your state is red or blue. It is an existential threat. We have an obligation to our children and grandchildren to confront it. I'm proud of how America is at last stepping up to the challenge.
I'm a capitalist. But just pay your fair share. And I think a lot of you at home agree with me that our present tax system is simply unfair.
You may have noticed that Big Oil just reported record profits. Last year, they made $200 billion in the midst of a global energy crisis. It's outrageous. They invested too little of that profit to increase domestic production and keep gas prices down.
Some of my Republican friends want to take the economy hostage unless I agree to their economic plans. All of you at home should know what their plans are.
I'm so sick and tired of companies breaking the law by preventing workers from organizing. Pass the PRO Act because workers have a right to form a union. And let's guarantee all workers a living wage.
Let's also make sure working parents can afford to raise a family with sick days, paid family and medical leave, and affordable child care that will enable millions more people to go to work.
Let's also restore the full Child Tax Credit, which gave tens of millions of parents some breathing room and cut child poverty in half, to the lowest level in history.
If you want America to have the best-educated workforce, let's finish the job by providing access to pre-school for 3- and 4-year-olds.
Let's give public school teachers a raise.
And we're making progress by reducing student debt and increasing Pell Grants for working- and middle-class families.
Let's finish the job, connect students to career opportunities starting in high school and provide two years of community college, some of the best career training in America, in addition to being a pathway to a four-year degree.
More than 1 million Americans have lost their lives to COVID. We still need to monitor dozens of variants and support new vaccines and treatments. So Congress needs to fund these efforts and keep America safe.
Give law enforcement the training they need, hold them to higher standards, and help them succeed in keeping everyone safe.
We also need more first responders and other professionals to address growing mental health and substance abuse challenges.
Let's do more on mental health, especially for our children. When millions of young people are struggling with bullying, violence, trauma, we owe them greater access to mental health care at school.
No one should be homeless in this country, especially not those who served it.
Let's end cancer as we know it and cure some cancers once and for all.
A sampling of fact-checking Biden's SOTU can be found here, here, and here.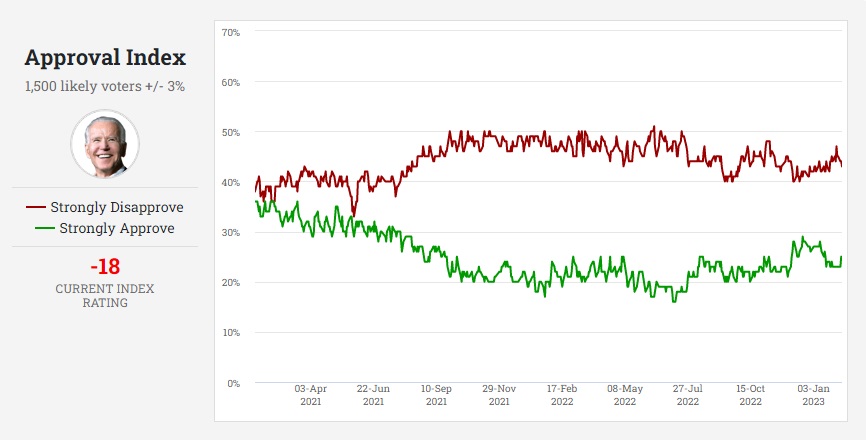 To set the stage for Biden's SOTU speech, let's check out the daily presidential tracking poll of Biden. The latest figures include 25% who strongly approve of the job Biden is doing and 43% who strongly disapprove. This gives him a Presidential Approval Index rating of -18. This is currently worse than under the past Trump administration. See this in the chart below and learn more here.
A quick look from Democrat propagandist, The Hill quickly amplified a CNN poll extolling the wonders of the Biden SOTU speech. More than 7 in 10 viewers of President Biden's State of the Union address had at least a somewhat positive reaction to the speech, according to a CNN flash poll.
The poll found 72 percent of watchers had a positive view of the speech, with 34 percent saying it was very positive. It reported that 28 percent of watchers viewed the speech negatively, with 10 percent saying it was very negative. See this in the chart below and learn more here.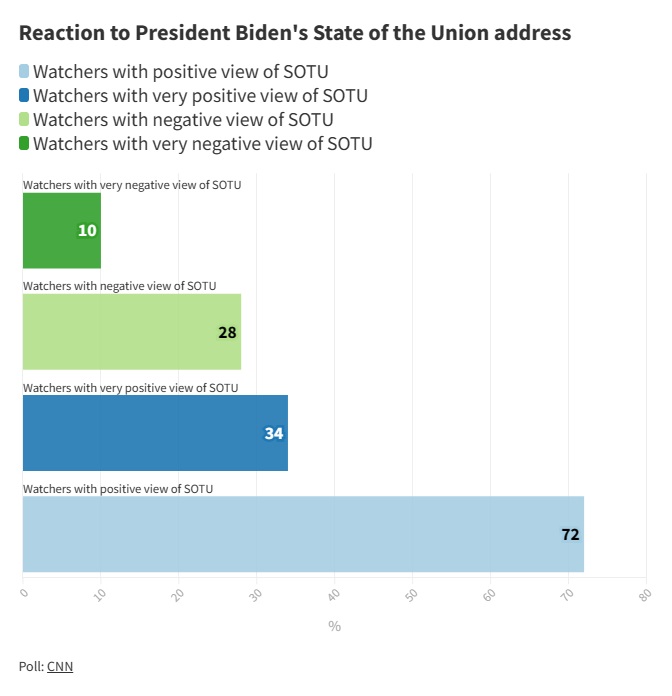 What The Hill did not tell you is that the Biden SOTU speech had the lowest favorable rating since the Clinton presidency. See this in the chart below and learn more here.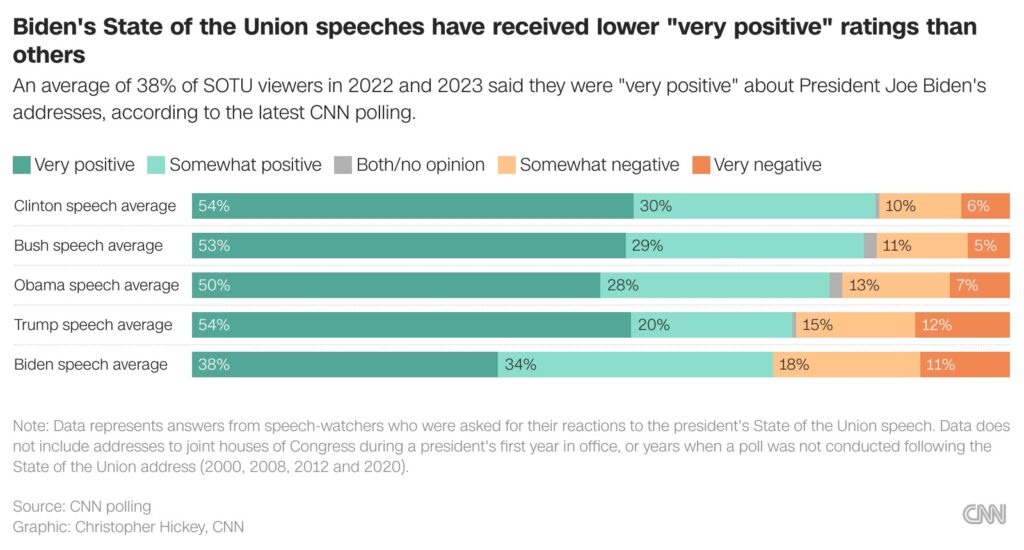 Despite all the hoopla Biden promoted during the SOTU speech about how well he is done on the economy, one should be reminded of a recent poll from Lefty ABC and WAPO about how people really feel about the economy. More people think they are worse off than at any time since 1986. See this in the chart below and learn more here.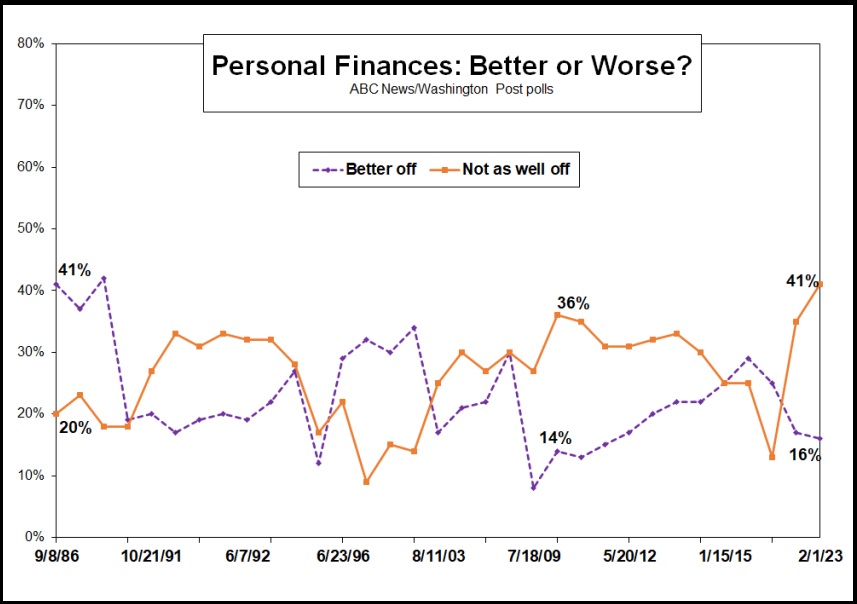 Perhaps not the best measure, below is an infographic that shows how much time Biden spent on topics he presented and perhaps his belief on what the focus of America should be and what he will be working on in the final two years of his presidency.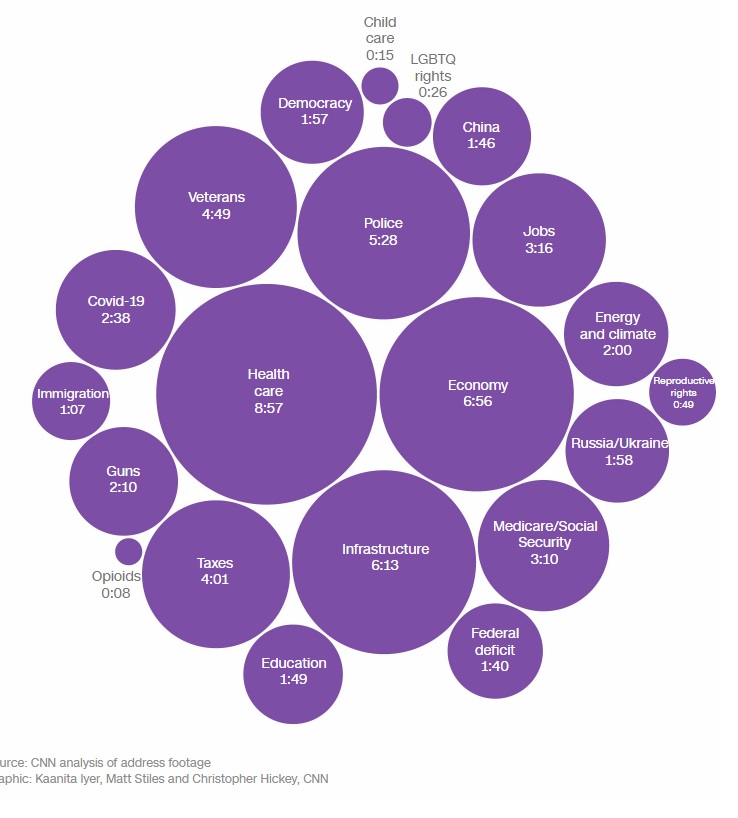 Here is even a shorter executive summary of Biden's SOTU speech below.
Biden's focus on the economy, infrastructure, taxes, and jobs was a mere shopping list of vote-buying gimmicks – it is the ole "tax and spend" Democrats we have known for decades.
Biden mostly ignored the frightening geopolitical issues America is facing with China, Russia, Ukraine, and other areas on the globe – as the Doomsday clock advances closer to midnight. Is Biden sleepwalking us into WWIII?
Arkansas Gov. Sarah Huckabee Sanders gave the SOTU rebuttal and declares Mr. Biden and his Democratic colleagues have "failed" the American people, and declared that it's "time for a change." She drew the contrast between Republicans and Democrats and summed the difference in two to-the-point statements: "Normal vs. Crazy," and "I'm for freedom. He's for government control." See her powerful speech below and the full text of her speech here.
See more Chart of the Day posts.