Over the last few decades, marriage has been a declining institution among all Americans, and this decline is even more evident in the Black community. In 2020 only 30% of African Americans were married compared to 48% of all Americans. Half, or 50%, of African Americans, have never been married compared to 34% of all Americans.
In 2012 The U.S Census Bureau released a report that studied the history of marriage in the United States. They discovered some startling statistics when calculating marriage by race. They found that African Americans aged 35 and older were more likely to be married than White Americans from 1890 until sometime around the 1960s.
Not only did they swap places during the 60s, but in 1980 the number of NEVER married African Americans began a staggering climb from about 10% to more than 25% by 2010, while the percentage for White women remained under 10% and just over 10% for White men. See this in the chart below and learn more here.
The question becomes – why?
The chart below illustrates how closely the marriage graph for Black men aligns with the incarceration numbers, which also experienced an abnormal climb beginning in 1980. This does not prove causation. However, it shows that they are related due to the assumption that men in prison are less likely to marry.
As the chart above implies, another potential reason for the decline in Black marriages was the beginning of the socialization of our culture in the 1960s. This included the "war on poverty" and its associated welfare programs. The socialization continued through the 1970s until today with affirmative action programs that, in many cases, did away with the merit base system for many Blacks. Removing the "Iron Sharpening Iron" process reduces the ability of a group to achieve.
Are there other factors at play here? If you step foot on a college campus these days, you are likely to see more women than men. Among currently enrolled students ages 18-24, about 53% are women. Over the past 40 years, the share of young women enrolled in college has more than doubled, while the share of young men enrolled in college has increased much more modestly.
There are significant racial and ethnic differences in college attainment among those ages 25-29. Among the four major racial and ethnic groups, young Asians are the most likely to be college graduates. In 2010, more than half (53%) of Asians ages 25-29 had at least a bachelor's degree. Young whites have the second-highest completion rate (39%), followed by young blacks (19%) and Hispanics (13%). See this in the chart below and learn more here.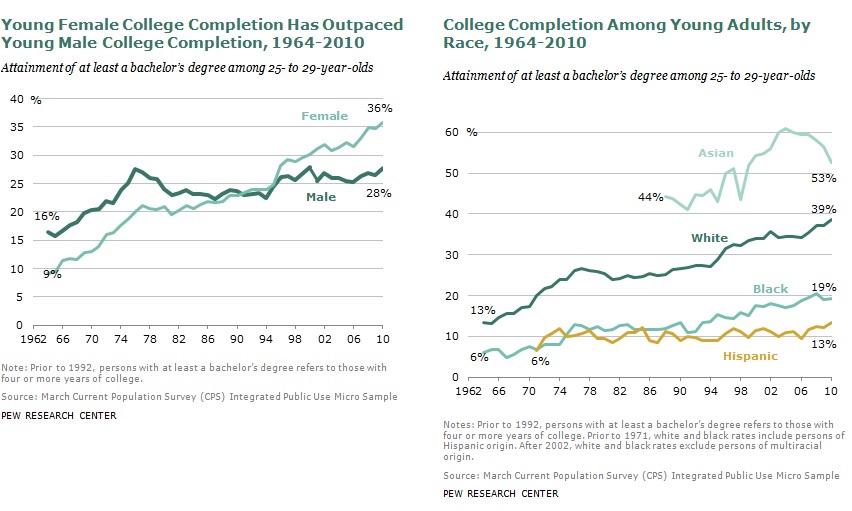 No doubt that this change in the gender gap in terms of education has also shown up in gender wage gaps. While the hourly earnings of white men continue to outpace those of women, all racial groups of women have made progress in narrowing this wage gap since 1980 – see here.
Many believe that hypergamy is in decline. However, others believe it is alive and well. A study done by the University of Minnesota in 2017 found that females generally prefer dominant males as mates. In fact, even as women earn more university degrees than men, they are still 93 percent more likely to marry men with higher incomes, according to a 2016 study conducted by the University of British Columbia.
Could the mathematics of hypergamy be a cause of declining marriages?
Only 1 in 3 Blacks are married today, while 1 in 2 whites are in marriages today as well. See this in the chart below. We know that one of the single most significant factors of poverty is single-parent homes – hence this statistic is quite important. So are the Whites doing better than the Blacks? Today perhaps, but considering that the overall marriage rates are in decline, the Whites, unfortunately, are catching up fast with the African American community.
Give us your take in the comment section below on why not only Black marriages are in decline, and by inference, white marriages may follow suit.
See more Chart of the Day posts.
By Tom Williams
Read Original Article on RightWireReport.com