Former President Trump is pushing his fight deep into Gov. Ron Desantis' backyard in Florida, picking off Sunshine State lawmaker endorsements, one by one.
NBC News reported last week that DeSantis' team had called at least six members of the Florida delegation to try to stop them from endorsing Trump with moderate success. DeSantis earned his first congressional endorsement from a member of the Florida delegation today — Rep. Laurel Lee — hours before meeting with three dozen members of Congress on Capitol Hill. Others still are squarely behind Trump.
Rep. Lance Gooden (R-Texas) tweeted last evening: "Today, after careful consideration and a positive meeting with Governor DeSantis, I have decided to endorse President @realDonaldTrump for 2024."
See the current Congressional scorecard of endorsements by candidates so far in the chart below and learn more here.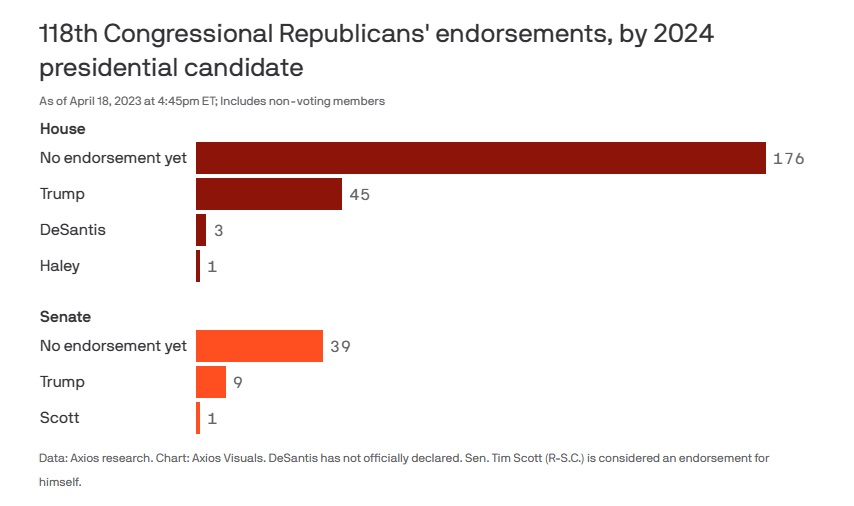 Today, FiveThirtyEight is launching our national polling average for the 2024 Republican presidential primary. It shows former President Donald Trump receiving 49.3 percent of the national vote and Florida Gov. Ron DeSantis (who has not officially entered the race) receiving 26.2 percent. Former Vice President Mike Pence, another potential candidate, is at 5.8 percent, while declared candidate and former UN Ambassador Nikki Haley is at 4.3 percent. See this in the chart below and learn more here.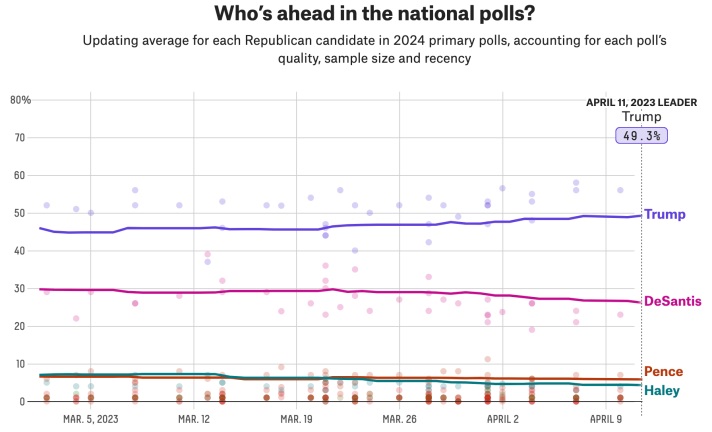 As the Republican primary season heats up, some battles are emerging – one, for example, is between Trump and Desantis – see here. Marjorie Taylor Greene tells both sides of the Trump – DeSantis debate to lay off the personal stuff.
The online personal fights between Trump and DeSantis influencers needs to stop.

It makes everyone look bad and helps no one.

We are in $31T in debt, our border is out of control w/ 300+ people dying daily from drugs, our economy sucks, our kids are being groomed and…

— Marjorie Taylor Greene 🇺🇸 (@mtgreenee) April 14, 2023
Not sure if one can avoid internal GOP politics – but the above advice should be reasonable. Give us your take in the comment section below on how you think the coming Republican primary season is shaping up.
See more Chart of the Day posts
By Tom Williams