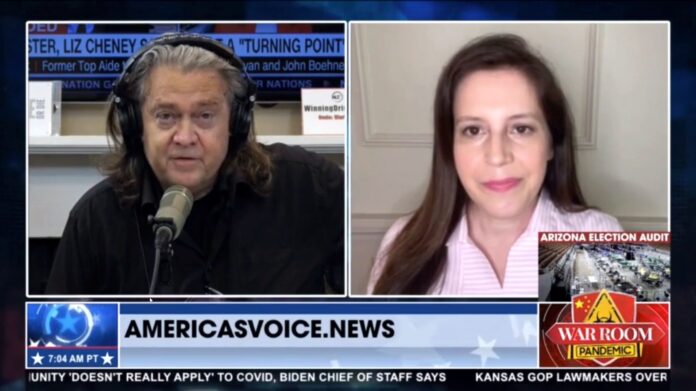 The congresswoman who is attempting to supplant Rep. Liz Cheney (R-Wyo.) in the House GOP leadership team on Thursday appeared on a program hosted by Steve Bannon, a onetime adviser to President Donald Trump, and said that House Republicans need to work with the former commander-in-chief.
"My vision is to run with support from the president and his coalition of voters, which was the highest number of votes ever won by a Republican nominee, in 2020," Rep. Elise Stefanik (R-N.Y.) said on "War Room," referring to Trump.
"This is also about being one team," she added later. "And I'm committed to being a voice and sending a clear message that we are one team, and that means working with the president and working with all of our excellent Republican members of Congress."
Stefanik's position is in direct contrast to Cheney, the No. 3 Republican in the House, who has repeatedly denigrated Trump and criticized especially his comments and actions leading up to, during, and after the Jan. 6 U.S. Capitol breach.
Stefanik is vying to replace Cheney as the House GOP Conference chair. She won endorsements from House Republican Whip Steve Scalise (R-La.) and Trump on Wednesday.
On "War Room," Stefanik presented other differences with Cheney. Stefanik supports the election audit taking place in Arizona's largest county. She spoke of standing by Trump when many Republicans condemned him after a tape leaked during the 2016 presidential race showing he made crude comments years ago. And she credited the former president with expanding the Republican Party with policies like revamped trade deals.
Cheney, whose office has not returned requests for comment, took a different path in responding to the recent blowback. She penned an op-ed in The Washington Post once again decrying Trump's claims that he won the 2020 election.
"The question before us now is whether we will join Trump's crusade to delegitimize and undo the legal outcome of the 2020 election, with all the consequences that might have," she wrote.
Read Full Article on TheEpochTimes.com