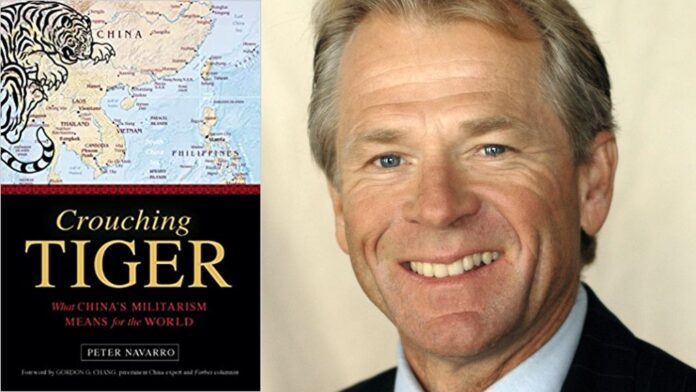 Will there be war with China? Crouching Tiger: What China's Militarism Means for the World provides the most complete and accurate assessment of the probability of conflict between the United States and the rising Asian superpower. Equally important, it lays out an in-depth analysis of the possible pathways to peace. Written like a geopolitical detective story, the narrative encourages reader interaction by starting each chapter with an intriguing question that often challenges conventional wisdom.
Based on interviews with more than thirty top experts, the author highlights a number of disturbing facts about China's recent military buildup and the shifting balance of power in Asia: the Chinese are deploying game-changing "carrier killer" ballistic missiles; some of America's supposed allies in Europe and Asia are selling highly lethal weapons systems to China in a perverse twist on globalization; and, on the U.S. side, debilitating cutbacks in the military budget send a message to the world that America is not serious about its "pivot to Asia.
"In the face of these threatening developments, the book stresses the importance of maintaining US military strength and preparedness and strengthening alliances, while warning against a complacent optimism that relies on economic engagement, negotiations, and nuclear deterrence to ensure peace.
Accessible to readers from all walks of life, this multidisciplinary work blends geopolitics, economics, history, international relations, military doctrine, and political science to provide a better understanding of one of the most vexing problems facing the world.
Review
A Top Book of 2015 at The Globalist!

"Provocative, chilling, and never more timely, Peter Navarro cleverly details America's single greatest foreign-policy challenge today: that of a rising China. From brewing tensions in the East and South China Seas and frightening moves in the all-so-stealthy cyber arena, to Beijing's development of specific weapons platforms that challenge Washington's ability to respond to a crisis in Asia, Navarro spells out in one easy-to-read volume all you need to know when it comes to China's provocative challenge to the status quo. It is a must read." — Harry J. Kazianis, executive editor, National Interest, and senior fellow for defense policy, Center for the National Interest
"Crouching Tiger brings a rare, balanced, and brilliant perspective to the most formidable strategic challenge facing America—how to manage Beijing's attempt to create a 'new Chinese order.' Navarro's fact-based analysis strips bare this troubling issue even as he brings in the most eminent scholars in the field to offer a way forward. At stake are the principles that have stabilized Asia and guided world development for more than half a century." — Stefan Halper, director of American Studies, University of Cambridge, and author of The Beijing Consensus: Legitimizing Authoritarianism in Our Time
"Navarro makes a compelling case that trouble lies ahead in Asia, mainly because China is going to attempt to dominate that region the way the United States dominates the Western Hemisphere. China, in other words, is going to imitate Uncle Sam. Crouching Tiger is not only clearly and concisely written, but it also addresses almost every issue related to the question of whether China can rise peacefully. And that includes the counterarguments to Navarro's position. This book is ideally suited for a wide audience." — John J. Mearsheimer, R. Wendell Harrison Distinguished Service Professor of Political Science, University of Chicago
"Finally, a book that vividly illustrates how China's relentless mercantilist attack on America's industrial and technological bases is not just costing us millions of good-paying jobs, it also now threatens our very national security. The author's compelling blueprint for a far-ranging national response to this mercantilist attack should be required reading." — Pat Mulloy, former commissioner, US-China Economic and Security Review Commission, and former Foreign Service Officer, US State Department
"This meticulously researched book lays bare the critical nexus between the 'Made in China' products we buy and the war machine an expansionist China is now assembling to seize territory from its Asian neighbors and drive the US out of the Western Pacific. With this book's arrival—required reading for every American citizen—nobody can say we weren't warned." —Dan Slane, commissioner, US-China Economic and Security Review Commission; former case officer, Central Intelligence Agency; and former White House advisor
"Penetrating the mystique of a rapidly reemerging China and its implications for global peace has seldom been as easy or as intriguing as the exegesis provided by Peter Navarro in Crouching Tiger. Posing forty-five salient questions, Navarro deputizes his readers to join his step-by-step Sherlockian investigation into whether it is possible—and ultimately why it is important to try—to avoid conflict with China." —Patrick M. Cronin, DPhil, senior director, Asia-Pacific Security Program
"A brilliant and clear-headed analysis of America's general short-sightedness on China—including allowing US multinationals to utilize offshore production in order to benefit from Beijing's export subsidies, sweatshops, forced labor, currency manipulation, and absent environmental controls. Of equal note is the frank unmasking of the kowtowing of the US media to China, rampant academic self-censorship, and, at dead center stage, the growing Chinese military threat now bearing down on Asia." —Hon. David Kilgour, JD, former Canadian Secretary of State for Asia-Pacific
"Crouching Tiger weaves together history, economics, geopolitics, ancient Chinese doctrines, and modern military strategy to assess the challenge of China's military rise and its one-hundred-year quest for global supremacy. It should be read by everyone, from Pentagon strategists and members of Congress to American citizens and taxpayers." —Michael Pillsbury, director, Center on Chinese Strategy at the Hudson Institute; member, the Council on Foreign Relations and the International Institute for Strategic Studies; and author, The Hundred-Year Marathon: China's Secret Strategy to Replace America as the Global Superpower
"Peter Navarro's provocative study thinks the unthinkable: a great power war between the United States and China in the not-so-distant future. Navarro systematically examines the underlying causes, the immediate triggers, and the possible trajectories of such a hypothetical conflict. In the process, he drives home the imperative to keep the peace through American strength. What sets this book apart from the booming literature on China's rise is its appeal to the wider public. By drawing attention to the risks of a Sino-American strategic rivalry, Navarro's work should spur much-needed debate on one of the most consequential challenges facing the United States." — Toshi Yoshihara, John A. van Beuren Chair of Asia-Pacific Studies, US Naval War College, and coauthor, Red Star over the Pacific: China's Rise and the Challenge to US Maritime Strategy
About the Author
Peter Navarro is a professor at the Merage School of Business at the University of California-Irvine. With a Masters of Public Administration from the Kennedy School of Government and a Ph.D. in economics from Harvard, this distinguished macroeconomist has written extensively on Asia as well as lived and worked there. He has published ten previous books, most recently Death by China, Seeds of Destruction, Always a Winner, and the bestselling The Coming China Wars. In 2001, his If It's Raining in Brazil, Buy Starbucks was also a bestseller. He appears regularly in such media outlets as the BBC, CNN, CNBC, MSNBC, and the CBS News, including 60 Minutes. His op-ed articles have been published in the Boston Globe, the Chicago Tribune, the Los Angeles Times, the International Herald Tribune, the New York Times, and the Wall Street Journal, among other publications.