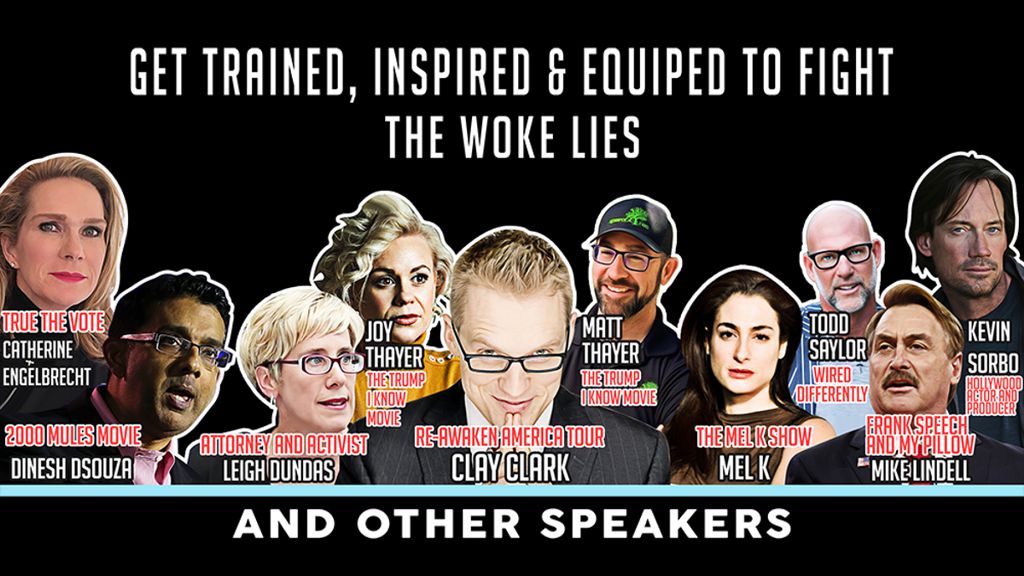 At the Defend Your Voice: Virtual Summit, brought to you by DEFEND OUR UNION, you will learn how to fight the coordinated media attack on traditional American values.
Featuring:
Dinesh D'Souza (2000 Mules)
Catherine Engelbrecht (True The Vote)
Mike Lindell (Franks Speech & My Pillow),
Clay Clark (Re-Awaken America Tour)
Mel K (Mel K Show)
Leigh Dundas (Attorney & Activist),
Kevin Sorbo (Hollywood Actor and Producer)
Todd Saylor (World Record Holder & the CEO's CEO)
and many more
Time: 06-04-22 6:00pm Eastern
Engage in the information war and defend your voice
At this summit, you will understand how to fight the the coordinated media attack on traditional American values. How America's adversaries construct messaging to manipulate and distract. What Disney, Karl Schwab, and Noah Yuval Harari have in common. Who is the most dangerous man at the World Economic Forum?
Learn how to: Speak
(1) with your friends
(2) with your family
(3) with your fellow workers and be heard.
Turn around the hearts and minds of dismissive legislatures. Use CNN and Fake news against your detractors. Prepare for the ACTIVE censorship on your texts and voice communications. Move off Woke digital platforms and find America First platforms.

Visit the Defend Our Union Website

About Defend Our Union
DEFEND OUR UNION connects Americans with existing grass roots organizations in their area
Created in the wake of the 2020 election, DEFEND OUR UNION is a national network of grassroots organizations made up of citizens who love our nation, our freedoms and are willing to work actively to protect them. Defend Our Union is collaborating nationally with faith leaders, state and local representatives, non-profits and grassroots organizations.
DEFEND OUR UNION is working on election integrity, recruiting and electing solid conservative candidates, constitutional education and creating a legislative firewall in each state to protect its citizens from unconstitutional overreach by our federal government.
DEFEND OUR UNION has a national recruiting campaign attracting freedom loving, law honoring Americans. DEFEND OUR UNION then connects those people with existing grass roots organizations in their area. DEFEND OUR UNION uses this process of building existing grass roots organization as an incentive to those leaders to collaborate with other leaders in their area.
DEFEND OUR UNION is committed to, not only building existing groups, but also incentivizing their leaders to collaborate, work as a single unit on a few key items. DEFEND OUR UNION believes that if we fail to collaborate and work as a single unit, we will not achieve the results we seek.
Visit the Defend Our Union Website