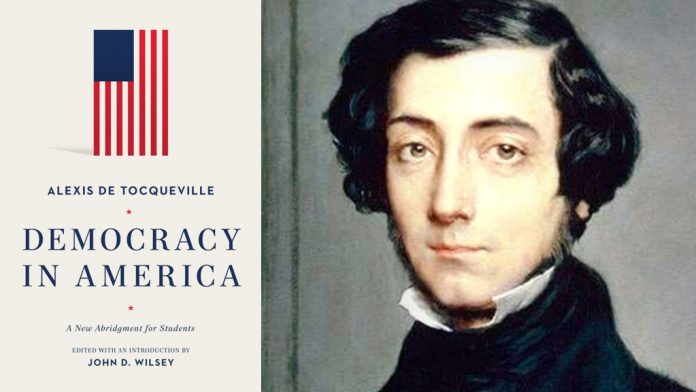 A New Abridgement of a Classic on the American Experiment.
As debates rage over the future of America and the country's relationship to its past, there is no better time to examine the American culture from the perspective of a nineteenth century French thinker and student of democracy. Alexis de Tocqueville's Democracy in America, written in French in the early 19th century, is seen as a classic of American political and cultural studies. However, the expansive 2–volume original has never seen an accessible version that remains true to the original text. This new abridgement of Francis Bowen's 1864 translation keeps Tocqueville's thought intact. All chapters have been retained and no sentences have been divided. This volume offers a clear window into American political history and a concise approach to this classic outsider's perspective on the United States. A new introduction by editor John D. Wilsey further interprets and applies Tocqueville's thought for the modern student of American institutions, politics, religion, and society.
Editorial Reviews
Review
Tocqueville's Democracy in America is one of the most important books–indeed, perhaps the most important book–for understanding American politics and society. John D. Wilsey's abridgment succeeds in placing an accessible version of this magnum opus in the hands of students and general readers, while his introduction provides a clear guide for understanding the work. By sharing Tocqueville's ideas broadly, Wilsey has contributed to educating the American democracy.
—Jonathan Den Hartog, associate professor of history, University of Northwestern–St. Paul, St. Paul, Minnesota
Alexis de Tocqueville is the greatest political theorist of democracy, and Democracy in America is his greatest writing. Editor John Wilsey provides an excellent introduction to Tocqueville's thought and a judicious abridgment of the book that trims it down to half its original size while retaining Tocqueville's most important thoughts on issues such as democracy, liberty, religion, and race. Highly recommended.
—Bruce Ashford, provost and professor of theology and culture, Southeastern Baptist Theological Seminary
John Wilsey's edition of Democracy in America brings Tocqueville's essential text into the classroom. Focusing on democracy, liberty, and racial prejudice, Wilsey draws attention to the important themes that have made Tocqueville's work required reading as both a historical artifact and a statement of political philosophy. With careful abridgment and an approachable introduction, Wilsey helps faculty and students alike understand the meaning of Democracy in America in its own time and today.
—Emily Conroy-Krutz, assistant professor of history, Michigan State University
Framed by a thoughtful introduction to Democracy in America's historical context and its core philosophical and social concerns, this volume deftly balances reader accessibility with coverage of essential elements of the original text.
—Lloyd Benson, W. K. Mattison Professor of History, Furman University
Wilsey's marvelous editing of Alexis de Tocqueville's classic Democracy in America is both timely and instructive, given our current political context and racial climate in 21st-century America. Students, professors, and the general reader will benefit from a renewed edition of Tocqueville's prescient 19th-century observations of our still-burgeoning republic as well as from Wilsey's skillful teasing out of Tocqueville's views on race and slavery in a fresh, thoughtful, and insightful introduction. This book will be a benefit to American classrooms and a "must have" for educators' libraries for decades to come.
—Otis W. Pickett, assistant professor of history, Mississippi College
John D. Wilsey has achieved something near impossible–the abridgement of Alexis de Tocqueville's masterpiece Democracy in America while retaining its core contributions to our understanding of Jacksonian America up to the present. In his introduction, Wilsey provides readers an excellent guide for understanding Tocqueville's treatment of equality, democracy, liberty, and especially slavery. This volume is perfect for high school and college students, but any curious reader could pick up a copy to start his or her study of this classic text.
—James M. Patterson, assistant professor of politics, Ave Maria University
Democracy in America has always been essential reading for students of American history and of the history of political and social thought. But teachers on the secondary-school and undergraduate levels who might otherwise make generous use of Tocqueville's luminous text have often been daunted by the length and expense entailed in assigning the whole book. For such teachers and their students, this careful abridgment of the Democracy, trimmed to half its original length and framed by the editor's thoughtful introductory essay, will prove to be just what the doctor ordered.
—Wilfred M. McClay, G. T. and Libby Blankenship Chair in the History of Liberty, and director of the Center for the History of Liberty, University of Oklahoma
Tocqueville's unparalleled analysis of the American experiment–his praise of it, and his prescient warnings about a people detached from virtue and religion–should be required reading for every American citizen. This superb abridgment communicates the power of the original in a way that makes thinking with Tocqueville easier than ever. Recommended!
—C. C. Pecknold, associate professor of theology, The Catholic University of America
About the Author
Alexis de Tocqueville (1805-1859) was a French political philosopher and historian, best known for his works Democracy in America and The Old Regime and Revolution. He was a pioneer in modern political science and sociology, famously analyzing the societal changes provoked by democratic society. Actively engaged in French politics most of his life, he retired after Napoleon's 1851 coup and focused on his writing. He died of tuberculosis in the spring of 1859.
John D. Wilsey (PhD, Southeastern Baptist Theological Seminary) is Assistant Professor of History and Christian Apologetics at Southwestern Baptist Theological Seminary at the Houston campus, where he teaches courses on Western civilization, American politics, and American religious history. He is the author of American Exceptionalism and Civil Religion: Reassessing the History of an Idea (IVP Academic, 2015). Dr. Wilsey's research focuses on American religious nationalism and public theology, and Alexis de Tocqueville's work figures prominently in his studies.