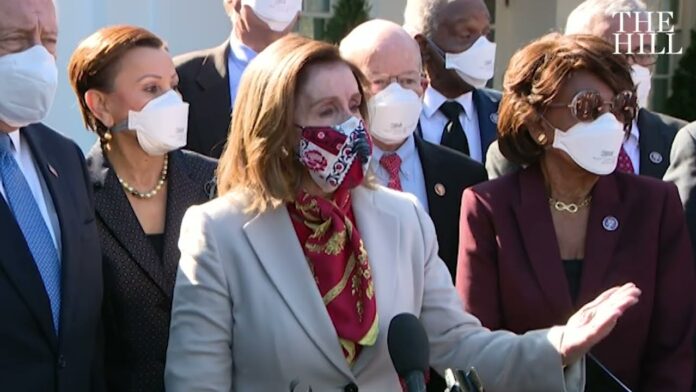 Democratic leaders are considering changing a provision in their signature $3.5 trillion reconciliation bill that would limit the costs of prescription medication, a provision that key moderate swing voters have found especially odious.
Specifically, the provision would cap the price of prescription drugs to a level consistent with the prices paid for the same medication in other developed countries.
For weeks, prominent Democrats have marketed the provision as a key part of their reconciliation package.
Sen. Bernie Sanders (I-Vt.), the author of the original budget proposal, emphasized the importance of the provision and the pharmaceutical industry's efforts to kill the provision in a tweet.
Sanders wrote: "Pharma has spent hundreds of millions opposing our efforts to lower prescription drug costs. Meanwhile, the six major drug companies made $50 billion in profits last year and pay their CEOs outrageous salaries. We must stop Pharma greed and pass the Reconciliation Bill."
Speaker of the House Nancy Pelosi (D-Calif.) and Senate Majority Leader Chuck Schumer have also often emphasized the measure's importance over the past few weeks at various press conferences.
Other House progressives, including Rep. Alexandria Ocasio-Cortez (D-N.Y.), have joined the chorus of voices praising the provision.
But now, Democrats are in negotiations with moderates who could tank the bill, and are trying to find a compromise on the measure that could win the support of these critical voters. The details of these negotiations are unclear, but they come against a backdrop of organized resistance to the measure in both chambers of Congress.
Slate of House Moderates Reject Measure, Propose More Limited Bill
In the House, the original proposal has faced stiff opposition from moderates who have demanded an alternative provision be inserted into the final bill.
Presaging these troubles for House leadership, Reps. Scott Peters (D-Calif.), Kurt Schrader (D-Ore.), and Kathleen Rice (D-N.Y.) voted against moving the drug pricing provision out of committee.
Schrader and Peters went a step further, introducing a significantly reduced reform to take the place of Democrats' original proposal.
The suggested compromise bill would allow Medicare to negotiate lower drug costs, which it cannot currently do. However, this would not extend to private insurance companies. The new bill would also not make all prescription drugs eligible for negotiation.
By Joseph Lord
Read Full Article on TheEpochTimes.com