Department of Homeland Security (DHS) Secretary Alejandro Mayorkas has deployed a mobile app for foreign nationals looking to arrive at the United States-Mexico border, to more quickly have them released into the U.S. interior.
A report by the Los Angeles Times on Friday reveals that President Joe Biden's administration is using a mobile app, called CBP One, that allows foreign nationals working with non-governmental organizations (NGOs) in Mexico and Central America to send their information to DHS so the agency can determine whether they are eligible for release into the U.S. interior while awaiting an immigration hearing.
Specifically, the mobile app is being used to help release into the U.S. migrants enrolled in the now-defunct "Remain in Mexico" program, along with those seeking exemptions from the Centers for Disease Control's (CDC) Title 42 authority whereby federal immigration officials can return border crossers to protect public health.
The Times reports:
With CBP One, organizations such as the United Nations refugee agency send to CBP photographs of asylum seekers they've identified, and the app uses facial recognition to compare those pictures to those in the existing gallery.

The app then sends a response back indicating whether the person's case is active and how long they've been waiting. If the app shows the case is open, an organization can arrange for the asylum seeker to get a COVID-19 screening, travel to a port of entry and obtain permission from CBP to enter.
A screenshot of the mobile app via DHS, published in the Times, shows how the process works for foreign nationals seeking release into the U.S. interior.
"A green check indicates the individual, whose picture the user submitted to CBP, is enrolled in Remain in Mexico and has a pending immigration case," a Times caption reads. "A yellow bar indicates the individual is enrolled, but the individual's case is now closed."
See example image at top of article.
Read Full Article on Breitbart.com
CBP One™ Mobile Application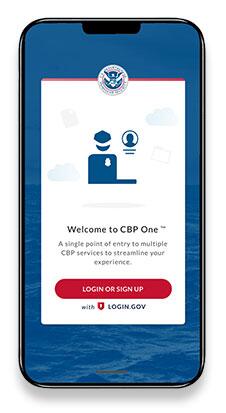 On October 28, 2020, U.S. Customs and Border Protection (CBP) launched the CBP One™ mobile application on the Apple App and Google Play stores.
CBP One™ is a mobile application that serves as a single portal to a variety of CBP services. Through a series of guided questions, the app will direct each type of user to the appropriate services based on their needs.
As part of CBP's comprehensive effort to improve the security of our nation's borders while enhancing legitimate travel and trade, CBP One™ will provide increased accessibility and transparency to some of CBP's most utilized services.
Currently, CBP One™ is available for brokers/carriers/forwarders to make appointments for the inspection of perishable cargo, travelers to apply for and view their I-94s and permission based use for International Organizations (IOs) to verify the status of individuals in CBP Programs. Additional services will be rolled out over the next year. Eventually, aircraft operators, bus operators, seaplane pilots, commercial truck drivers, and commercial vessel operators will be able to use CBP One™.
CBP One's™ privacy impact assessment can be found at: www.dhs.gov/publication/dhscbppia-068-cbp-one-mobile-application.
Overview of CBP One™ Features
CBP One™ began the rollout of its features, starting with an Inspection Appointment request feature for brokers/carriers/forwarders and I-94 Entry for travelers. Pleasure boat reporting and the ability to apply and update a cruising license, and Trusted Traveler Program applications will follow in subsequent releases.
The Inspection Appointment request feature allows brokers/carriers/forwarders to request an inspection time for perishable cargo entering the U.S. Each request is assigned to a CBP agriculture specialist who oversees assigning inspection times and communicates with the requestor via an interactive chat feature if additional information is needed.
The I-94 Entry feature allows travelers to apply for a provisional I-94 prior to arriving at a land border crossing. Travelers who apply for their I-94 ahead of time will experience faster processing times to expedite entry. Travelers can also quickly access their current I-94 submission to view critical information such as, how long they can remain in the U.S., and use it for proof of visitor status once in the United States.
The International Organization feature is restricted to organizations identified by the State Department as authorized users of CBP One to verify the status of individuals who are currently in the Migrant Protection Protocols (MPP). MPP is a U.S. government action whereby certain foreign individuals, without proper documentation, entering or seeking admission to the United States from Mexico are returned to Mexico to wait outside of the United States for the duration of their immigration proceedings. In January 2021, the United States suspended new enrollments in the MPP process. In February 2021, MPP enrollees who have ongoing cases began to be processed at ports of entry to await their hearing in the United States. To ensure safety and operational success, the United States Government has partnered with certain international organizations to assist in verifying MPP enrollment via CBP One prior to arriving at the U.S. Port of Entry.
Reporting your arrival for small pleasure boats has been available through the CBP ROAM™ application. However, in the spring of 2021, reporting arrivals for pleasure boats will be transitioned to CBP One™ and the CBP ROAM™ application will no longer be available for use.
Getting Started
Travelers should download the free CBP One™ app on their web-enabled smart device. Note that a free login.gov account is required to use CBP One™. After opening the CBP One™ app, tap "Sign In with Login.gov".
Travelers who do not have a login.gov account should "Create an account" and follow the instructions.
Travelers who already have a login.gov account should sign into their existing account, and will be redirected back to the CBP One™.
After signing in to CBP One™ users can access the different CBP services based on their specific needs.
Please report any questions or comments to CBPOne@cbp.dhs.gov and you will receive a response as soon as possible.
CBP One™ I-94 is available nationwide. However, the ability to make appointments for perishable cargo is available at participating Ports of Entry (POE) only. Please contact your POE for more information.
U.S. Customs and Border Protection (CBP) launched the CBP One™