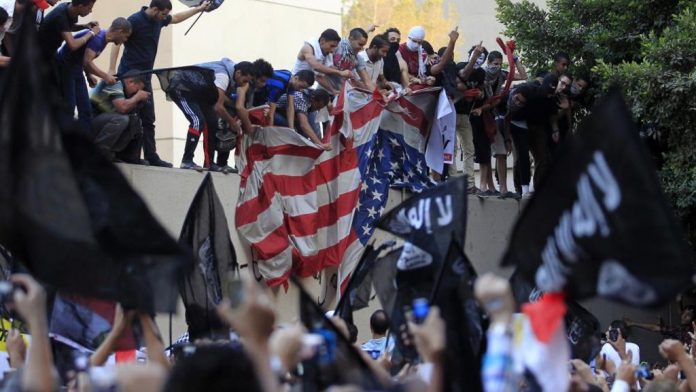 Main ultraconservative Islamist protesters climbed the walls of the U.S. Embassy in Egypt's capital Tuesday and brought down the flag, replacing it with a black flag with an Islamic inscription to protest a video attacking Islam's prophet, Muhammad.
Hundreds of protesters marched to the embassy in downtown Cairo, gathering outside its walls and chanting against the movie, which was reportedly produced in the United States.
"Say it, don't fear: Their ambassador must leave," the crowd chanted.
Dozens of protesters then scaled the embassy walls, went into the courtyard and took down the flag from a pole. They brought it back to the crowd outside, which tried to burn it, but failing that, tore it apart. The protesters on the wall then raised on the flagpole a black flag with the Muslim declaration of faith on it, "There is no god but God and Muhammad is his prophet."
The flag, similar to the banner used by al-Qaida, is commonly used by ultraconservatives around the region. Almost all the embassy staff had left the compound before the protest, and the ambassador was out of town.
The protest was sparked by outrage over a video being promoted by an extreme anti-Muslim Egyptian Christian campaigner in the U.S., clips of which are available on the social website YouTube and dubbed in Egyptian Arabic. The video depicts Muhammad as a fraud, showing him having sex and calling for massacres. Muslims find it offensive to depict Muhammad in any fashion, much less in an insulting way.
Read More