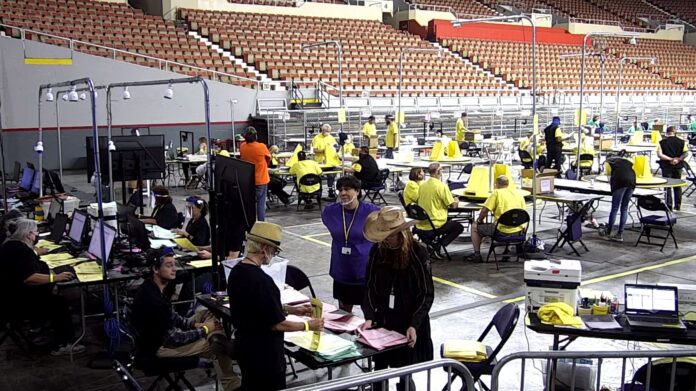 Workers in Arizona's largest county on May 24, 2021 resumed reviewing ballots and election machines in a 2020 election audit.
Approximately 500,000 ballots from the nearly 2.1 million cast in Maricopa County in the presidential election have been reviewed by the audit team, which was hired by the state Senate.
The team took a break as high school graduations were held in Veterans Memorial Coliseum in Phoenix. Workers moved the ballots and election equipment back to the arena over the weekend. The Arizona Senate has control of the building through June 30 to finish the audit, according to an agreement obtained by The Epoch Times.
"We have a lot more tables and people that they trained during the one week off, and so we think the throughput is going to pick up significantly," Ken Bennett, the former Republican Arizona secretary of state who is serving as the audit liaison for the state Senate, told The Epoch Times. "We have the colosseum this last week of May and all of June, so we're confident that we can get it done during that time."
Workers put up 44 circular tables for recounting ballots and 32 rectangular tables for inspecting ballots; 27 of the counting tables were in use on May 24 shortly before 11 a.m., along with 11 of the inspection tables. Auditors are considering adding a third shift that would go from 8 p.m. to 1 a.m.
Auditors, led by Florida-based Cyber Ninjas, initially said they'd take about six weeks from start to finish. The audit started on April 23.
Doug Logan, CEO of Cyber Ninjas, told state senators during a meeting last week that the delayed timeline is due to "a number of technical issues," as well as a lack of workers.
Firms hired by the county completed a machine audit earlier this year, and workers reviewed a sampling of ballots as part of a statewide hand recount in November 2020. Neither uncovered any problems, county and state officials have said.
Read Full Article on TheEpochTimes.com