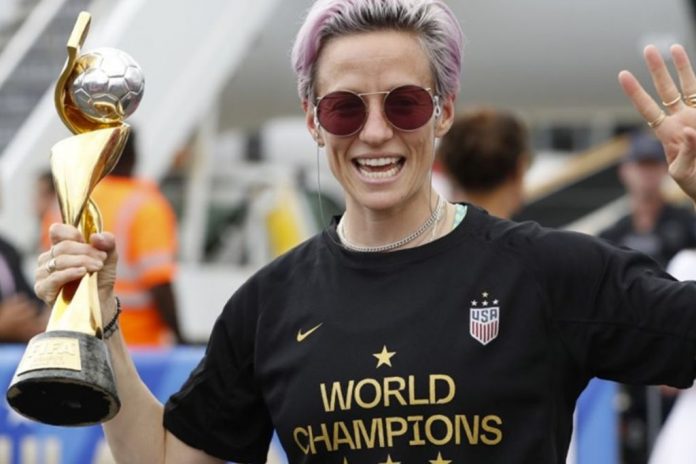 She's chic, fiery, and really darn good at soccer. Is it any wonder that everybody loves Megan Rapinoe?
The soccer star and U.S. women's national team captain has become a celebrity after guiding her team to yet another Women's World Cup win on Sunday. Amid endless fanfare, she has received a glowing feature in the Washington Post, modeled for Sports Illustrated, and become a viral sensation. One article in the Week even endorsed her for president.
There's just one problem: She's actually kind of an awful person. Rapinoe has soccer skills for sure, but her entitled, flippant, and unpatriotic attitude is the epitome of first-world privilege.
Let's start with the facts: She's a celebrity, a lesbian icon, and a millionaire. But according to Rapinoe, she's an oppressed victim of sexism, apparently. She has been at the forefront of the fake outrage and demands for "equal pay" compared to the men's soccer team. She has even encouraged the public shaming of FIFA President Gianni Infantino and filed a lawsuit against U.S. Soccer.
Rapinoe is too drunk on political correctness and her own celebrity to acknowledge the inconvenient reality that viewership for the men's World Cup, win or lose, vastly outweighs that of the women's tournament. For reference, it's estimated that 1 billion people will have watched the 2019 Women's World Cup, but the 2018 men's World Cup reached 3.6 billion.
Also, is it that unreasonable to think that the time of megastar Christian Pulisic is worth slightly more than hers? Granted, he makes a $1.14 million salary right now in Germany, but Chelsea Football Club just paid more than $72 million to Pulisic's club for the right to sign him to a new contract in England starting perhaps next year.
Also, we're always expected to leave this out, but the gulf in physical competition between men's and women's soccer is truly immense. Just two years ago, the world's uncontested best women's national team, our own, lost very badly to a team of boys under age 15, from the academy of a middling professional team in a mediocre (although rapidly improving) men's professional soccer league. The gap in talent is going to be reflected in both viewership and in pay structures, but Rapinoe can only gain in celebrity victimhood by pretending these disparities aren't important. Why not stir up the maximum possible baseless outrage?
Beyond the embarrassing exercise in self-victimhood, Rapinoe's personality is marred by her lack of appreciation for the country that has given her the chance to rise so far and achieve so much. She has turned the women's historic World Cup win into a political pissing match, when it could have been a bipartisan moment of unity for the country. When asked, Rapinoe said, "I'm not going to the f—ing White House." Plus, she has repeatedly knelt for the national anthem and said, "I'll probably never put my hand over my heart. I'll probably never sing the national anthem again."
After her World Cup victory, Rapinoe and a teammate dropped the American flag on the ground to pose for a photo opp.
You should be disturbed by this unpatriotic narcissistic behavior. @mPinoe is neither a hero or a role model. I rewound and watched the entire celebration on the field. Rapinoe didn't want anything to do with an #Americanflag before she stomped it. #repulsive pic.twitter.com/Kevbe7jJYt

— Jonathan T Gilliam (@JGilliam_SEAL) July 7, 2019
"I'm not going to the fucking White House." – @mPinoe pic.twitter.com/sz1ADG2WdT

— Eight by Eight (@8by8mag) June 25, 2019
It's hard to avoid the conclusion that Rapinoe is a bad role model for the millions of young women across the country. They look up to her and see not a disciplined, respectful sports icon, but a groundlessly bitter, petulant celebrity who is totally ungrateful for the opportunities she's had. As Marc Thiessen put it for the New York Post, "Megan Rapinoe is a great — but needlessly, selfishly divisive — athlete."
This truth has, unfortunately, been largely lost in the post-victory fanfare. Everyone should be happy the U.S. women's team once again proved its excellence on the international stage, but we must not forget that Rapinoe is not someone worth celebrating.
by Brad Polumbo at the Washington Examiner