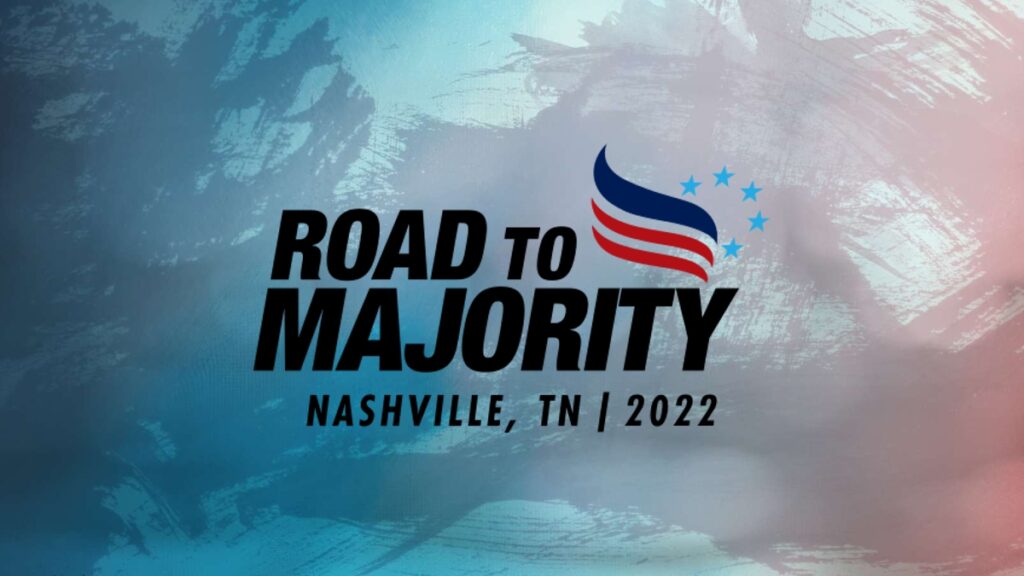 The Nation's Premiere Pro-Faith, Pro-Family Event
June 16-18, 2022 – Gaylord Opryland Resort & Convention Center in Nashville, Tennessee
For the past twelve years, the Faith & Freedom Coalition's Road to Majority Policy Conference has empowered conservative activists to fight for their values at the polls and in the public arena. Designed to forge a path toward a pro-family majority, the conference will equip attendees with the knowledge and connections they need to drive engagement and voter turnout. This year's timely gathering will accelerate conservatives further down the road to majority in the 2022 midterm elections.
Faith And Freedom Coalition's Road To Majority 2022
Road To Majority 2022 Speakers
Donald Trump
45th President of the United States
Truth Social
U.S. Representative, Texas
Dan Crenshaw
@DanCrenshawTX
Lieutenant Governor of Virginia
Winsome Sears
@WinsomeSears
U.S. Senator, Texas
Ted Cruz
@SenTedCruz
U.S. Senator, Tennessee
Marsha Blackburn
@MarshaBlackburn
Former U.S. Ambassador to the U.N.
Nikki Haley
@NikkiHaley
Secretary of Education
Betsy DeVos
@BetsyDeVosED
Host of "Justice with Judge Jeanine"
Jeanine Pirro
@JudgeJeanine
Lieutenant Governor, North Carolina
Mark Robinson
@markrobinsonNC
Radio Host and Author
Michael Medved
@MedvedSHOW
Former Speaker of the U.S. House of Representatives
Newt Gingrich
@newtgingrich
U.S. Senator, Wisconsin
Ron Johnson
@RonJohnsonWI
Civil Rights Activist
Leo Terrell
@TheLeoTerrell
U.S. Senator, Florida
Marco Rubio
@marcorubio
U.S. Senator, Tennessee
Bill Hagerty
@BillHagertyTN
Candidate for U.S. Senate, Georgia
Herschel Walker
@HerschelWalker
Senior Pastor of Free Chapel
Jentezen Franklin
@Jentezen
Creator of the Babylon Bee
Adam Ford
@adam4d
CEO of the Babylon Bee
Seth Dillion
@SethDillon
U.S. Congressman
Jim Jordan
@Jim_Jordan
U.S. Senator
Joni Ernst
@SenJoniErnst
Former White House Press Secretary
Kayleigh McEnany
@kayleighmcenany
U.S. Senator
Lindsey Graham
@LindseyGrahamSC
U.S. Representative
Louie Gohmert
@replouiegohmert
U.S. Representative
Maria Salazar
@RepMariaSalazar
70th U.S. Secretary of State
Mike Pompeo
@mikepompeo
President of Paula White Ministries
Paula White
@Paula_White
U.S. Senator
Rick Scott
@SenRickScott
Chairwoman of the Republican National Committee
Ronna McDaniel
@GOPChairwoman
Singer and Songwriter
Sean Feucht
@seanfeucht
U.S. Senator
Tim Scott
@votetimscott
Journalist and Radio Host
Todd Starnes
@toddstarnes
U.S. Representative
Barry Loudermilk
@standwithbarryDonald Trump
Watch Faith And Freedom Coalition's Road To Majority on Fox Nation

Watch the show at our exclusive livestream partner, Fox Nation.