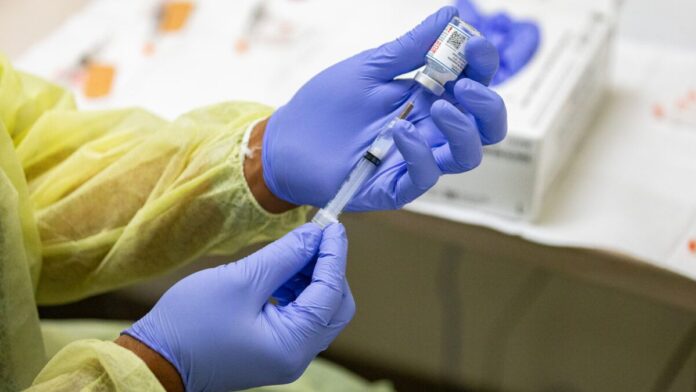 The Food and Drug Administration (FDA) on Wednesday authorized booster shots for Moderna and Johnson & Johnson vaccines for certain eligible populations, adding that people can take a different vaccine brand than the ones they'd taken originally.
The booster campaign for those aged 65 and over and those at high risk aims to increase protection against COVID-19 amid signs that vaccine efficacy decreases over time.
"Today the currently available data suggest waning immunity in some populations of fully vaccinated people," FDA's acting commissioner Janet Woodcock said. "The availability of these authorized boosters is important for continued protection against COVID-19 disease."
The FDA on Wednesday authorized a third COVID-19 vaccine dose from Moderna for seniors and those at risk of severe disease, and those who may be exposed at their residence or work to the CCP (Chinese Communist Party) virus. The booster is authorized six months after a person's last inoculation and will be half the dose used for the first two shots.
The agency said that for Johnson & Johnson's single-shot vaccine, people of any eligible ages can get a second dose at least two months after their first shot.
Previously, the FDA authorized third doses of the Pfizer-BioNtech COVID-19 vaccine for at least six months after people received the first two doses. The authorization was for people aged 65 and older, and others at high risk from COVID-19 due to health conditions or jobs.
The Centers for Disease Control and Prevention (CDC) will consult a panel on Thursday before finalizing official recommendations about who should get a third dose, and when. The recommendations are subject to approval by CDC Director Rochelle Walensky.
About 65 million eligible Americans remain completely unvaccinated. Of the nearly 190 million Americans who are fully vaccinated, about 15 million have received the J&J vaccine while the rest have received the mRNA-based Pfizer-BioNTech or Moderna shots. About 11.2 million people have so far received a booster dose.
Read Full Article on TheEpochTimes.com