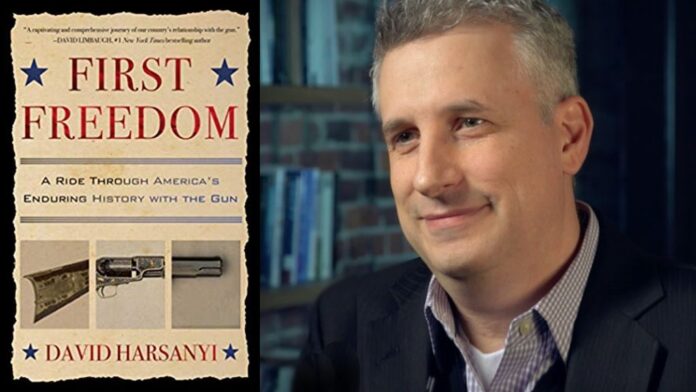 From "one of America's smartest political writers" (Glenn Beck) comes a fascinating and accessible history of the United States' unique and enduring relationship with guns, for fans of Chris Kyle's American Gun.
For America, the gun is a story of innovation, power, violence, character, and freedom.
From the founding of the nation to the pioneering of the West, from the freeing of the slaves to the urbanization of the twentieth century, our country has had a complex and lasting relationship with firearms. Now, in First Freedom, nationally syndicated columnist and veteran writer David Harsanyi explores the ways in which firearms have helped preserve our religious, economic, and cultural institutions for over two centuries. From Samuel Colt's early entrepreneurism to the successful firearms technology that helped make the United States a superpower, the gun is inextricably tied to our exceptional rise.
In the vein of popular histories like Salt and Seabiscuit,Harsanyi takes you on a captivating and thrilling ride of Second Amendment history that demonstrates why guns are not only an integral part of America's past, but also an essential part of its future.
Review
"David Harsanyi leads the reader on a captivating and comprehensive journey of our country's relationship with the gun, from colonial times to the present. When you finish you'll thoroughly understand the importance of guns to America's history and the indispensability of the Second Amendment to our precious liberties." — ―David Limbaugh, #1 New York Times bestselling author of Crimes Against Liberty
"David Harsanyi does Americans a service: he spells out in comprehensive, fascinating detail just how firearms are part of the American story — and why they should continue to be seen as a crucial centerpiece ensuring American liberty. A must-read!" — ―Ben Shapiro, New York Times bestselling author of The People vs. Barack Obama
"In First Freedom, Harsanyi is almost unparalleled in his clarity and adherence to principle, but that doesn't stop him from providing us with a rollicking and engaging read." — ―Mollie Hemingway, senior editor at The Federalist
"A briskly paced journey…a welcome lesson on how guns and America have shaped each other for 400 years." — —National Review
"David Harsanyi is one of the American's most dedicated defenders of liberty and is such a happy warrior, he's like Genghis Khan on Prozac." — ―Jonah Goldberg, #1 New York Times bestselling author of Suicide of the West
About the Author
David Harsanyi is a senior editor at The Federalist, one of the leading conservative/libertarian web magazines in the nation. Harsanyi is a nationally syndicated columnist and the author of three books, including First Freedom.