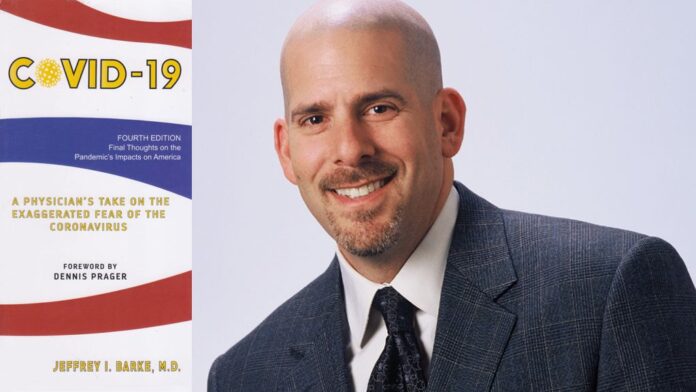 This 4th edition updates the brief essays that methodically examine the major Covid-19 issues – vaccines, masks, social distancing, natural immune systems, treatments ― to determine what is fact and what is myth in the current intensely political debate. The book is written by a family physician who pointedly differs on the threat posed by Covid-19 to the American people, then challenges current conventional wisdom on what should be done about the schools, the economy and public activity with reason, honesty and scientific facts.
Reviews
In this short, powerful collection of essays, a physician and local leader in Orange County, California, offers his reality check to the standard mainstream government and media messaging about the COVID-19 pandemic. His position is that absurd, overreactive government and societal responses to the coronavirus, like school and business closures, have destroyed common sense, threatened the healthy exchange of germs, and sucker-punched economic norms. He posits that COVID-19 only presents flu-like symptoms in relatively healthy people under age 65. Those at risk should stay home, and the rest of the American population, including and especially kids, should get back to mask-free school, work, and everyday life. Dr. Barke's provocative assertions are delivered with a clear readable language that a layperson can understand and follow. His observations are timely in a dynamic situation, and his succinct chapters are well-written and persuasive with their authoritative voice and confident stance. His dual backgrounds in medicine and school oversight lend weight to his opinions. Some readers may, at times, seek additional substantiation to the book's more noteworthy claims. The statement, for example, that COVID-19 is cured by a cocktail of easily attainable and known remedies is delivered with anecdotal reference to a successful physician but without the typical trappings of cited studies and scientific references. Still, hunger by many readers for information on this topic is undoubtedly vast, and this book of intriguing medical and sociological commentary reads like a page-turner. It is a compelling and optimistic assessment that offers thought-provoking alternatives to what may otherwise be accepted by some as inarguable truths.
~ U. S. Review of Books by Jordana Landsman
When I learnt that a US medical doctor, Jeffrey I Barke, M D, had published a third edition of his book on Covid-19 ― this time adding a discussion on the just approved Covid-19 vaccines whose powers to heal or harm are still unknown ― I asked the publisher for a review copy. In Africa, we hear a lot of rumours about certain types of Covid-19 vaccines experimentally made for the continent. We also hear that the vaccines are being sponsored by powerful people to destroy Africans, without explaining why. Then, of late, we learnt that a new virulent, super contagious variant of the coronavirus is circulating in the UK and South Africa. Therefore, I considered Dr Barke's book an important source of information that Africans could use to make informed decisions about dealing with the ever-changing Covid-19 pandemic challenges. The book is a must-have for health-watching people from all walks of life. It is organised into brief and informative essays on various topics on the nature of the virus and how effective mask-wearing, school and business shutdowns, social distancing and vaccines are in the fight against the coronavirus. The book cautions world governments not to make people take the Covid-19 vaccines against their will. It suggests instead that the public should be given enough information to be able to make prior informed consent decisions before accepting the Covid-19 vaccine. Elsewhere, the book notes with concern the rushed production of Covid-19 vaccines and their unknown likely long-term impacts on public health. It points out that under US law, the vaccine manufacturing or distribution companies can't be held liable for any of these long-term effects. That is a major worry. Dr Barke references a controversial and secretive 40-year study about syphilis in which US black communities were used, without their knowledge and consent, to test aspects of the disease. This inevitably raises the racial question around Covid-19. For example, why are people of colour many times more likely to die from Covid-19 in the US than white people? The book is something that I think anyone should consider important to take into 2021 as we approach the anniversary of the Covid-19 worldwide lockdown. What did the lockdowns gain for us in view of the current third wave of infections and deaths. What socio-economic impacts will they have? When can we be rid of this deadly disease? Dr Barke's book will help you formulate your own responses to these vital questions and to share your conclusions with others. About the writer: Emmanuel Koro is a Johannesburg-based international award-winning independent environmental journalist who writes independently and has written extensively on environment and development issues in Africa.
~ Chronicle of Zimbabwe by Emmanuel Koro
Talk about politically incorrect! Great collection of eye opening, thought provoking essays.
~ Larry Elder, radio talk show host
About the Author
Dr. Jeffrey I. Barke is a board-certified primary care physician who has a concierge practice based in Newport Beach, California. He completed his medical school training and family practice residency at the University of California Irvine, and earned his undergraduate degree at the University of Southern California. During his more than 20 years as a physician, he has served as an associate clinical professor at the University of California Irvine's Medical School, chairman of the Family Medicine Department at Hoag Memorial Hospital, on the board of directors of the Orange County Medical Association and medical director of Pathways to Independence.
Dr. Barke was elected to three four-year terms as a member of the Los Alamitos Unified School District Board of Education and is currently an elected member of the board of directors of the Roosmoor Community Services District. Dr. Barke is a co-founder and current board chair of Orange County Classical Academy, a free public charter school in Orange, California.
Dr. Barke also serves as a reserve deputy and tactical physician for an Orange County law enforcement agency. Dr. Barke co-authored The Essential Diet Planning Kit (with Godfrey Harris) in 2005. He has appeared multiple times on the Dennis Prager Show, the Larry Elder Show and on Fox News Special Report with Bret Baier. He is married to his high school sweetheart, Mari Barke, who is currently the President of the Orange County Board of Education. They have two adult children, both of whom live out of state.