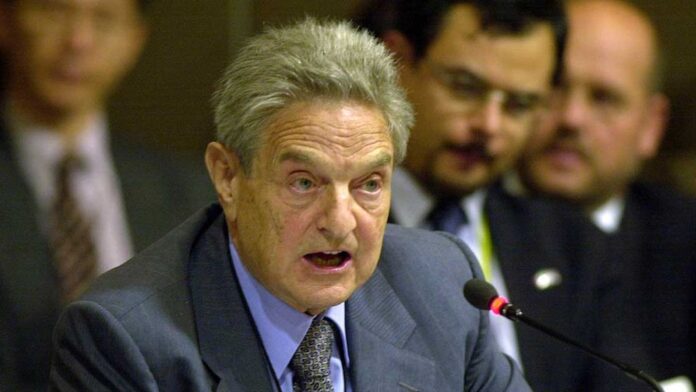 When the dust was cleared and the debris swept away, he stood revealed as Hillary Clinton's most generous billionaire donor. Yet his name rarely surfaced during the presidential campaign—and that's generally the way he likes it. Dark Money, Jane Mayer's book about covert political funding, refers to the Koch brothers more than 300 times in its excoriation of the "radical right" but mentions progressive icon George Soros just six times; three are footnotes.
One of the planet's richest men, his past marred with crimes and misdemeanors, the 86-year-old billionaire skates on. More than a decade ago, he moved his financial headquarters to Curaçao, a tax-free haven in the Caribbean designed for monied hypocrites who talk one game and play another. The place is not bulletproof; on occasion, Soros has been accused—and even convicted—of insider trading. A French court found him guilty of that crime and levied a fine of $2.3 million. In the parlance of the billionaires' club, that was small change. Investigative journalists, a dwindling cadre, show little interest in him. They prefer to scrutinize safer, softer targets.
If they took even a cursory look, though, they would see that Soros's global reach and influence far outstrip those of the Koch brothers or other liberal bogeymen—and that underlying it all is a vision both dystopian and opportunistic. "The main obstacle to a stable and just world order," Soros has declared, "is the United States." Ergo, that constitutional republic must be weakened and its allies degraded. The Sorosian world order—one of open borders and global governance, antithetical to the ideals and experience of the West—could then assume command.
George Soros has been an escape artist since his adolescence in Budapest, when Nazi occupiers gave him his first life lessons. Until then, the Schwartz family lived in a large house, located on an island in the Danube. György's mother, Elizabeth, was the daughter of affluent silk merchants. His father, Tivadar, was a prominent lawyer and eccentric; in good weather, he commuted to his office by rowboat.
But all was not as it appeared, even before the predations of the Third Reich. Anti-Semitism ran deep in Eastern Europe, and Hungarian Jews lived on a knife blade, no matter how large their bank accounts. The secularist Tivadar never attended synagogue, but he had a devout belief in Esperanto, the artificial language that he and other disciples believed would eventually become the world's tongue. The Tower of Babel would be razed, and nationalism would disappear, along with dialects, local attitudes, and national boundaries. But that world lay in the future. For the present, Jewish identity would have to be papered over.
Accordingly, the family changed its name to Soros—"to soar," in Esperanto. In 1944, the personification of the Holocaust, Adolf Eichmann, came to German-occupied Hungary to administrate the Final Solution. But Tivadar had anticipated him. By then, he had purchased false identity documents for himself and the family. He bribed a government official to "adopt" György and testify to investigators that the boy was his Christian godson.
Now came the fulcrum of Soros's life and career. The bureaucrat who housed teenage György was assigned the task of confiscating Jewish land and property. With the boy in tow, he went from house to house, making inventories for Nazi officers. It's unfair sweepingly to condemn those individuals, Jewish and Gentile, who, willingly or unwillingly, sometimes participated in evil in order to survive. Still, most of those who did escape the Holocaust were tormented by pangs of remorse and survivor's guilt.
Not Soros. In 1998, 60 Minutes profiled the man whose stock-market manipulations were making news. CBS interviewer Steve Kroft asked him about his wartime experiences:
KROFT: You watched lots of people get shipped off to the death camps.
SOROS: Right. I was 14 years old. And I would say that that's when my character was made.
KROFT: In what way?
SOROS: That one should think ahead. One should understand and—and anticipate events and when—when one is threatened. It was a tremendous threat of evil. I mean, it was a—a very personal experience of evil. . . .
KROFT: I mean, that's—that sounds like an experience that would send lots of people to the psychiatric couch for many, many years. Was it difficult?
SOROS: Not—not at all. Not at all. Maybe as a child you don't—you don't see the connection. But it was—it created no—no problem at all.
KROFT: No feeling of guilt?
SOROS: No.
KROFT: For example that, "I'm Jewish and here I am, watching these people go. I could just as easily be there. I should be there." None of that?
SOROS: Well, of course I c— I could be on the other side or I could be the one from whom the thing is being taken away. But there was no sense that I shouldn't be there, because that was—well, actually, in a funny way, it's just like in markets—that if I weren't there—of course, I wasn't doing it, but somebody else would—would—would be taking it away anyhow. And it was the—whether I was there or not, I was only a spectator, the property was being taken away. So the—I had no role in taking away that property. So I had no sense of guilt.
After the war, attending the London School of Economics, Soros, his name now Anglicized, was beguiled by the writings of Karl Popper (1902–94). The Viennese-born professor devoted his life and work to what he called the Open Society—a place free of such "tribal" affinities as religion, nationalism, and traditional economic formulas. But he also denounced, as a "monument of human smallness," Plato's concept of the philosopher king. "What a contrast," Popper wrote, "between it and the simplicity of humaneness of Socrates, who warned the statesman against the danger of being dazzled by his own power, excellence, and wisdom. . . . What a decline from this world of irony and reason . . . down to Plato's kingdom of the sage whose magical powers raise him high above ordinary men; although not quite high enough to forgo the use of lies, or to neglect the sorry trade of every shaman—the selling of spells . . . in exchange for power over his fellow-men."
By Stefan Kanfer
Stefan Kanfer, who died in 2018, was a longtime contributing editor of City Journal who wrote extensively on a wide range of political, social, and cultural topics. He authored more than a dozen books.
Read Full Article on City-Journal.org
About City Journal
City Journal is a publication of the Manhattan Institute for Policy Research (MI), a leading free-market think tank.