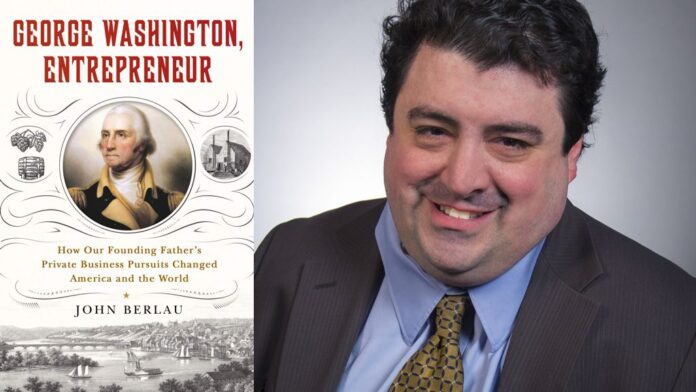 A business biography of George Washington, focusing on his many innovations and inventions.
George Washington: general, statesman…businessman? Most people don't know that Washington was one of the country's first true entrepreneurs, responsible for innovations in several industries. In George Washington, Entrepreneur, John Berlau presents a fresh, surprising take on our forefather's business pursuits.
History has depicted Washington as a gifted general and political pragmatist, not an intellectual heavyweight. But he was a patron of inventors and inveterate tinkerer, and just as intelligent as Jefferson or Franklin. His library was filled with books on agriculture, history, and philosophy. He was the first to breed horses with donkeys to produce the American mule. On his estate, he grew countless varieties of trees and built a greenhouse full of exotic fruits, herbs, and plants. Unlike his Virginia neighbors who remained wedded to tobacco, Washington planted seven types of wheat. His state-of-the-art mill produced flour which he exported to Europe in sacks stamped "G. Washington"―one of the very first branded food products. Mount Vernon was also home to a distillery and became one of the largest American whiskey producers of the era.
Berlau's portrait of Washington, drawn in large part from his journals and extensive correspondence, presents a side of him we haven't seen before. It is sure to delight readers of presidential biography and business history.

Editorial Reviews
Review
"Just when you think the scholarship on our first president has become exhausted, along comes a book like George Washington, Entrepreneur to open your eyes and impart new knowledge about our greatest president. Berlau is an exquisite writer and historian."
―Craig Shirley, author of Mary Ball Washington, presidential historian, and Reagan biographer
"Surveyor, agribusinessman, patron of inventors: John Berlau shows how Washington brought his skillset―curiosity, persistence, flexibility―to his life as an entrepreneur."
―Richard Brookhiser, senior fellow, National Review Institute, and author of Founding Father.
"A fascinating look at a little-known and (not surprisingly) little taught aspect of George Washington's life…a timely reminder of the role entrepreneurship played in this country's history, and the role that opposition to infringements on economic liberty played in the American revolution."
―Dr. Ron Paul, former U.S. congressman and presidential candidate
"An impressive work of scholarship that enlarges our understanding of the founding era."
―Norm Singleton, Campaign for Liberty president
"George Washington, Entrepreneur tells a dramatic story…In no small part, British efforts to curb American entrepreneurialism led to the American Revolution."
―Kevin J. Hayes, author of George Washington: A Life in Books, winner of the George Washington Prize

"Washington's entrepreneurial spirit and business skills are relevant not only to the hundreds of thousands of present day FFA and Farm Bureau members, but important to the founding of our nation…business is at its heart a creative act, necessary to liberty, and Washington's dedication to freedom in commercial pursuits may well have been the impetus for his role in the Revolution and the founding. Berlau's book is timely and important, and I highly recommend it."
―Blake Hurst, farmer and Missouri Farm Bureau president
"Smart, searching, and absorbing, George Washington, Entrepreneur is a must-read for twenty-first-century innovators, tinkerers, and pragmatists who believe innovation is never at rest."
―Erin Holmes, managing partner, Invested Media
"At a time when others downgrade so many historical figures, John Berlau lifts a worthy man higher―Washington. Berlau gives us a fascinating tour of Washington's business side, illuminating the relationship between entrepreneurial, military and political achievement."
―Amity Shlaes, biographer, author of Coolidge
About the Author
John Berlau is an award-winning journalist, recipient of the National Press Club's Sandy Hume Memorial Award for Excellence in Political Journalism, and Senior Fellow for Finance and Access to Capital at CEI. He is a columnist for Forbes and Newsmax, and has contributed to Financial Times, Washington Post, Politico, Wall Street Journal,and Washington Times. He is a frequent guest on CNBC, CNN, Fox News, and Fox Business. Berlau lives in Alexandria, VA, 7 miles from the Mount Vernon estate.