"As a Long Islander endlessly fascinated by events that happened in a place I call home, I hope with George Washington's Secret Six that the secret six will get the credit they didn't get in life. The Culper spies represent all the patriotic Americans who give so much for their country but, because of the nature of their work, will not or cannot take a bow or even talk about their missions." —Brian Kilmeade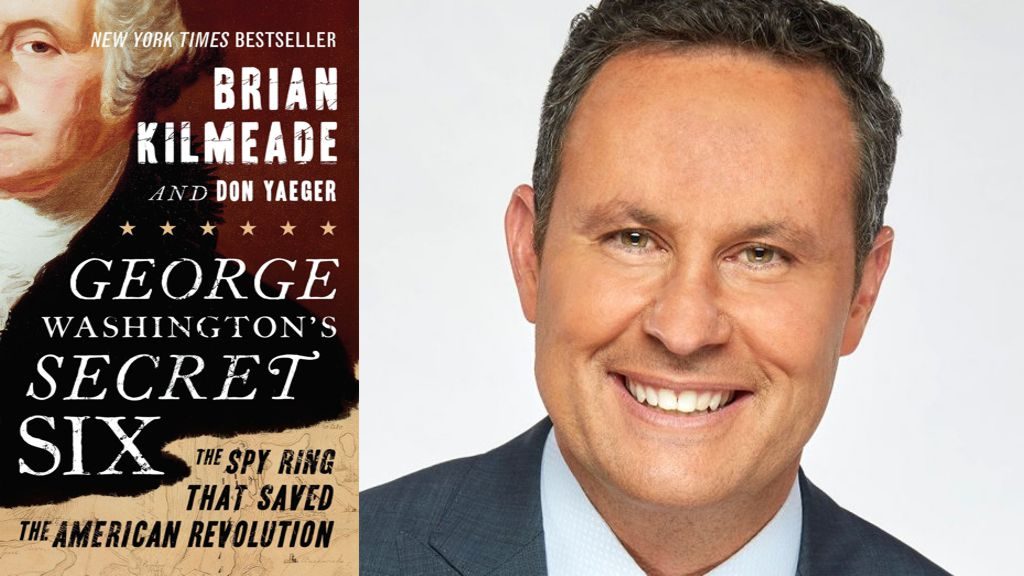 When General George Washington beat a hasty retreat from New York City in August 1776, many thought the American Revolution might soon be over. Instead, Washington rallied—thanks in large part to a little-known, top-secret group called the Culper Spy Ring.

Washington realized that he couldn't beat the British with military might, so he recruited a sophisticated and deeply secretive intelligence network to infiltrate New York. So carefully guarded were the members' identities that one spy's name was not uncovered until the twentieth century, and one remains unknown today. But by now, historians have discovered enough information about the ring's activities to piece together evidence that these six individuals turned the tide of the war.

Drawing on extensive research, Brian Kilmeade and Don Yaeger have painted compelling portraits of George Washington's secret six:
Robert Townsend, the reserved Quaker merchant and reporter who headed the Culper Ring, keeping his identity secret even from Washington;
Austin Roe, the tavern keeper who risked his employment and his life in order to protect the mission;
Caleb Brewster, the brash young longshoreman who loved baiting the British and agreed to ferry messages between Connecticut and New York;
Abraham Woodhull, the curmudgeonly (and surprisingly nervous) Long Island bachelor with business and family excuses for traveling to Manhattan;
James Rivington, the owner of a posh coffeehouse and print shop where high-ranking British officers gossiped about secret operations;
Agent 355, a woman whose identity remains unknown but who seems to have used her wit and charm to coax officers to share vital secrets.
In George Washington's Secret Six, Townsend and his fellow spies finally receive their due, taking their place among the pantheon of heroes of the American Revolution.
Editorial Reviews
Review
"James Bond is a rank amateur compared to the heroic efforts of the Culper Ring. Brian Kilmeade and Don Yaeger's work demonstrates why the story of the secret six should be anything but a secret in American history."
—HARVEY MACKAY, author of Swim with the Sharks Without Being Eaten Alive

"A rollicking read by Kilmeade and Yaeger, acknowledging a long overdue debt to six American heroes."
—KARL ROVE

"We would not have won the Revolution and secured our freedom, were it not for the leadership of George Washington and the courage of the spies he set in motion. George Washington's Secret Six is a gripping and informative read."
—CONGRESSMAN PETE KING, chairman of the Counterterrorism and Intelligence Subcommittee, House of Representatives Committee on Homeland Security

"It would have been an honor to have served with Robert Townsend and the rest of the Culper spies in any of the deep-cover
intelligence operations I spearheaded over twenty-seven years."
—WAYNE SIMMONS, coauthor of The Natanz Directive; CIA–Outside Paramilitary Special Operations

"Freedom is not free, never has been, and never will be. Kilmeade and Yaeger have done a wonderful job in reminding us all of the cost. Great read."
—GENERAL TOMMY FRANKS (U.S. Army, ret.)
"A historical gem. I loved it."
—DONALD TRUMPRead more
About the Author
Brian Kilmeade cohosts Fox News Channel's morning show Fox & Friends and hosts the nationally syndicated radio show Kilmeade & Friends. The author of two previous books about sports, he lives on Long Island.

Don Yaeger has written twenty-three books, including seven New York Times bestsellers. He lives in Tallahassee, Florida.