OVERVIEW
Thank you America! Demand for the God bless the USA Bible has been amazing.
Both the the first and second print run of this custom, limited edition Bible have sold out. Now taking orders for 2022. Your paid order holds your position in line.
Easy-to-read, large print and slim design, this Bible invites you to explore God's Word anywhere, any time. This bible has been designed so that it delivers an easy reading experience in the trusted King James Version translation. This large print Bible will be perfect to take to church, a bible study, to work, travel, etc.
This Bible also features a copy of:
Handwritten chorus to "God Bless The USA" by Lee Greenwood
The US Constitution
The Bill of Rights
The Declaration of Independence
The Pledge of Allegiance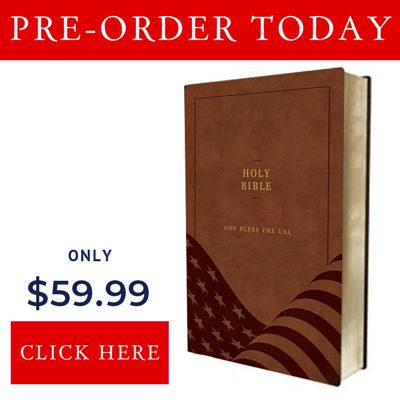 God Bless The USA Bible Website
FEATURES
Easy to read
Two column format
Presentation page
Gold ribbon marker
Words of Jesus in red
This bible lies flat when open
"Readable" founding USA documents that include
The Pledge of Allegiance
The US Constitution
The Declaration of Independence
The Bill of Rights
God Bless The USA Bible Website
THE PERFECT GIFT
A perfect heirloom, keepsake, companion for:
The family
Home schooling households
Grandparents
Graduations & confirmations
Military
New American citizens
Teens
"Faith and Values" advocates
U.S. history buffs
Brides
Birthdays
Anniversary
Anyone that loves America
God Bless The USA Bible Website
I'm proud to be an American!
God Bless the USA
God Bless The USA Bible Website
INSPIRED BY
LEE GREENWOOD
Throughout his expansive career, international country music icon Lee Greenwood has earned multiple CMA and ACM Awards, a Grammy Award for Top Male Vocal Performance on "I.O.U," in 1985, and a multitude of other prestigious award nominations.
His discography includes twenty-two studio albums, seven compilation albums, seven No. 1 hits and thirty-eight singles including songs like "It Turns Me Inside Out," "Ring On Her Finger Time on Her Hand," "She's Lyin," "I don't Mind the Thorns if You're the Rose," "Dixie Road," "Somebody's Gonna Love You," "Going Going Gone," "You Got A Good Love Comin," among others.
His stand-out hit "God Bless the U.S.A." has been in the top five on the country singles charts three times (1991, 2001 and 2003), giving it the distinction of being the only song in any genre of music to achieve that feat.
God Bless The USA Bible Website