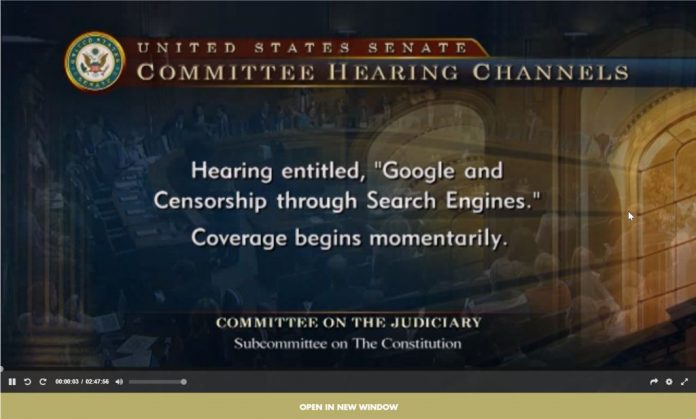 On Tuesday, July 16, 2019 the House Judiciary Committee's Subcommittee on the Constitution held a hearing on Google and Censorship through Search Engines. When Karan Bhatia, Vice President for Government Affairs & Public Policy for Google, Inc. was asked if the internet giant employs blacklists to slant its search results he answered Sen. Marsha Blackburn (R-Tenn.) wiith the following:
"I feel like you all push the boundaries until your hand gets slapped," Blackburn said. "Has Google ever blacklisted, or attempted to blacklist, a company, group, individual, or outlet from its advertising partners or its search results for political reasons?"
"We don't use blacklists, whitelists to influence our search results," he responded.
"For what reason does Google blacklist a company?" she followed up.
"As I said, per your previous question, we do not utilize blacklists or whitelists in our search results to favor political outcomes," he insisted. "That's not, doesn't happen."
In January a leaked file named "youtube_controversial_query_blacklist," contained a list of search terms manually curated by Google for its video platform YouTube proved that Karan Bhatia's was lying. Some of the search terms may have reference fringe conspiracy theories, but other terms included "abortion," "Maxine Waters," and items pertaining to the 2018 Irish abortion referendum.
There were also leaked internal chat logs which showed employees speculating that abortion had been added in December, after a Slate writer complained about videos explaining what abortion procedures actually entail. It "seems like we are pretty eager to cater our search results to the social and political agenda of left-wing journalists," one employee admitted at the time.
During a congressional hearing in December 2018, Representative Jim Jordan (R-Ohio) pressed Sundar Pichai on Google election meddling situations that were revealed from leaked emails. Leaked messages showed executives discussing how "we" helped Hillary Clinton in the 2016 elections. Eliana Murillo, the head of Google's multicultural marketing department, touted her work helping liberal organizations turn out Latino voters but was upset that Clinton wasn't able to get a high enough share of votes and so she lost the election. During this time there was at least one instance where Google CEO Sundar Pichai was caught lying under oath in the US House of Representatives.
Sen. Josh Hawley (R-Mo.) responded to the 2019 claim by Google's Karan Bhatia, and he called Google the "most dishonest company to appear before Congress":
Hey @Google, let me refresh your memory. You have a history of ideological censorship: "To get into China, the young company that had defined itself by the motto "Don't be evil" agreed to censor the search results shown to Chinese users." https://t.co/V72GlPQ2BZ

— Josh Hawley (@HawleyMO) July 17, 2019
So when you say now that you would NEVER censor content for ideological purposes in America, why would anyone believe you? In fact, why would anyone believe you about anything?

— Josh Hawley (@HawleyMO) July 17, 2019
A research psychologist with the American Institute for Behavioral Research and Technology, by the name of Robert Epstein, testified Tuesday that he identified "nine different blacklists Google maintains to suppress information worldwide," referring senators to a 2016 US News & World Report piece, The New Censorship, where Epstein elaborated on his findings.
Robert Epstein says these blacklists encompass Google's search results, their autocomplete feature, Google Maps, YouTube searches, Google News, AdWords and AdSense, banned user accounts, and websites it quarantines for supposedly being infected with harmful software.
Senator Ted Cruz (R-Texas) chairs the House Judiciary Committee's Subcommittee on the Constitution, and he declared that Google enjoys a "staggering amount of power to ban speech, manipulate search results, destroy rivals, and shape culture." "If Big Tech cannot provide us with evidence that it's not playing Big Brother with its immense powers, we don't need to give them a subsidy through Section 230 ."
Section 230 refers to the Communications Decency Act which provides key legal protection to big tech. Section 230 states that "no provider or user of an interactive computer service shall be treated as the publisher or speaker of any information provided by another information content provider." The legislation announced by Senator Josh Hawley (R-Missouri) entitled Ending Support for Internet Censorship Act would require online platforms to certify their political neutrality with the FCC to retain immunity from being held liable for user content.
According to Senator Hawley, "With Section 230, tech companies get a sweetheart deal that no other industry enjoys: complete exemption from traditional publisher liability in exchange for providing a forum free of political censorship." "Unfortunately, and unsurprisingly, big tech has failed to hold up its end of the bargain."
Ajit Pai, the Federal Communications Commission (FCC) chairmani told Congress last month that he considers "unregulated Silicon Valley tech giants" to be today's "greatest threat to a free and open internet." Last week President Donald Trump promised that he was "directing my Administration to explore all regulatory and legislative solutions to protect the free speech rights of ALL AMERICANS."
Today, I am directing my Administration to explore all regulatory and legislative solutions to protect the free speech rights of ALL AMERICANS. We hope to see more transparency, more accountability, and more FREEDOM! #SocialMediaSummit https://t.co/i6th5qtfAj

— Donald J. Trump (@realDonaldTrump) July 11, 2019